Hever hosts Christmas with festive display
Last time Bionic spoke to the events team at Hever Castle, they were getting ready to debut their super scary Halloween attraction, taking adrenaline junkies on a spooky maze through the cellars of the iconic building.
Now, they're back with their annual lights show, a less frightening, more festive offering. Bionic got the lowdown on the spectacular display.
Lighting up Local Life
"Hever Castle is at its most magical at Christmas time" enthuses Jess Cutts, who is part of the events team at the historic grounds near Edenbridge in Kent.
"Each Christmas, the grounds and castle are festooned with lights and decorations as well as a different themed festive trail every year."
"After dark, the light displays are incredible. Seeing the look on visitors' faces and the smiles we get makes all the hard work worthwhile!" Jess said when Bionic asked what draws revellers in to witness the special sparkle of the castle.
Hever Castle, the childhood home of Anne Boleyn, has been thrilling visitors with its tantalising Christmas trails for years. Always coming up with new and innovative ideas to keep the historic site fresh, Hever is never one to shy away from trying something new.
Each December, visitors are encouraged to wrap up warm and take a gander down illuminated walks through the grounds. If all that sounds a little too cold for your liking, you can also head inside to check out the rooms of the historic building, complete with roaring log fires and twinkling festive lights.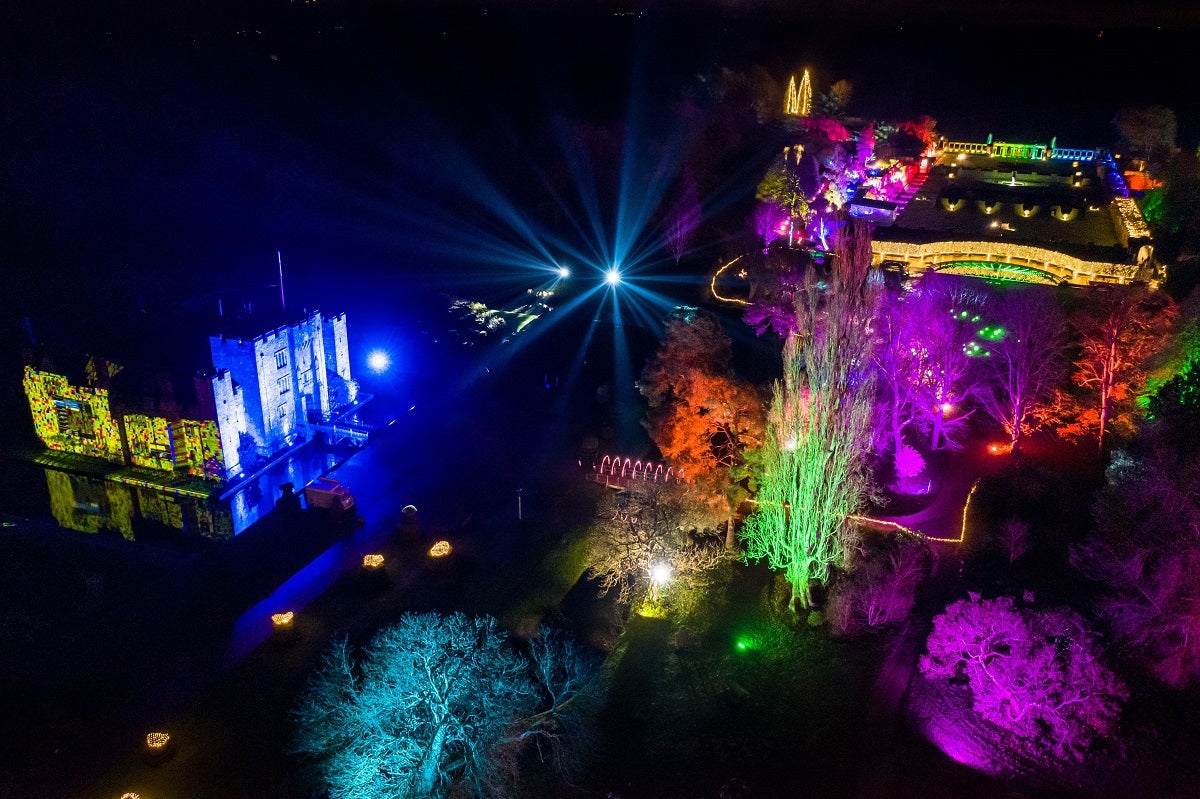 Bigger and better than before
This year, hoping to be bigger and better than ever before, the 'Pinocchio' themed lights trail promises to be amazingly awe-inspiring and act as the perfect festive treat in the run-up to Christmas.
Children and adults alike can wonder at the hand-carved wooden character displays and take in the prettily lit paths as they make their way through the classic Disney story.
"Each year we strive to add something extra for visitors and the theme for the Christmas trail is different every time." Jess tells us.
She continued: "This year the theme is 'Pinocchio.' We add more lights each year and are constantly changing what visitors see. We also have a new big wheel this year offering visitors views across the grounds."
Along with the Ferris wheel, 2021 boasts a traditional carousel as well an array of delicious food stalls, perfect when you need a pick me up after all that gawping at spectacular displays.
You can even have your photo snapped with real-life huskies on selected days for a small donation to the 'Siberian Husky Welfare Association.'
The fabulous festivities officially open on November 20 and will run daily but the 'Twilight Christmas Evenings'-where you get to see the grounds lit up in all their glory- take place from 4pm to 8.30pm and must be pre-booked.
But how does the whole event come together in time for the big unveiling? Jess says teamwork is a massive part of making sure Christmas is authentically brought to life each year. Keeping enthusiastic and encouraging the team to produce fresh and interesting ideas is key.
"It is a real team effort with 13 months of planning and a lot of discussions! It's a massive process which is constantly changing." Jess says.
She cites the initial inspiration behind the themed events as celebrating the true meaning of Christmas.
"We like to pick a theme each year which celebrates the magic of Christmas. We love the well-known story of 'Pinocchio' with its emphasis on bravery and truth so that's why we chose that for this year's event."
"Our creative designer, Caz, is brilliant at bringing a story to life. She designs and makes all the props or repurposes materials from previous years." Jess said.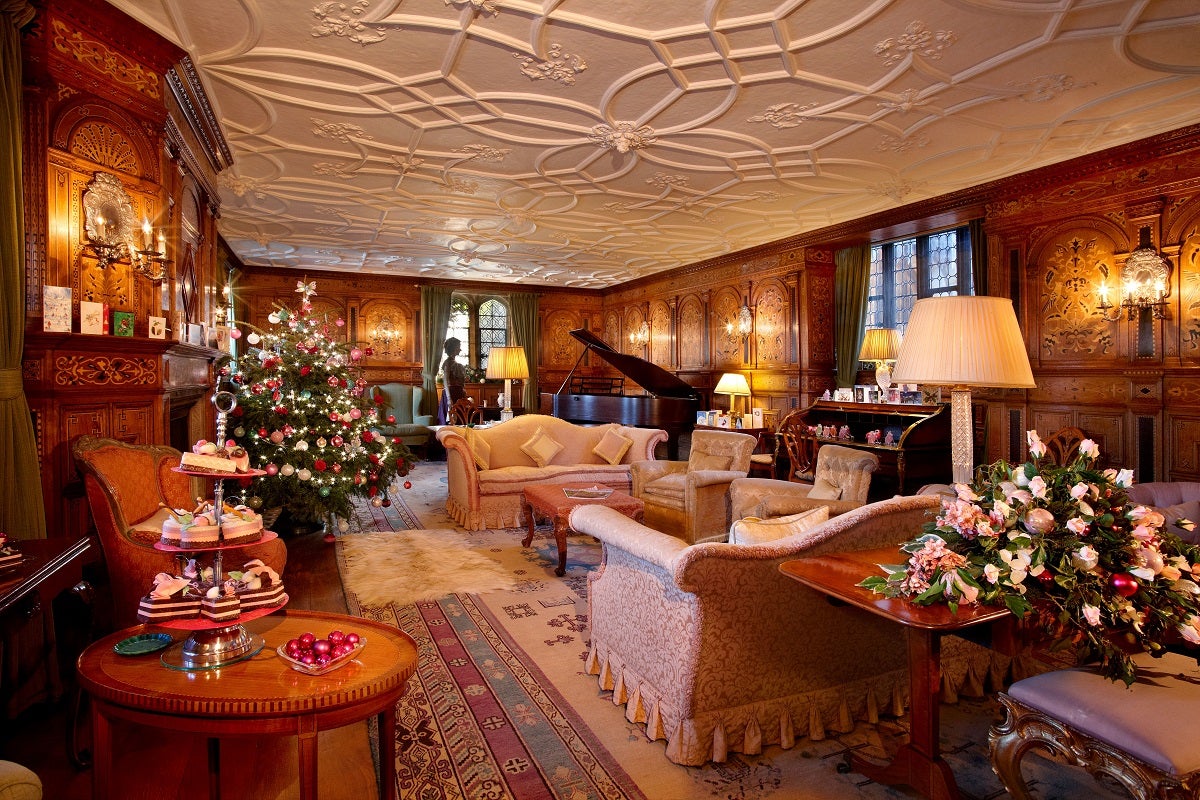 An Early Christmas Present for Charity
But how is Hever's dazzling display different from the rest? The team's drive to help worthwhile charities is the main factor in everything they do so this year they are working with 'Make a Wish UK' as well as the 'Siberian Husky Welfare Association.' Visitors can donate to the two charities during the Christmas event.
"We are hugely grateful to the team at Hever Castle for their support," said Make-A-Wish Chief Executive Jason Suckley "Not only as the perfect venue for granting some magical wishes – when Covid restrictions permit – but for giving their visitors the opportunity to donate to Make-A-Wish UK."
He added "The money raised will help with our ambitious mission to light up the lives of every critically ill child in the UK by granting their wish. The diagnosis of a critical illness brings the joy of childhood to an abrupt end with treatment plans, hospital visits and worry taking over.
"It can't be underestimated how powerful a wish can be in bringing light and joy to our children and their families, creating positive moments and cherished memories that have a lasting impact on all their lives."
Jess told us that being charitable is a massive part of Hever's values.
"We have previously worked with 'Make a Wish UK' for many Christmases and the fact the song "When You Wish Upon a Star" features in 'Pinocchio' made it an obvious link up this year." she said.
But finally, in Jess's own words, why should you wrap up warm and skate down to Hever this festive season?
"Hever Castle at Christmas is simply spectacular, whether you're coming for the day as a family to enjoy the trail and the fairground or if you're visiting as a couple to enjoy a romantic evening, there's something for everyone."
"It feels super Christmassy and is a great way to start, enjoy or end the festive period. It's a perfect evening for families, friends, and couples alike!"
You can book tickets for Hever Castle at Christmas on their website to experience the magic for yourself.