business loans bad credit
Can you get a business loan with bad credit?
If you have a poor credit rating or you're a start-up business with little or no credit history, financing might be hard to come by. You might find yourself asking the same question many new businesses ask: can I get a business loan with bad credit?
If you are a UK small business, the answer is 'maybe'. This short guide will help you understand bad credit business loans and how to get one.
Why might your business have a bad credit score?
A credit score, whether business or personal, is based on a combination of factors. Taken together, these factors give a lender an indication of how likely they think you are to be able to repay your debts. A bad credit score, therefore, is simply a reflection of low confidence in your ability to repay a loan.
Your business credit score could be low for a number of reasons. For example, you may have a history of late payment of bills or have defaulted on loans in the past. Even a history of having applied for a large number of loans could lower your credit score - something to be wary of when making decisions about how to access small business financing.
Lenders will also look at your company's financial performance - so, if your business hasn't yet demonstrated that it can make money over a long period of time, that could negatively affect your credit score.
Lastly, your business credit score may also be impacted by your personal credit score, particularly if you have not been running your business for long.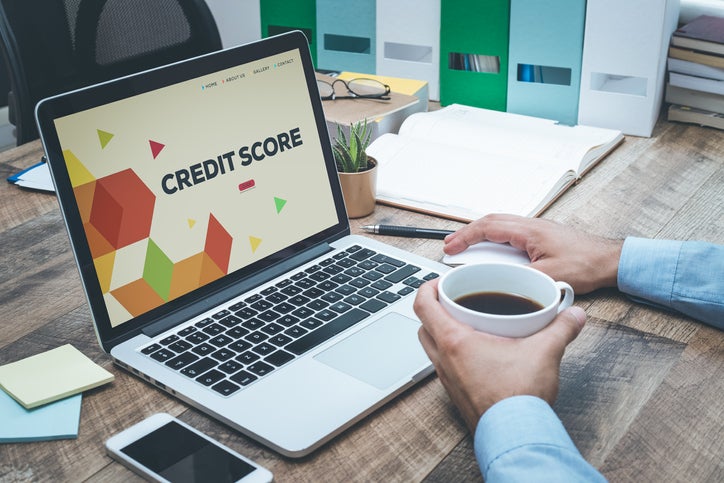 Do business loans use personal credit as lending criteria?
Lenders offering business loans do sometimes use personal credit when assessing loan applications. That's because personal credit is part of many lenders' small business loan eligibility criteria.
Any type of lender will look at all available information when deciding on your creditworthiness. So your credit score for a small business loan could be based, in part, on your personal credit history if that helps a lender build up a more complete picture.
However, you will have different credit files for your personal and business credit. So, the more established your business is and the better business credit score you build, the less likely it is that a bad personal credit rating will hurt your chances of getting a business loan.
It is for this reason that it is important to know how to build your business credit score.
What are the costs of bad credit business loans?
When you take out a business loan, you'll be charged interest on your repayments. This will be a percentage of the amount you've borrowed and added to the amount need to pay back.
Bad credit loans come with a higher interest rate that reflects the added risk to the lender. The amount you're charged will depend upon the lender, the type of loan, the length of borrowing, and your financial circumstances, so it's impossible to say how much a loan will cost you without making an application. But if you have a poor credit history, borrowing will cost more than if your history and credit score is good.
You should also look out for additional business finance fees, including arrangement fees and early repayment fees.
How to get a business loan in the UK with bad credit
If you have a poor credit score, the best way to get a business loan is to apply to a lender that specialises in bad credit commercial loans. But before you apply, you should do everything possible to make sure your credit score is as healthy as possible to help improve your chances of acceptance and maybe even save money on your borrowing.
How to improve your chances of getting a business loan with bad credit
Getting business loans for bad credit in the UK is far from impossible, particularly with the growth of new, non-mainstream lenders.
The best thing to do, of course, is to improve your credit score (which we will turn to later). But if that isn't an option in the short term, there are several things to keep in mind when accessing small business loans with bad credit.
First of all, think about reducing how much you want to borrow. Lenders are more likely to lend smaller amounts of money to businesses with bad credit because it means they are taking on less risk. For new businesses in particular, business start-up loans for bad credit in the UK may be easier to access if you reduce the amount you are trying to borrow.
You might also want to write a business plan. If you have a poor credit score because your business has not yet proved it can manage its money - and most importantly its debt - in a sustainable way, a well thought out business plan might go a long way to proving to a lender that you can be trusted to borrow money.
Another option for many small businesses is to put up collateral. This means you use assets that you or your business own - such as equipment - as a kind of security to guarantee the loan. This collateral is at risk if you can't make repayments.
You could, alternatively, find a 'cosigner' - essentially a guarantor - who would take on loan repayments if you can't do so. If this person has a good credit history, it will improve your chances of getting a loan.
How to build your business credit score
The best way to improve your business credit score is to pay your bills and other creditors on time. Over time, this should have the best impact on your score.
It is also wise to keep your overall debt low while trying to build up your credit score - although you should maintain some debt so that you can build up a history.
New businesses should register themselves with a credit reference agency to make sure they don't go under the radar. Try to keep track of your rating so you can monitor progress. You can regularly check your credit score online and correct any mistakes that might have been made.
Are there any alternatives to business loans for bad credit in the UK?
Bad credit business loans for small businesses can be expensive and not all UK businesses will be able to access them. But there are alternatives.
Bespoke start-up loans, secured loans or guarantor loans are ways that businesses with poor credit scores can access finance. But even these are likely to require some level of assurance that you can repay your debts.
It may also be good to understand how to finance a small business without credit whatsoever. Lots of start-ups can get access to government grants, depending on which sector your business operates in. There are also an increasing number of crowdfunding options available, where you can offer equity in your business to a large number of lenders in exchange for finance.
What do lenders consider when reviewing a business loan application?
Lenders will examine a wide range of things when reviewing any type of loan application. Chief among these will be your business credit score or, if your business has not been running long, your personal credit score.
They will also look at the overall financial health of your business. If the company has been running for a long time and has been profitable, it is likely to work in your favour.
Lenders will also consider your business plan if you have one. The more comprehensive this is, the better your chances of securing a good deal on your loan, whatever your credit score might be.
What is a CCJ?
A CCJ, otherwise known as a County Court Judgment, is a court order used in debt recovery proceedings. If you're in debt and showing no signs of making repayments, your lender can apply for a CCJ to order to repay the money you owe.
A CCJ is a formal letter sent to you from the court demanding the payment of money that you owe. Although this is a very serious letter to receive, it doesn't come without warning. CCJs are usually among the final courses of action a lender will take, and are sent as a consequence of a number of ignored warning letters - only then the lender will decide to take action through the courts.
If you receive a CCJ and it's left unpaid after 30 days, it can have damaging effects on your business and your position as a director. It could stay on your credit file and affect your credit score for up to six years. Not only can this make getting a business loan more difficult, but it can even affect your application for a business energy deal. For more information, check out our guide: does your business credit score affect your energy deal?
But if you pay the required amount back within the first month and fully comply with the action taken against you, the CCJ will not be a mark against your credit score.
A CCJ can have a profound effect on your business as it can often indicate that your company is struggling financially. Although this may not be the case, some lenders may be more hesitant to provide you with a loan if a CCJ is attached to your credit score.
Although there are a number of lenders that will accept applications from businesses with a CCJ, having one will really limit your options and the amount you can borrow. You'll also pay more in interest on the amount you borrow as lenders will see you as a bigger risk.
Can you get a business loan with a CCJ?
Yes, but it can be difficult as a CCJ will limit the number of lenders you can compare as well as the amount of money you can borrow. Bad credit lenders will look at your overall credit history and the affordability of the loan rather than just focusing on the CCJ.
If you are struggling to get a business loan, there are a number of ways that you can increase your chances of a successful application such as:
Paying off your CCJ loans immediately
Comply with rules to re-build your credit history. For more information, check out Business Debtline.
Ensure credit score information is accurate
A good credit score is important to any business looking to borrow money, apply for finance, or get any type of credit. If you follow the steps listed above you should be able to build or rebuild your credit score, which should help your chances of acceptance. But it doesn't guarantee your loan application will be accepted.
Can you get a business loan in the UK with no credit check?
It's unlikely that you'll be able to get a UK business loan without having a credit check run against you or your business. This is because lenders use credit checks to see how you've handled past credit. This helps them inform whether to lend to you.
If they approve your application, the information on your credit file will help them work out the terms of the loan. The better your credit score, the more favourable those terms will be. This could mean a higher loan amount or lower interest rates.
Having a poor credit history doesn't mean you'll be rejected for a business loan, but it will limit your options and the interest you pay on the loan is likely to be relatively high.
How much longer might it take to get a business loan with bad credit?
In most cases, it shouldn't take much longer than getting a business loan with a good credit score, especially if you go with a lender that specialises in bad credit business finance. The type of loan you're taking out usually determines the length of time you have to wait to get finance. A commercial mortgage, for instance, will take longer than an unsecured business loan as it's for a much greater amount and there are more credit and anti-fraud checks to consider.
How can you fund a UK business with no money?
If you can't get a business loan, there are alternative funding sources available. Whether you're just starting out or growing your business, you could consider one or more of the following:
Savings or loans from friends or family
Bank overdrafts
Personal loans
Crowdfunding
It could also be worth considering alternative types of business finance, such as peer-to-peer lending, asset finance, invoice finance, or bridging loans. If you're just starting out or your business has been trading for less than 24 months, you may be eligible for a government-backed start-up loan.
To find out more, give our tech-enabled team a call on 0800 280 8277.
How to compare business loans with Bionic
Whether you have a bad credit history or not, Bionic can help you compare small business loans.
Working with Think Business Loans, the finance division of Bionic, we can search from dozens of lenders to find the right loan to help your business grow. Our team will talk you through what kind of loans are available to you, and crucially how much they will cost you.
Give us a call today on 0800 860 6833