How do small businesses impact the economy?
The state of the UK economy is never far from the front pages - while the more pro-government newspapers will tell you the country is in great shape, those in opposition will explain how were never more than one fiscal mis-step away from another recession.
The truth usually lies somewhere in between.
The problems faced by small business owners in Britain
If you're a small business owner, you'll no doubt have your own take on the state of the economy, shaped by your own experiences and the balance sheet of your business. But no matter how your business is performing, it's fair to say that the last decade has presented businesses with more than their fair share of challenges, from the banks going bust to question marks over Brexit.
Small business owners have had to cope with an increase in consumer price inflation (CPI) and a dampening in household real income growth, which has led to cuts in consumer spending.
A drop in the value of the pound has meant that international buyers get more for their money, a problem which has hit export-oriented businesses hardest.
ERROR: Failed to render content block - No Module
Why small businesses are important to the UK economy
At Bionic, we believe the small businesses are the beating heart of the UK economy, here are some of the reasons why:
Small business turnover helps shape the UK economy
Turnover is typically one of the first metrics that springs to mind when measuring the economic contribution of a small business - it's far from being the only metric, but it's a very important.
Small and medium sized businesses - defined by the EU as those with fewer than 250 employees, and a turnover of less than €50 million - had a combined turnover of £2.0 trillion in 2018. While this is a significant figure in itself, it's even more impressive when you consider that it amounts to a whopping 52% of the private sector's overall turnover.
SMEs make up around 99% of all the businesses currently operating in the UK, employing millions of people, which means their collective successes and failures have an enormous impact on the UK economy. So it's no surprise that SMEs are generally seen as the key engine of growth and sustainability.
Small business employment figures impact the UK economy
Although the majority of small businesses are not employers – sole traders who work independently make up 59% of private sector businesses in the UK – SMEs still make a huge contribution to job creation in the UK.
Overall, small businesses employ over 16.3 million people in the UK, which accounts for 60% of all private-sector employment.
Small business growth affects the UK economy
When it comes to business growth, our figures show that SMEs have been performing well - employment rates are at a record high, with 50% of SMEs saying they'll expand their operations this year. The outlook is positive, even with the uncertainty of Brexit still looming large.
In terms of business success and growth, manufacturing business owners are reported to be the most confident, as highlighted in the graph below.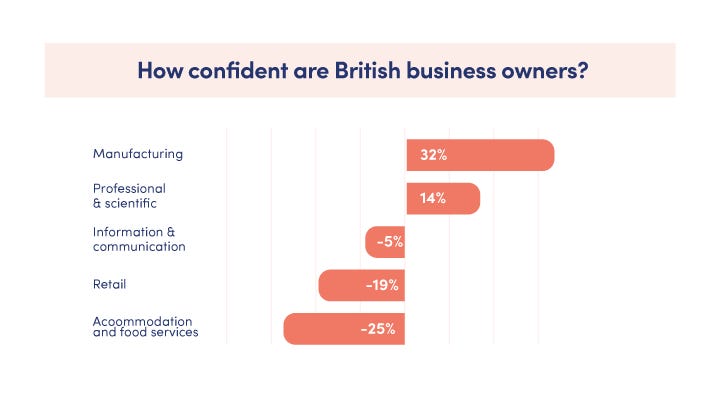 Small businesses account for a huge 99.5% of the businesses in every main sector. The highest volume of small businesses are in personal services, such as beauty and wellness, as well as professional services like financial services or consulting.
The small and medium sized firms of the UK have a mutually beneficial relationship with the country's overall economy – SME contributions are vital to economic health, and the state of the UK's economy impacts small business growth.
How Bionic can help grow UK SMEs and the economy
With a vision for "the world's most innovative economy" and a challenge to "put the UK at the forefront of the artificial intelligence (AI) and data revolution", the government is investing £725m in research and development as part of their Industrial Strategy.
Businesses are now being rewarded for innovation and encouraged to explore the possibilities of AI in the workplace. This focus on data and technology will help smaller companies to make more informed decisions and bring otherwise unattainable strategies to life.
And we want to help be the driving force behind the UK's business growth story.
Whether you run a corner shop, a beauty salon, a fast food chain or a tech company, energy is essential - and if you're overpaying for business gas and electricity, that's money needlessly being taken away from another part of your business.
ERROR: Failed to render content block - No Module