work from home
How to keep your business connected when working from home
More of us than ever before are doing office work from home in the UK, but having the whole household indoors and using WiFi for most of the day means your broadband could be creaking under the strain, making even the most basic online tasks an absolute headache.
If you're looking towards getting your business back up and running after a tough few years, check out the Bionic business blueprint.
And let's take a look at whether a business broadband deal could help with any connectivity issues, and what you need to do to work from home most effectively.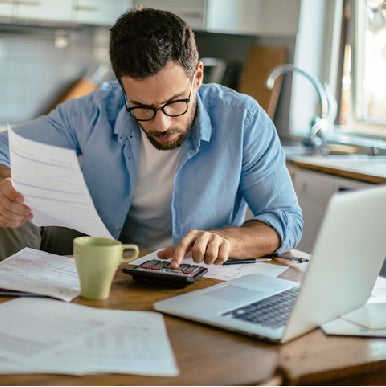 How to work from home efficiently
Over the past few years, a lot more of us have been working at home. You've probably learnt that there's there's more to it than setting up your laptop in the spare room and replying to your emails.
Switch to VoIP
Voice over internet protocol (VoIP) allows you to make calls via an internet connection, instead using a landline or relying on a mobile signal. It works like much like a Zoom call, but offers the following benefits to businesses:
Never miss a call - VoIP is a cloud-based phone system and calls are routed through to the mobile app, meaning you and your employees can answer calls from anywhere.
Faster and cheaper - VoIP services are cheaper and faster than traditional phone services.
Adaptable features - Manage multiple calls at once, including conference and group calls, and benefit from cloud-based call logging and a virtual receptionist.
Easy to install – As VoIP is a cloud-based system, there's no need for bulky, intrusive physical lines and hardware to be installed. We can have you all set up in 48 hours.
HD call quality as standard - Make and receive VoIP calls in crystal clear HD quality sound, and manage your VoIP system remotely using a simple desktop or mobile app.
Simple multi-site network - If you run your business across several sites, they can all be served by the same VoIP connection, saving money on multiple phone lines.
Save call logs and recordings securely – VoIP offers safe, cloud-based storage of all call recordings to manage customer interactions and follow compliance recommendations.
To find out more, give our tech-enabled experts a call on 0800 280 8022 or check out our guide to business VoIP phone systems.
What broadband speed do you need to work from home?
Ideally, you should get superfast broadband, which offers speeds of more than 24Mbps, but a minimum broadband speed of 16Mbps should allow you to comfortably work from home, even while others are connected to the router.
Although most home broadband plans offer speeds that can easily cope with browsing, emailing and video calling, not all will come with the speeds needed for regularly uploading large files.
You'll need to consider both the upload and download speeds when working out whether your package is up to the job:
Download speed is the rate at which online data is transferred to your device, such as loading a website or streaming video.
Upload speed is the rate at which data is transferred from your device to another source, such as uploading a video to YouTube or emailing files.
For more information, check out our guide to upload and download speeds.
You'll also have to consider any usage limits your plan might have - although most broadband packages come with unlimited data, some unlimited plans only allow a certain amount of data at full speed, after which your connection is slowed down. In theory, this is still unlimited data, but it doesn't quite feel like it in practice.
The speed of your business broadband not only depends upon the type of plan you're on, but also the number of people using the connection at any one time - having everyone at home and on connected devices all day could see your connection struggle.
In short, the more people in your household who are online at the same time, whether streaming video, gaming, video calling or browsing, the slower your connection will be. This can have a big impact on your ability to work from home, especially if you're trying to keep a houseful of gamers and TV streamers happy at the same time.
The distance between your device and the router can also affect WiFi speeds, so you should try to work as closely as possible to the router, preferably in the same room. For an even quicker and more reliable connection, you could physically connect to it to your device using an Ethernet cable - check around the house for an old one you might have lying around, or pick one up cheaply online.
Should you get business broadband at home?
While you can get business broadband from home, you might find that your high speed internet is enough for your home office.
If you usually work from home for one or two days a week, you'll probably find your home broadband is fine, but if you decide to completely run your business from home, it's definitely worth considering a business phone and unlimited business broadband plan, as you'll benefit from priority customer service, improved security and telephone capability, as well as a more powerful router.
Setting up a separate network for your business needs can also maximise the security of your company and client data, by keeping your business connection separate from your residential broadband use.
Speak to our tech-enabled business connectivity experts for more information on how to switch to a commercial broadband deal, or check out our guide to find out more about setting up or switching to a business phone line.
Can you claim broadband as a business expense?
If you don't have broadband for personal use at home, but need a connection to work from home as part of your remote working arrangements, this will be considered an additional household fee that can be claimed back as business expense, tax-free. For more information, check out HMRC's Employment Income Manual.
You might also be able to claim your home broadband as an expense if you can provide evidence of the split between personal and business use, similar to the way tax is calculated when making business calls from an all-inclusive personal mobile phone contract.
Differentiating between personal and business use can be tricky, so if this is the position you're in, it could be worth looking into a dedicated business broadband deal as well as a business SIM only deal for your mobile.
Make the most of your home broadband
If a business broadband deal isn't the right option for you, it makes sense to make the optimise your existing broadband set up - here's how to make the most of your home broadband…
Disconnect your smartphone from the WiFi - In general, the more devices connected to your WiFI router, the slower your connection. If you're not using your smartphone for anything internet-related, you may as well disconnect it from the WiFi to give your bandwidth a breather.
Use directly wired connections - If your computer has an Ethernet port, connecting it directly to the router with an Ethernet cable should give you a faster and more reliable connection. It might also help if you can plug your router directly into your main socket, rather than using a telephone extension lead.
Position your router correctly - Try to position your router away from any exterior walls but as centrally as possible to the rooms where internet access is needed. And make sure it's positioned too closely to any cordless phones, stereos, computer speakers, baby monitors, halogen lamps or even behind the TV, as all can impact its effectiveness. If you're still struggling for a connection in certain rooms, it might be worth getting a WiFi booster.
Find the best possible workspace
Working from home involves much more than simply sitting on your sofa and replying to emails from your laptop, and the amount of potential distractions around the home makes finding the best possible workspace of paramount importance.
If you're lucky enough to have a spare room you can use, this can help minimise distractions and help you focus on your work. But if you need to work in the living room or any part of your home where other people might be, you should try to section off your workspace and maybe face away from any potential distractions.
Finding a spot that provides plenty of natural light can have a positive effect on your mood and wellbeing, but wherever you set yourself up, try to use a desk or a table and chair to support good posture and, if necessary, get in extra lighting to reduce headaches and eyestrain.
Working from home also makes it all too easy to blur the lines between work life and home life, so make sure you structure your day with set working hours and plenty of time for breaks away from your workstation to stretch your arms and legs and give your eyes a break from your screens.
You'll also need to make sure you've all the hardware and software you need to do your job as effectively from home as you can from your office, which could include a laptop and headset along with apps like Skype or Microsoft Teams to stay in touch with colleagues. For added security, your business should also set up a dedicated VPN through which all employees connect to the corporate network.
How Bionic can help your business work remotely
At Bionic, we're committed to using cutting edge technology and expert knowledge to help your business be the very best it can be. Here are a couple of ways we can help with your business connectivity:
Business connectivity mobile 4G and 5G WiFi devices
At Bionic, we work with all the top mobile networks, which means we can tailor your tariff to suit your needs and also recommend a mobile network that has the best coverage in your area.
We work with EE, Three, Vodafone and O2, so the options are vast.
We also have a range of 4G and 5G WiFi devices that can support your remote working set-up, especially if your home broadband isn't suitable. These can be offered on a rolling contract, giving you peace of mind and flexibility in case your working situation changes.
Cloud voice to make sure customers never miss a call
We understand how important it is to keep your business running. Just because you're working from home, this doesn't stop your customers calling, so we have a solution that ensures you never miss a call from one of your customers.
We set up a dummy number for you to temporarily divert calls to
We set you up on Cloud Voice giving you access to a really simple and intuitive desktop app that allows you to manage your calls effectively
Use the Cloud Voice app to keep a clear log of all calls in and out of the business, redirect calls to different employees or set professional voice mail for your customers or partners.
Prices start from £15 per month - give the Bionic connectivity team a call on 0800 787 0848 to find out more.