what are network management systems
What are network management systems?
When you're running a business, keeping your network up to scratch is vital, but have you heard of network management systems, and do you know how to implement one to better your business? Read on to find out.
What is a network management system?
Cutting through the jargon, the term 'network management' just refers to the processes, tools, or applications you use to maintain your business network. Basically, anything you use 'online', like software, needs to be maintained and looked after. This is where network management comes in.
Network management is the process of keeping your core network up to date and thriving, which in turn, keeps your business healthy. Performance management, security and fault analysis are also included in network management.
A network management system is sometimes referred to as an NMS. The main focus of an NMS is to bring together the interacting components that make up your business and make your role as an SME owner easier, as everything to do with your network maintenance is in one place.
How does a network management system work?
Network management works by ensuring your networks are all working correctly, this can be done by:
Keeping up regular network administration
Network administration means making sure vital things like servers, routers, switches, hubs, cables, and computers are working correctly. It can also involve setting up new software as well as upgrading operating systems and other tools used to run your business. Maintaining network administration also means regularly keeping an eye on the performance of these systems so you can identify which software is working or not working for your business.
Monitoring network operations
Monitoring network operations means making sure your network is working as expected. This can mean monitoring your network activity and identifying problems like bugs and slow systems or even catching problems like WiFi black spots.
You should always aim to uncover problems in your network before they become real issues and long before they affect the daily running of your company. For example, if you noticed your software was slowing your computers down more than usual, it's best to see if you can upgrade it ahead of time to avoid it becoming an issue with taking customer orders later down the line.
Carrying out network maintenance
Network maintenance includes managing things like repairs to your network resources. These can include but are not limited to network switches, installing new routers, as well as repairing cables, servers and damaged workstations.
Configuring your Network
Another important part of network management is keeping your network configured and up to date. This means your system will be likely to support a wider range of services. Configuring means evolving with your online business needs, so you'll analyse what would make your business perform better and adapt in the future.
For example, if you were hosting a training day that involved lots of staff members logging on to work remotely, then you may choose to look at your broadband and see if you can configure your network to support faster internet.
Regularly checking Network Security
Network security is pivotal to your business health, so it's an important part of managing your network. You should make regular checks on your system to identify any security breaches before they become a bigger issue and impact your business.
As part of your network management, any activity logs on routers and computers should be monitored. If a breach is identified, your network management system should be able to identify who is causing the breach. As part of your security plan, your management system should be set up to automatically alert you of any suspicious activity.
Introduce Network Automation
Speaking of being notified about issues automatically, automating your network can reduce costs within your business and will hopefully make your security and management systems more effective. This is because there is less scope for human error.
What are the different types of network management systems?
There are a few different kinds of network management systems to choose from, and what you choose depends on the type of business you run. For example, are you comfortable having your management system completely online, or do you prefer having an actual person responsible that can answer questions? The main kinds of network management choices are:
Cloud-based
This means the management system is hosted completely via the cloud. The pros of this avenue are that cloud-based choices often have low start-up costs and more flexibility for you as a business. This choice often enables more complex IT agility. Some of the cons you can face are because it's completely online, you can encounter some performance problems as well as increased security risks. Find out more about keeping your business safe online with our guide.
On-site
Another option is to have your management system on-premises. The pros of this route include better security if you have a larger premises (or multiple premises) and increased data security because all your data will be on-site.
The cons are that you might need additional connection add-ons, and it can be a little more expensive to initially set up.
Off-site
The final option is off-site management, which involves handing your network management to an outsourced company. The pros are there can be a sole individual or company responsible for taking care of your network, they will likely be experts, so it takes the stress off you as a business owner. The cons are it can be expensive and can take control away from you.
What types of devices can a network management system control?
Computers
Servers
Switches
Routers
Security Networks
What do network management systems do?
If you're thinking a network management system might be the logical next step for your business, you might be looking into what they can actually add to your company. The main point of a management system is to keep an eye on:
Performance Management: To measure and monitor the performance of your network.
Fault Management: To detect any network conditions that may be faulty.
Accounting Management: To regulate network resources and allocate costs by tracking what might make your life easier as a business owner.
Security Management: To prevent security breaches by keeping an eye on past and present security breaches.
Data Backup- To back up important business data.
What are the benefits of network management?
There are lots of benefits of network management for your business. It's important to do your own research to see if having a management strategy would be a positive step for your unique business. Some common benefits are:
Lower costs
More efficient data sharing
Enhanced data security
Better device integration
Improved network performance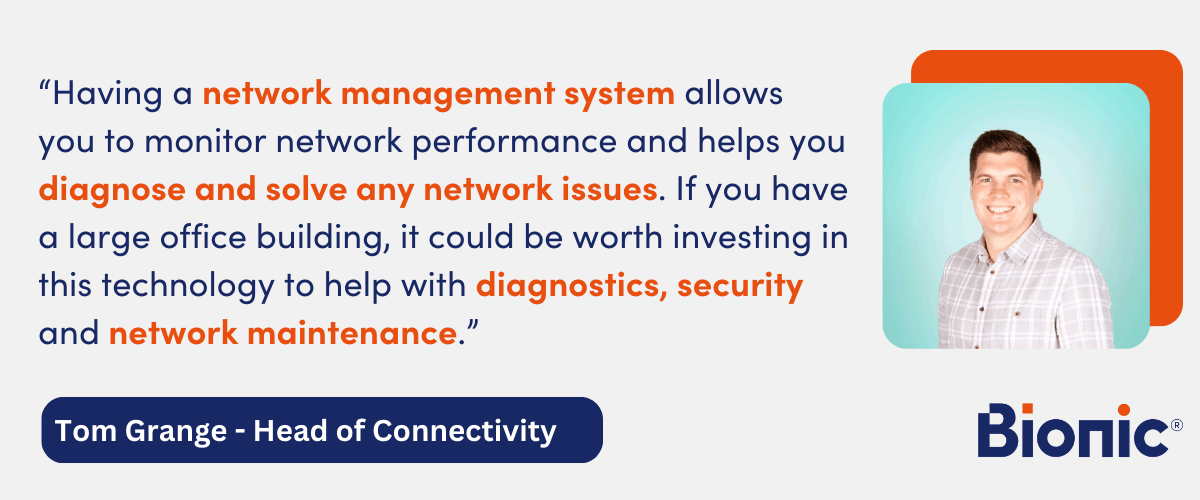 Do network management systems work for hybrid workers?
Yes, they can work for any business, this is because there are a range of options when considering your management system. You can choose cloud-based maintenance as well as on-site or off-site solutions.
How can Bionic help your business with admin?
At Bionic, although we can't choose a network management system for you, we can help you with any extra admin hassle, so you can focus on your business as well as its needs and goals.
Bionic can help you save time, hassle, and unnecessary admin when sorting business essentials. We compare business gas and business electricity, as well as business phone and broadband to help make sure you're on the best deals for your business.
We can also help with business insurance and business finance. Get in touch to find out more.