The cost of owning or renting a commercial property in the UK
If you find that your business is outgrowing the kitchen table and your home office is strewn with various documents and important bits of kit, it could be time to think about expanding.
With hybrid working, the four-day work week and record energy costs at the front of mind for many, we wanted to see whether it was still economically viable for businesses to move into dedicated office space.
Using original data from Rightmove, the small business experts at Bionic have worked out how much it costs to purchase or rent a commercial property in different areas of the UK in 2023. The data also reveals the average cost of renting and buying a property per industry.
What's the difference between renting and buying a commercial property?
Deciding whether your business is better suited to buying or renting can depend on a number of factors, including your business's financial capabilities, long-term objectives and current market conditions.
Buying — Purchasing a commercial property typically requires a significant upfront investment or financing but grants long-term ownership, potential property appreciation and the ability to customise the space to suit your business needs.
Renting — Renting involves a smaller financial commitment and helps to relieve the responsibilities of property maintenance and repairs. The space can be adapted according to changing business requirements or relocated more easily. But it lacks the investment potential and equity-building opportunities that come with property ownership.
The top 5 most expensive areas for buying and renting
Whether you're looking to buy or rent a property for your business, your location can play a big part in the prices you pay. Here are the country's most expensive areas for buying and renting commercial premises.
Where is most expensive when buying a commercial property?
Overall, the South East of England saw some of the country's highest commercial property prices when buying. Oxfordshire came out on top and for all properties for sale there, more than 4 in 10 were office spaces. The average cost of buying is over £15,700,000 — making this the area's most expensive property type.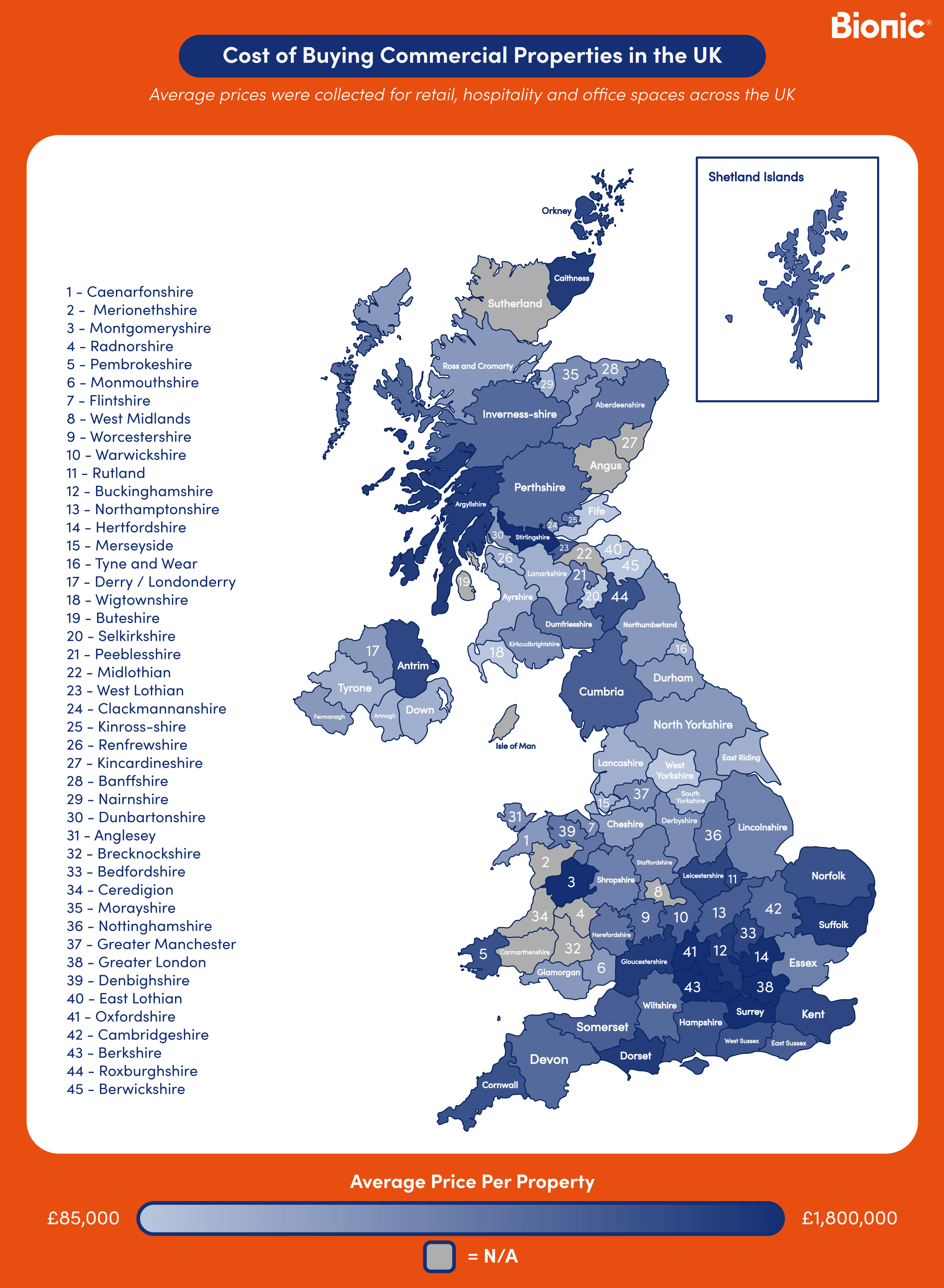 Unsurprisingly, the capital saw one of the most expensive averages in the country for buying a commercial property, coming in at £1,655,844 per property. London's global financial and business hub attracts domestic and international companies. The high demand for commercial spaces creates competition among businesses, leading to a drive-up in prices.
These were the most expensive areas for buying overall:
| | |
| --- | --- |
| Location | Average Price Per Property |
| Greater London, London | £1,631,912 |
| Hertfordshire, East England | £1,120,936 |
| Surrey, South East England | £1,019,118 |
| Suffolk, East England | £827,845 |
| Oxfordshire, East England | £771,785 |
Where is most expensive when renting a commercial property?
Demand for commercial properties in London is always high and will always be high, simply because the capital will always attract bigger businesses and tourists alike compared to other areas of the country that don't see this boom in businesses.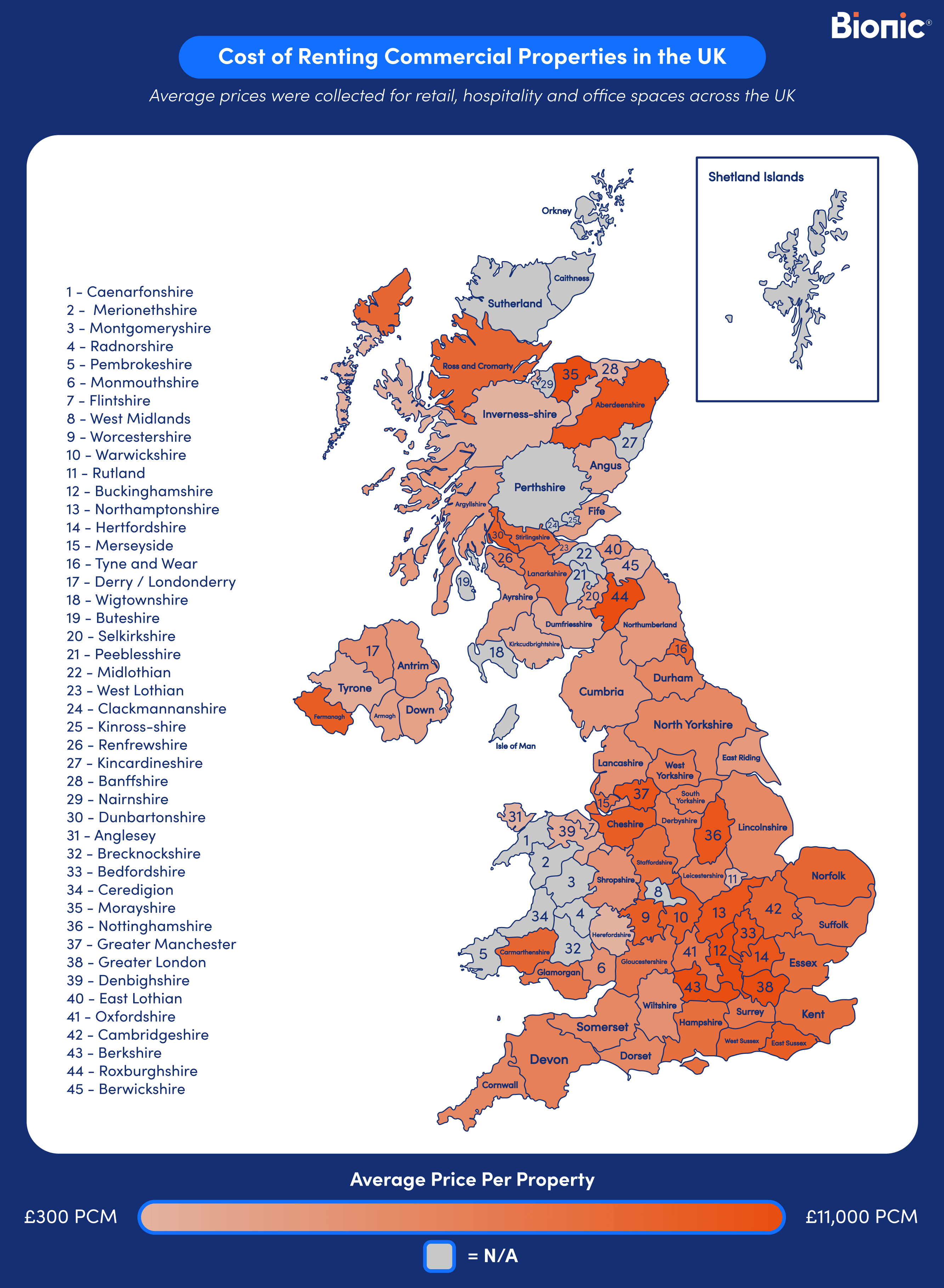 Property prices in London have increased over the years, and rental prices tend to follow this trend. Because of this, landlords may adjust their rental rates to reflect the property's value and the potential return on investments, so rental prices are averaging over £11,400 per month. This is a 154% increase compared to the lowest prices seen in Northern Ireland, where the average sits at £1,467 per month.
The data also revealed that Roxburgshire and Morayshire — both in Scotland — have some of the country's highest rental prices on average. According to the BBC, 1 in 6 shops in Scotland are currently lying empty. A combination of high rental prices, the cost of goods and rising energy prices could contribute to this.
It's also worth noting that the most common property type available in Roxburghshire was retail spaces, whilst it was office spaces in Morayshire. This sharp rise in rental prices seen in these areas of Scotland could be because they're rural, meaning there aren't as many properties to choose from as you'd find across other parts of the country, such as Edinburgh.
These were the most expensive areas for renting overall:
| | |
| --- | --- |
| Location | Price Per Month |
| Greater London - London | £11,412 |
| Berkshire - South East England | £7,618 |
| Roxburghshire - Scotland | £5,684 |
| Buckinghamshire - South East England | £5,025 |
| Morayshire - Scotland | £4,919 |
Top 5 least expensive areas when purchasing and renting
We've seen where the most expensive commercial properties are, now let's take a look at those parts of the country where you can get business premises for less money.
Where is least expensive when buying a commercial property?
| | |
| --- | --- |
| Location | Average Price Per Property |
| Wigtownshire - Scotland | £85,000 |
| Selkirkshire - Scotland | £118,929 |
| Berwickshire - Scotland | £125,000 |
| West Yorkshire - Yorkshire and the Humber | £129,099 |
| East Lothian - Scotland | £130,000 |
Scotland consistently has some of the lowest purchase rates in the country and has four out of the top five cheapest property prices across the UK.
However, West Lothian, home to Scotland's capital city of Edinburgh, has an average purchasing price of nearly £520,000 for commercial properties, a 143% increase compared to Wigtownshire.
More remote areas don't benefit from the booming tourist industry to the same degree that sees other parts of Scotland thrive, which suggests why the average purchasing price for properties is lower. For instance, Wigtownshire's population currently stands at only 880 people. The footfall and opportunities in rural areas are not as plentiful as in larger UK cities - especially for retail and hospitality spaces, but for businesses who can operate remotely, it may be worth considering having office headquarters in a cheaper location to cut costs.
West Yorkshire is the only other region not in Scotland that sits within the bottom 5. Of the over 400 commercial properties available to rent or purchase on Rightmove in West Yorkshire, 37% were hospitality, 27% offices and 36% were retail.
Where is least expensive when renting a commercial property?
| | |
| --- | --- |
| Location - Renting | Price Per Month |
| Inverness-shire - Scotland | £384 |
| Banffshire - Scotland | £500 |
| Herefordshire - West Midlands | £594 |
| Rutland - West Midlands | £616 |
| Anglesey - Wales | £669 |
Interestingly, the data revealed that Scotland, again, had some of the lowest renting rates in the country.
Despite being Scotland's largest county, Inverness-shire came out with the lowest rent rate — with commercial renting costing just £384 on average per month. The limited office and retail availability on the rental markets could be the driving factor behind these lower prices, suggesting Landlords are keen not to have their spaces lying dormant.
The research also showed that the coastal town of Anglesey in Wales boasts cheap commercial rental prices, averaging £669 per month, thanks to the mass of guest houses available.
Average cost of buying vs renting across industries
The data shows that office space is the most expensive commercial property type to both rent and buy. Expensive prices for prime office space in the capital has influenced figures, bringing the purchasing average just shy of £1 million.
Retail space is the cheapest industry for average purchasing prices and is only a third of the average purchasing price for offices. The Leisure & Hospitality sector has the lowest prices for renting, but overall the renting averages across the 3 industry types are fairly equal.
Regional breakdown per industry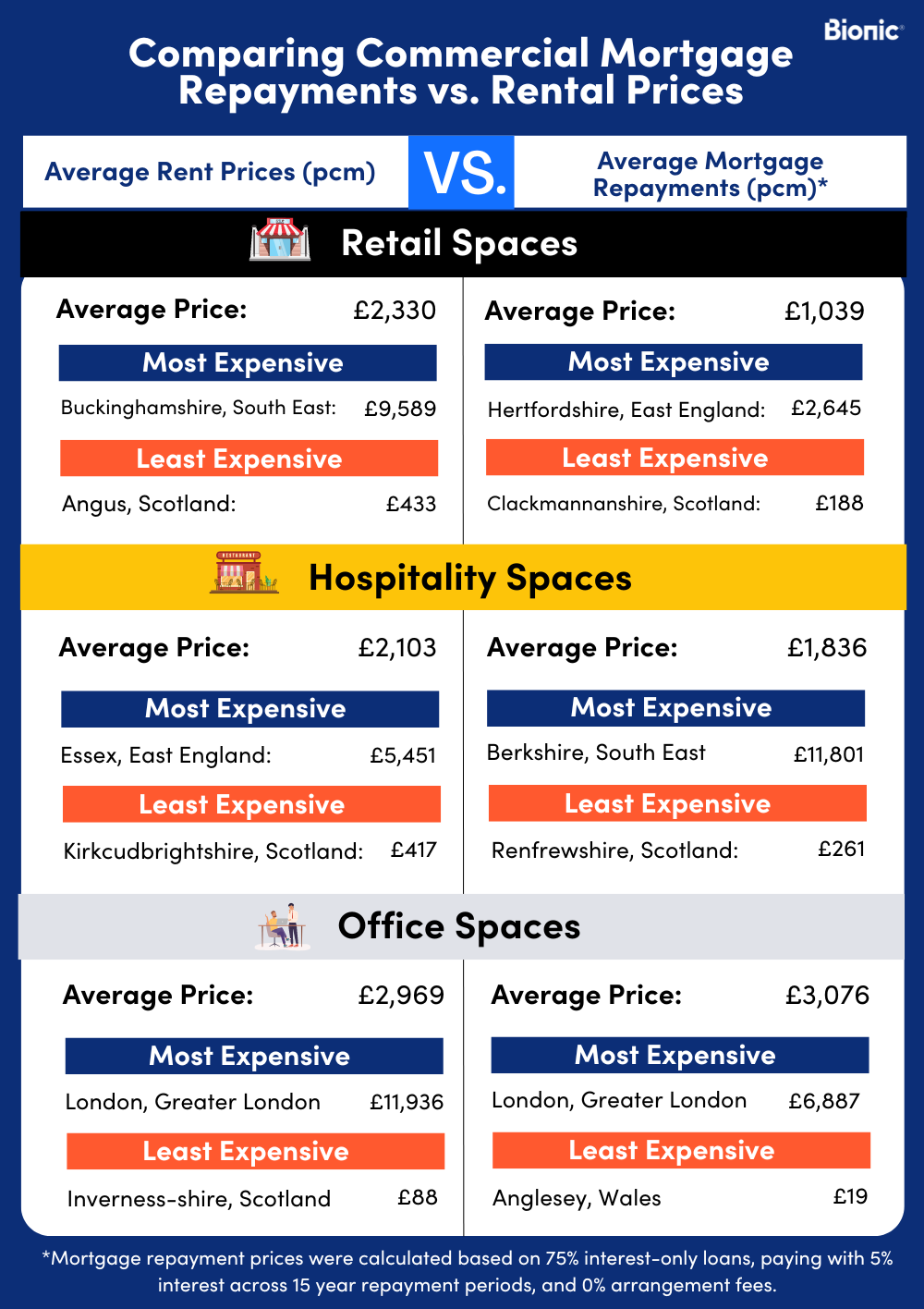 There was a definite North-South divide found across all industry types, with the most expensive offices, retail and leisure & hospitality properties found in London and the South East, whilst the cheapest can be found in the North East and Scotland.
Interestingly, whilst Yorkshire was amongst the cheapest for retail and leisure & hospitality properties, it was the 6th most expensive region for offices.
The data also showed certain areas seem to specialise in a commercial property type. For example, 65% of the properties for Sale in Devon were "Leisure & Hospitality'' whilst this figure for Cornwall was 44%, and most were hotels. The tourist industries of these seaside regions may be struggling during the cost of living crisis with hotel owners forced to sell up or rent out.
Les Roberts, Business Comparison expert at Bionic, had this to say about the results of the study: It's clear to see from this data that commercial rent prices are continuing to rise. Being tied to a lease is especially risky during economically volatile conditions as many leases increase in line with inflation, which currently sits around 8.7%. Not only does buying give you full control over the property, but it means costs can be fixed, removing the risk of payments increasing,
Recent data suggests that although the share of workers back in the office full time following the Pandemic isn't growing significantly, hybrid working patterns are currently the most popular working style with more than 50% of the world's largest firms currently adopting this model.
Although some statistics suggest productivity is just as high amongst employees when working from home, a survey conducted by Microsoft discovered that 80% of business leaders thought working remotely damaged their employees' productivity and standard of work. Investing in an office space and adopting either full-time or hybrid working conditions could boost employee productivity and your profits."
The benefits of owning or renting an office space
Owning or renting an office space can give your business the stability that it needs — especially if you've outgrown your current situation.
Different business types will suit different styles of office space. Traditional office spaces have dedicated employee desks and PCs and are often company-owned properties. A co-working office space consists of workers sharing the space with people who usually aren't within their company and usually suits companies will less than 50 people.
Serviced office spaces are managed by a third party that handles the furnishing, cleaning and maintenance. Everything will go through a landlord, with the company taking out a long-term lease. It's usually an alternative to company-owned property, which has to be managed in-house and deal with the everyday running and upkeep.
Some of the most important benefits of having an office space include:
Centralised operations — Having a physical hub where employees can come together can streamline workflows and facilitate efficient decision-making processes.
Professional image — Having an office space showcases your stability, professionalism and credibility which can instil confidence in clients, partners, investors and potential customers.
Separate work-life balance — Physically separating the professional environment and the home can enhance your productivity whilst allowing you to disconnect and relax when you're away from the office.
Customer accessibility — An easily accessible office can enhance customer service by providing a convenient and welcoming environment for clients to engage with your team.
Employee satisfaction and retention — A well-designed office space can improve employee morale, job satisfaction, and overall well-being and can help attract and retain top talent.
What to consider before purchasing or renting a commercial property
Before you take that leap forward into unknown waters, it's important to consider a few factors when it comes to purchasing or renting a commercial property:
Location — The location of the commercial property is crucial. Consider factors like accessibility, proximity to transportation hubs, target market demographics, competition, and the overall reputation of the area.
Space and layout — Consider how much space you'll need, the floor plan, and if it can accommodate your specific business needs. Don't forget to look at important features like parking, bathrooms, and any common areas it might have.
Cost — Be mindful of the financial aspects when considering purchasing or renting a property. Think about the upfront costs, monthly rent or mortgage payments, property taxes, insurance, and maintenance expenses. It's important to ensure that the costs fit within your budget and won't strain your long-term financial goals.
Condition and maintenance — Weigh up factors like the building's age, its structural integrity, electrical and plumbing systems, and overall functionality. It's important to know if there are any maintenance or renovation costs you'll need to address and whether you have the resources for them.
Future growth and flexibility — Think about the future growth of your business. Evaluate whether the property can accommodate your expansion plans and if the space is flexible enough to adapt to your changing needs. It's important to ensure that you won't outgrow the property too quickly or find yourself locked into a long-term commitment that doesn't align with your future goals.
Read more about finding the best location for your business with our handy guide, or if you're looking to up sticks our guide to successfully moving your business to a new location, can help.
What are other additional costs to consider?
When you buy or rent a commercial property, it's so important that you've considered and budgeted for everything so you're not left with any nasty surprises.
Some things to make sure you have covered:
Property tax — Property tax is a tax paid on a property that's owned by an individual or other legal entity, such as a business.
Insurance — Protecting your investment is important, so make sure to consider insurance costs. This can include property insurance, public liability insurance, and other types of coverage specific to your business needs.
Utilities — Keep in mind the cost of utilities such as business gas and business electricity for heating and lighting. Also, bear in mind that you could be on deemed rates for energy when you move into a property. These are usually expensive, so you'll want to switch to a fixed rate as soon as possible. You'll also need to consider the cost of other utilities, like water, broadband and phone line services. When renting, check if utilities are included in the lease or if you'll be responsible for setting them up and paying separately. As an owner, budget for these ongoing expenses as part of your monthly costs.
Maintenance and repairs — Commercial properties require regular maintenance and the occasional repair here and there. Regular maintenance, like cleaning and general upkeep, should be factored in, along with any unexpected repairs that may arise.
Renovations and upgrades — Consider any renovations or upgrades you may need to do to the property, whether this is before or after a business moves in. This could include remodelling, interior design changes, technology upgrades, or infrastructure improvements.
Funding your small business is never easy, but if you take the time and effort, it can really pay off in the long run.
Finding the right office space for your business with Bionic
Using a commercial mortgage broker is a simple way to find the product and lender that's right for your business. If your business needs a hand when it comes to commercial mortgages, then the experts at Bionic can help.
Get in touch today to discuss your needs or get more information on business insurance. We can also make sure you have the right business gas, electricity, phone and broadband contracts in place at your new property.
Methodology
We scraped data from Rightmove to get rent and purchasing costs for properties in England, Wales and Scotland. We used PropertyPal to scrape prices for Northern Ireland, as Rightmove is less widely used there.
*In order to get mortgage repayment estimates, we used Swoop's commercial mortgage calculator and calculated costs with 75% interest-only loans, paying with 5% interest across 15-year repayment periods, and 0% arrangement fees."