What are the Premier League's greenest grounds?
Global warming and climate change is an ongoing issue that is affecting every single corner of the planet as we speak. Businesses of all shapes and sizes, from international conglomerates to independent local stores, are making changes to cut their carbon footprint and do their bit to make the world a greener place.
Of course, the ongoing energy crisis only adds to the issues facing businesses. High energy costs are leading businesses to make difficult decisions when it comes to their running costs - and sport is not exempt from this issue. Football as an industry has been impacted by high energy bills throughout the cost of energy crisis. The EFL have stated smaller clubs and lower league teams in the UK are expecting bills to quadruple over the winter, with some even outlining plans to have earlier kick-offs, minimising the use of expensive floodlights.
But what about those at the top of the football pyramid? We wanted to see which Premier League football stadiums, and their surrounding areas, are the greenest. We've looked into each stadium's air pollution, energy efficiency, heat usage and more to discover the answer.
Top 5 greenest stadiums in the Premier League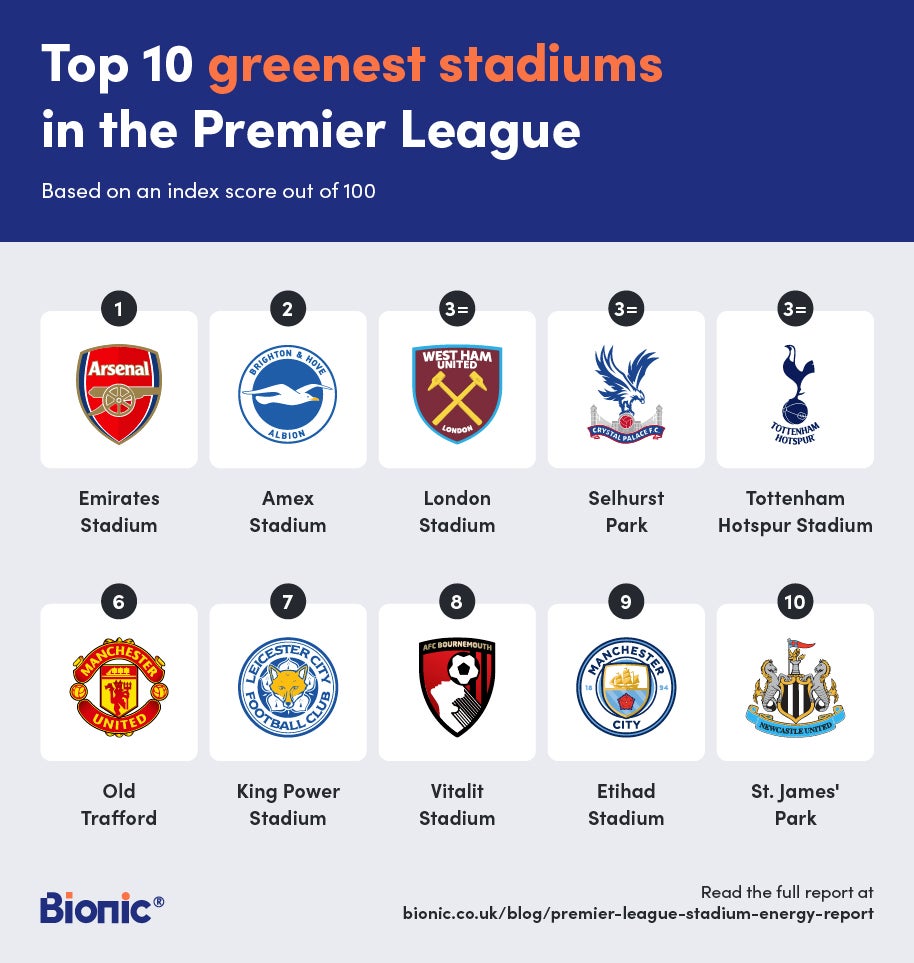 Arsenal's Emirates stadium is the greenest Premier League stadium
The Emirates, home of current Premier League toppers Arsenal, also sits at the top of our table and is ranked as the Premier League's greenest stadium with an index score of 64.48.
The Emirates, which has a capacity of 60,707, became home to Arsenal Football Club in 2006. In 2018, the club became the first to install large-scale battery energy storage in an attempt to cut emissions and lower the cost of energy bills. The battery is capable of storing enough energy to power the stadium for a whole football match.
On top of this, 100% of the club's energy is renewable, including all sites across the stadium, training facilities and offices. The Emirates is also easily and primarily accessible by public transport which reduces carbon emissions associated with travel. The stadium also has a stringent single-use plastic reduction and removal strategy in place, which includes the provision of reusable cups to cut down on waste. And this works well for the club - in fact, they send zero waste to landfill! All general waste is hand sorted to remove all reusable or recyclable materials. This equates to a matchday waste recycling rate of 90%!
In the KM2 area in and around the stadium, air pollution is at a high level of 95, but thanks to great efforts, the median energy efficiency score sits at 78. The area also utilises 387 megawatts of heat per hour on leisure and sports and leisure alone. In total, the area's total heat usage hits 280,193 megawatts per hour.
In 2015, Emirates installed a new LED lighting solution that reduces energy consumption by 30%, which is a significant improvement on the 2000-watt metal slide lights used until then.
Brighton and Hove Albion's Amex Stadium is the second-best stadium for the environment
Brighton and Hove Albion's Amex Stadium comes as the Premier League's second greenest stadium, with an index score of 59.23.
Brighton's Amex Stadium is 100% powered by renewable energy across all associated club locations. The club also has solar panels installed across the training ground's roof, and fully offsets all gas-related carbon emissions. The stadium and training grounds are also BREEAM certified as "very good", and have enabled even greater energy efficiency with enhanced monitoring.
The club promotes and advocates the use of public transport for fan travel. Free bus and rail options are offered to fans within a certain zone, and the club even works with local transport providers to track fans' travel to the stadium. Like Arsenal, Brighton has a single-use plastic reduction strategy in place, however, it also includes the provision of free zero-plastic sanitary products for fans and players.
Brighton's coastal location does mean that the KM2 in and around the stadium has an excellent air pollution score of 38. The median energy efficiency score sits at a respectable 66, whilst heat usage for this area sits at a very low 37,621 megawatts per hour.
Three London clubs round off the top five greenest premier league stadiums
West Ham United: London Stadium
West Ham's London Stadium is recognised around the world for its original use as the London 2012 Olympic Stadium. But in our index, the iconic stadium comes in joint third, with a score of 57.9, in the battle for stadium sustainability!
The KM2 in and around the London Stadium has an air pollution score of 91, however, does have the highest median energy efficiency score out of all Premier League stadiums, at 84.
The stadium uses 100% renewable energy and their workforce entrance even uses 150m2 of solar panels. London Stadium has been BREEAM certified as 'excellent', and like many top clubs, West Ham is investing heavily in replacing non-LED lights with LED, which will help improve energy efficiency.
The Stratford location means public transport is heavily advocated by the club, which also monitors fan travel to and from games. Their research has shown only 12% of fans travel by car to matches, which is helped by the fact that no parking is available at the ground.
Crystal Palace: Selhurst Park
Selhurst Park, home of Crystal Palace ties with West Ham as the third greenest stadium in the Premier League, with the same index score of 57.9.
No parking is available at the stadium, encouraging all home and visiting football fans to use public transport to attend matches. Crystal Palace offers excellently priced coach travel to the majority of away games to minimise the carbon footprint and provides a sustainable option for travelling supporters.
The KM2 in and around Selhurst Park has a respectable air pollution score of 85, which is low considering the London location. However, the energy efficiency score is lower than many of the surrounding clubs at 67. This is likely due to the fact that the club was built almost a century ago in 1924.
Heat usage for sport and leisure in the area is 532 megawatts per hour, which is only a small portion of the area's total usage which hits 213,599 megawatts per hour.
All Crystal Palace locations are also investing in replacing all lights with LED, with the goal of becoming 100% LED operational to help increase energy efficiency. Zero waste goes to landfill, with all waste being sorted into different materials so the waste management company can maximise recycling and sustainability opportunities.
Tottenham Hotspur: Tottenham Hotspur Stadium
Tottenham Hotspur moved into their new home in 2019 after 118 years at White Hart Lane, and are the third stadium to score 57.9 in our ranking. In 2021, Tottenham Hotspur Stadium hosted the world's first net zero carbon football game at an elite level.
The stadium uses 100% certified renewable energy, with REGO-backed electricity and carbon-neutral gas in use. Technology such as solar panels and air source heat pumps have been installed at the training centre to deliver renewable energy.
As a London club, fans can make use of TFL to get to matches, as the stadium is actively promoted as a "public transport destination". And for away games, players travel to matches on coaches powered by biofuel.
As an inner-city club, it's no surprise the KM2 around the stadium has a high air pollution score of 96, yet does make up for this with a median energy efficiency score of 72. Heat usage for sport and leisure totals at a respectable 57 megawatts per hour, while heat usage totals 195,021 megawatts per hour.
How environmentally friendly is your team's stadium?
Below is a table of Premier League stadiums, ordered by how environmentally friendly they are. Where does your team's stadium sit?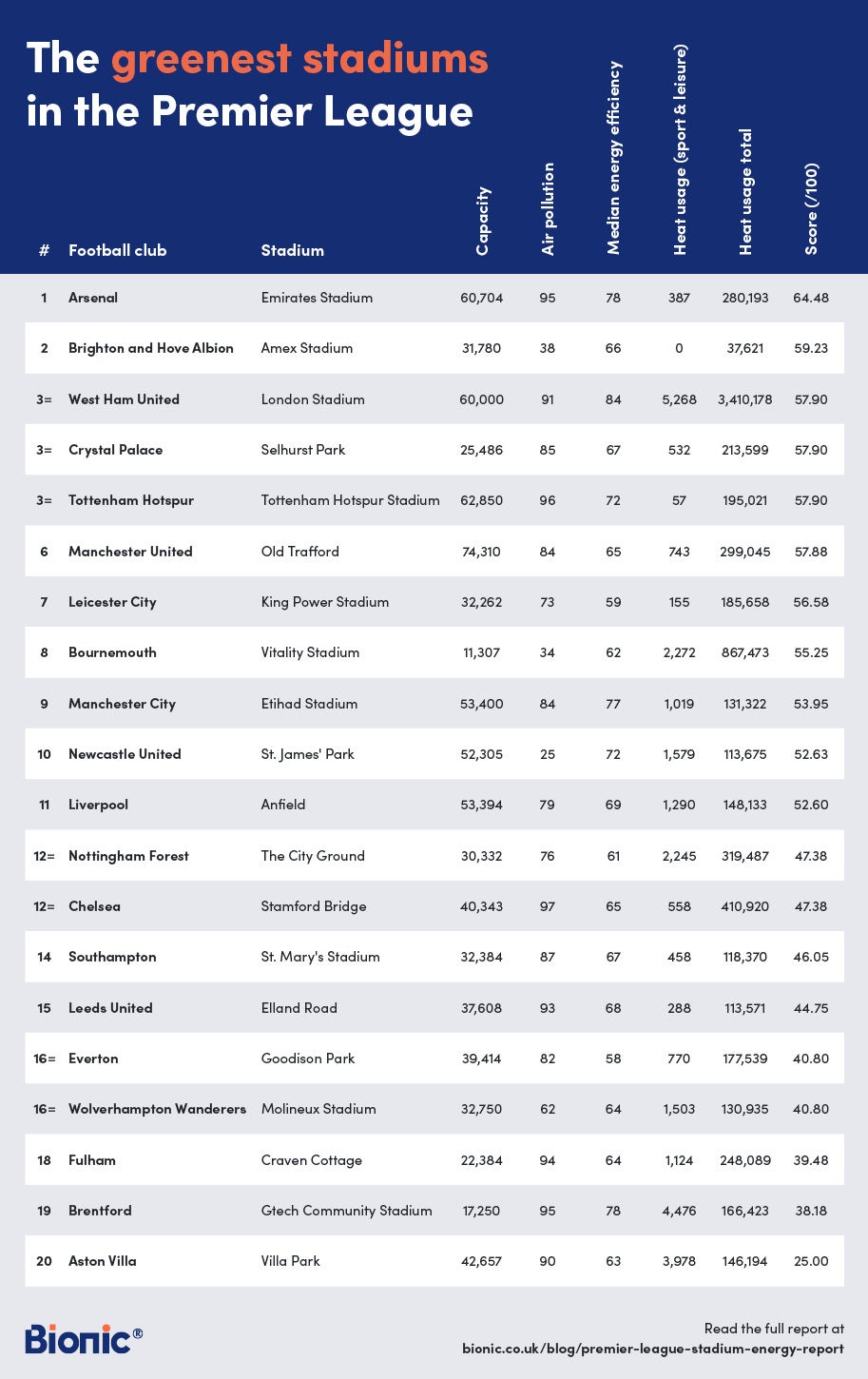 How small businesses can learn from the sustainable stadiums
There are some common practices employed by Premier League stadiums that small businesses can definitely adopt to help become more climate considerate. Simple swaps such as using LED light bulbs, eliminating single-use plastics and establishing an effective zero waste recycling programme.
Making these sustainable changes to your business doesn't have to make a financial impact. In fact, these small changes are what can help have the biggest impact overall. That's why we've created a list of quick and easy ways to make your businesses greener.
If you do want to follow Arsenal's lead by swapping to renewable business energy you can learn more about the benefits and whether it is a good choice for your business.
To switch business energy, call our tech-enabled team on 0800 144 8334 or give us your postcode on our business energy page and we'll call you right back.
Methodology
For the indexes we created, data was used to determine which Premier League 2022/23 club's stadiums were the greenest. This study was based on data from the Office of National Statistics to analyse the Governments's ratings of energy efficiency for particular postcodes.
StadiumDB was used to analyse Stadium data providing information, such as renovation dates and other supporting data. Heat usage for particular postcodes was analysed using the UK CHP Development Map, which is designed to geographically represent the heat demand across various sectors within the United Kingdom. addresspollution.org by the Central Office of Public Interest (COPI) was used to analyse accurate air pollution data across different postcodes.
Data is pulled from a national 20m/sq resolution model created by Imperial College London (ICL). To ensure accuracy, COPI sourced and mapped real-world pollution levels recorded at more than 19,500 council monitors in every major town and city across the UK. The scientists at ICL were then able to calibrate to these real-world levels - resulting in the most detailed and accurate national model ever created.