How to get big attention for your small business
Small businesses have it tough sometimes. Simply being passionate about what you do isn't enough to convince people of your product or service, which means it can be difficult to attract customers when starting out.
Even if you're convinced that your business is the best at what it does, it might still be met with scepticism by customers when you first arrive on the scene. You can be left wondering what you have to do to convince people to give you a go.
And that's before bigger businesses muscle in on your scene. Even if you've spent years building up a loyal customer base, you could find they're as flighty as anyone if a well-known chain opens up just around the corner. Just ask any independent cafe or coffee shop owner how the arrival of a Costa or Starbuck has hit their business.
But things could be changing. The pandemic has given us all a wake-up call when it comes to supporting small businesses. So much so, even some of the country's biggest businesses are spreading the #shopsmall message.
But how can bigger companies offer support? And how do small businesses get them to notice in the first place?
Here are some ways your small business can collaborate with big businesses and spread the word about shopping small and local.
1. Hit up big businesses directly
If you're a local business and sell products that may appeal to a wider customer base, then why not directly approach some larger companies to see if they would consider stocking your items?
As a local baker, for example, you could head to your nearest supermarkets to see if they'd be interested in selling your goods to their counters.
Don't just limit yourself to the likes of Sainsbury's, Tesco and Aldi though, get creative. If you're a dab hand at crafting specialist oriental deserts, then approach some of the bigger Chinese supermarkets. Think outside the box to work out where your product would best fit within the wider market.
Maybe you're an independent butcher with a great reputation in the surrounding community? You could head into some local restaurants to see if they'd like to sample your goods and start using you as a regular source of produce. This could be a win for both parties as people are becoming more conscious of carbon footprints and the impact of using locally sourced food.
Supermarket giants like Tesco and Sainsbury's stock a lot of well-known branded products, but you'll notice they also regularly introduce unique items and support small produce sellers too.
To become a supplier for stores like Sainsbury's, you'll have to have a SALSA accreditation (Safe and Local Supplier Approval) but if you already have one of these you're well on your way. It's a pretty simple process from there, all you have to do is visit Sainsbury's site and sign up to be a supplier using the form. It's as easy as that.
If you're looking to provide products for independent businesses rather than corporate supermarkets, it could be worth trying out a more lo-fi approach. Print out some business cards, covering letters and photos of your products so the businesses you're visiting can see exactly what you do. If you have a specific niche, then make sure you highlight this as well as anything that makes you stand out from the crowd.
For example, if you're all about baking gluten-free cakes or vegan specialities, food shops are always looking for more ways to be mindful of everyone's dietary needs so would probably welcome new product suggestions.
From the visit, just start a conversation. You'll be getting your products out there for more people to see and the supermarkets will be introducing new items and creating a buzz for their own sales. It's a win-win for both parties.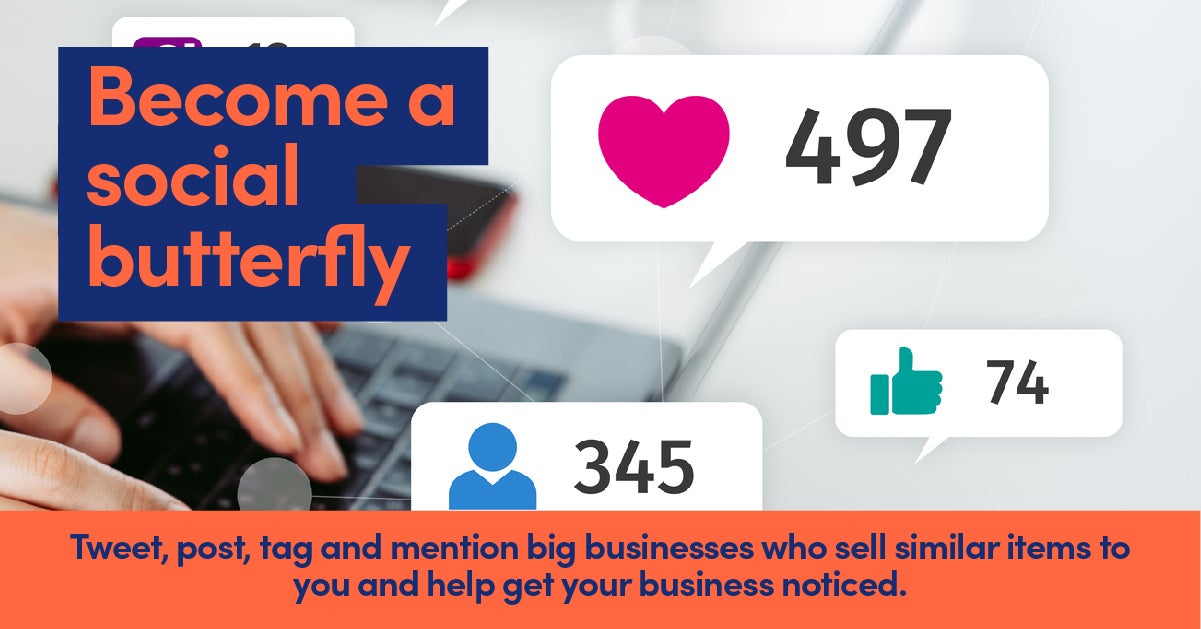 2. Become a social butterfly
The power of social media shouldn't be underestimated, and a single tweet can cause a surge in custom for a small business.
At Christmas, giants such as Cadbury's and Tesco all took to their social accounts to encourage their own customers to shop small instead after a difficult year. Many social media users marvelled at the fact that these massive companies were actively encouraging customers to go elsewhere but praised the positive initiative.
But you don't have to just sit around and wait for the likes of Cadbury's to give you a shout out on Twitter, Facebook or Instagram, why not set the ball rolling and interact with them on social media.
It may not lead to anything, but you never know until you try. Get involved, the more people see your company popping up on social media and getting involved the more likely they will click on your profile to see what you're all about. Tweet relevant big companies as much as possible and see if you can strike up a virtual conversation.
For more tips and tricks on how to be more social media savvy, check out our previous blogs about using TikTok and Instagram to boost your business.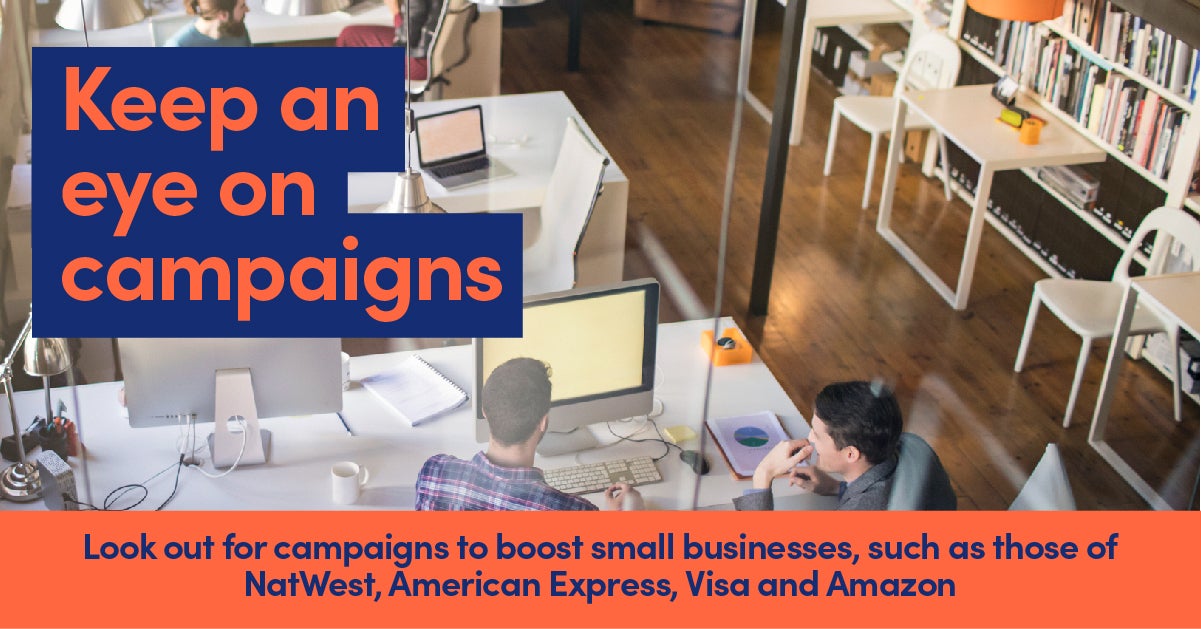 3. Keep an eye on campaigns
American Express has recently announced a new campaign called 'Shop Small UK' as a step up from its initial 'Small Business Saturday' initiative, which launched in the US back in 2010 and is now a permanent fixture in UK calendars as it takes place on the first Saturday of December.
'Shop Small UK' is encouraging people to shop locally this summer. The scheme is offering a handy interactive map to help shoppers locate their nearest small businesses and offers points for every £1 spent in a local shop.
With this small business spirit in mind, many other big companies have started to create their own campaigns and use their positions to encourage customers to try out more independents.
Even Amazon has joined the cause and is now offering a dedicated 'Shop Small' section of the app where shoppers can browse local and individual sellers rather than big brands.
NatWest and Visa have also emerged with their very own campaigns in time for the easing of lockdown. Visa conjured up its 'Where You Shop Matters' idea. This offers tips and tricks on how you can actively support your local businesses and also provides helpful tools for small companies to gain exposure, you can check out those tips here.
NatWest held a popular competition earlier in the year and awarded three small enterprises unique packages of business support and media help to spread awareness of their companies. You can see what that was all about by visiting the bank's website.
As a small business owner, it pays to keep an eye out for big businesses advertising new campaigns or competitions you can get involved in.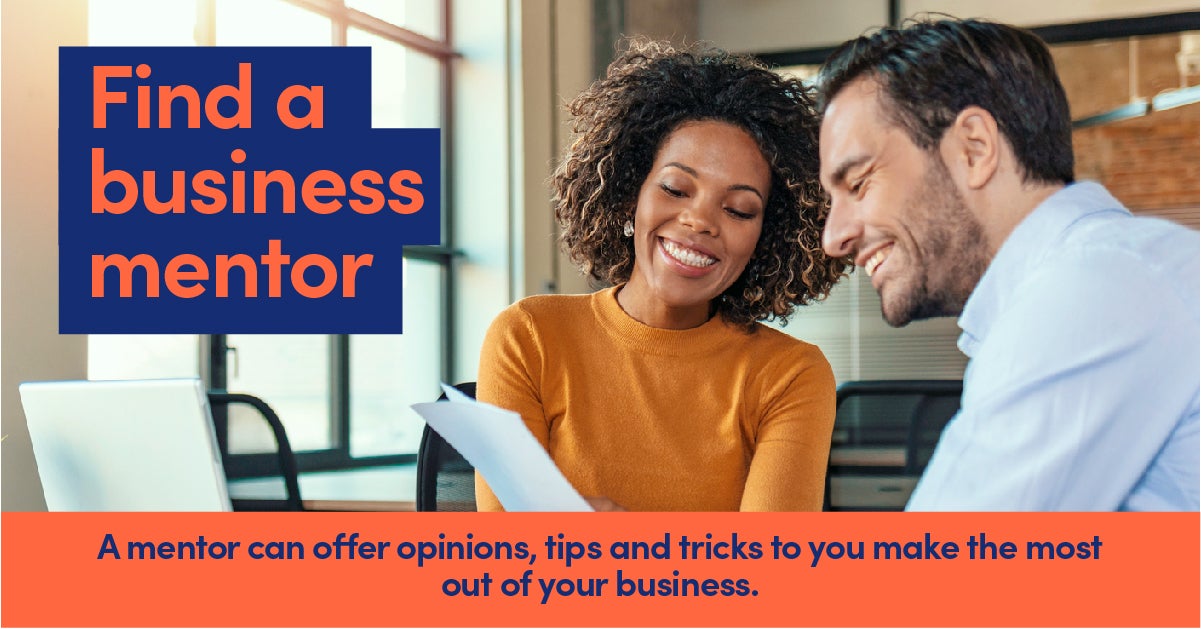 4. Find a business mentor
As a small business owner, you may feel completely alone sometimes - you simultaneously have to work in the shop front, look after stock control, marketing and HR. Although it's essentially all down to you to run every aspect of your company, there is help out there.
You could approach some bigger companies and ask them for trips and tricks or their own insight into running a business. Or you could enlist the help of a business mentor as many of them have previous experience in working with bigger companies and have a wealth of knowledge to delve into.
A lot of big companies really love to help out and you might be surprised with the reaction you get. Collect as many email addresses as possible for larger businesses that relate to yours and fire off some introductions. You never know where it might lead.
Try working on some unique sales pitches and sending out emails, connect with managers on LinkedIn and other social media platforms too. Building up a relationship will help cement your business as part of the much-loved community and get bigger companies to notice you.
Alternatively, you could have a look at the UK government website as they offer some helpful insight into securing a business mentor which could go a long way to learning how to boost your business.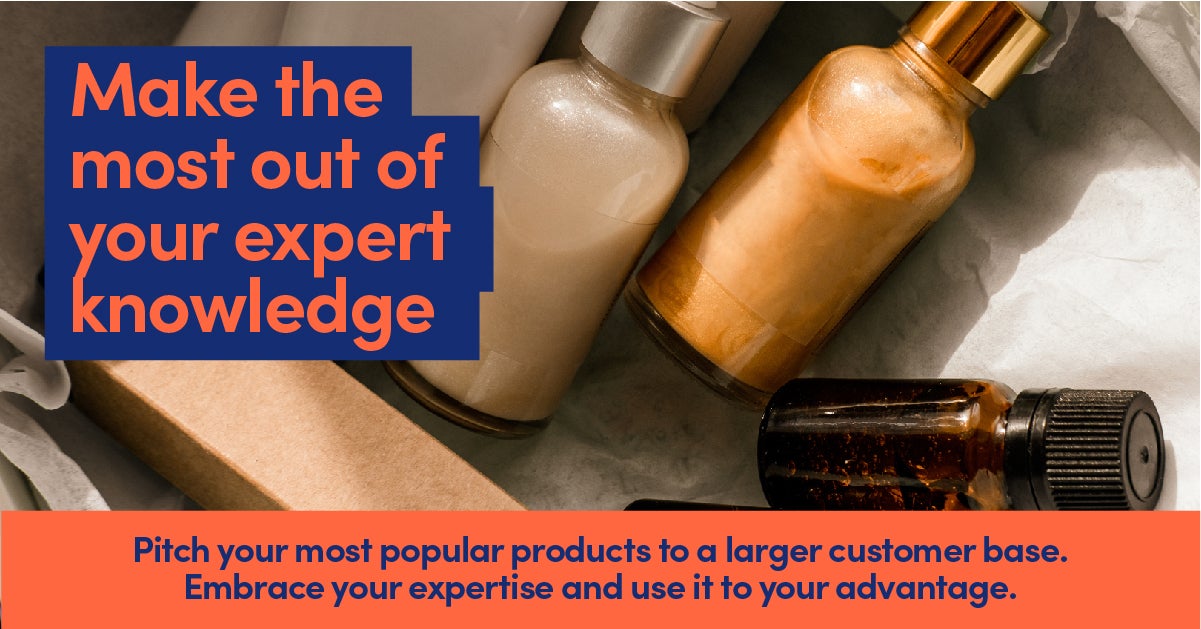 5. Make the most out of your expert knowledge
Small businesses may be disadvantages in certain ways, but they can have the upper hand in being experts in their own niche. Not only that, they're more likely to really care about their product, service and customers. As an SME owner, you could offer your services or expertise to bigger companies and collaborate as a team.
For example, you often see double-glazing booths at places like B&Q. These companies are completely separate from B&Q but are providing a specialist service that's complementary to its DIY offering.
Additionally, companies like B&Q often hold 'New Product Open Days' where they invite suppliers to pitch their ideas so it's a great idea to keep an eye out for any events like those that might be occurring. They will often be mentioned on social media, in-store or on company websites.
Another example of smaller businesses having unique expert knowledge is seen when supermarkets stock specialist products from lesser-known brands. Covent Garden soup is well-known now and has grown to rival Heinz, but it started off reasonably small.
Tony's Chocolate is another fast-growing specialist product now sold in a variety of supermarkets to challenge the likes of Cadbury's and Galaxy, you can also buy a range of pasta ready-to-eat meals with added vitamins in Sainsbury's with ingredients freshly sourced from Devon.
There are unique selling points about all these alternatives. Covent Garden Soup aims to use fresh organic ingredients and Tony's Chocolate is Fairtrade. They each have their own area of expertise and supermarkets can use this to their advantage by offering a wider choice, plus the smaller businesses get their stock on show.
So, you could adopt an idea like that, find your most unique product and do some research about how it would fit in a bigger business, then keep an eye out for open days, product launches or opportunities for your business to get involved.