What are the three ages of customer experience?
Customer experience can be a tricky thing to get right. Especially when you're building a brand and a business model against a backdrop of rapidly evolving technology and customer expectations.
Earning customer trust is vital. As is the customer experience. But some companies have yet to find the right balance. That's where the third age of customer experience can help.
A bit about Bionic
I joined Bionic as Chief Customer Officer when it was still using its old name – Make It Cheaper. This was a name that did what it said on the tin but sounded like every other brand name in the business broker market.
We rebranded to Bionic as it's a real-world, one-word name that better describes our proposition and ambitions. That's why we've been transforming the brand from a white-label call centre to a tech-enabled service that gives customers a simple way to secure business energy and insurance deals.
Our current target market is the 1.6 million small businesses that are run from commercial premises and have ten employees or less. This includes corner shops, mechanics, salons, gyms, takeaways, and any of those small businesses that are the backbone of the UK economy.
But our ambition is to be more than a simple business energy broker. We want to become a one-stop shop for business owners to buy their business essentials – energy, insurance, broadband, and any other products they need to keep their business running from day to day.
And we want to go even further than that. We want to become an advice hub and an active community for the 5.5 million small businesses in the UK. If a business owner has a gnarly problem, we want them to come to Bionic to sort it.
And embracing a new type of customer experience is how we'll achieve these ambitions.
Glyn Britton, Chief Customer Officer at Bionic, talks at Econsultancy Live last month. Photo credit: ASV Photography
When I spoke at Econsultancy Live a few weeks ago, I emphasised my passion for providing a high-class, tailored experience for customers and introduced the idea of something I like to call the 'third era of customer experience.'
Now, this 'third age' is a truly exciting prospect. There has been a clear evolution in customer service over the years, and I think we are all ready to take the next step.
But before we look at this 'third age', let's take a step back in time to when customer experience was focused on high-level expertise but low-level choice.
The first age of customer experience
Stage one customer experience revolved around the in-person journey. Cast your mind back to the 1990s, the decade that introduced us to cutting-edge consumer tech like the PlayStation, mobile ringtones, and Tamagotchi.
If you wanted to watch a movie at home (or rent a disc for your PlayStation) you could go into Blockbuster, choose a video in-store, pay, and take it home to watch before returning it. If you weren't sure what you wanted to watch or play, a member of staff would be on hand to run you through the latest releases.
You were getting a human-centric service, but with limited product access. If Blockbusters didn't have your video in stock, there was no way you could order it with a swipe on your smartphone. There would be no option to have it delivered to your door by 10pm via Amazon Prime.
Think about old-school travel agents. Long before TUI apps and direct flights to faraway places, you had to visit your local travel agent in person.
On the plus side, you got great service - sitting for up to an hour, maybe with some tea and biscuits, while the agent listened to your needs and guided you through the whole experience using some glossy brochures.
But, you always seemed to end up with a fortnight in Benidorm because their limited product access meant that was all they had to sell you.
The second age of customer experience
Then along came the internet to change everything and usher in the second age of customer experience. This brave new online world promised customers instant access to products from across the world with just the tap of a button.
This digital DIY dive into the customer experience seemed like a huge leap in the right direction. And it was, to an extent.

But a comprehensive product offering isn't everything to customers, and there were instances when they would miss those chats with sales reps. They missed weighing up product benefits with an actual human and longed to have someone who could instantly help them with a problem or tricky decision.

Digital DIY meant giving customers full access to products and letting them self-serve, like a Pick 'n' Mix stand at the cinema. The upside was the variety and the novelty of buying things quickly. The downside was a less personal approach and ongoing issues with trusting businesses.

But customers sometimes need the option to choose a mix of human and digital experiences.

You may have noticed this change in your own customers. Maybe they comment about annoying chatbots on your site? Maybe they tell you they hate listening to an automated voice on the phone repeating the same phrase over and over?

This is the gap that's left when we take the experts away from the customer experience.
And this is where we enter the third age of customer experience. It's all about finding that balance between completing transactions online and having that human to guide you through the process at various touch points. It's a hybrid way of interacting.
Think of it like the old story of Goldilocks. The third level hopes to be the 'just right' porridge for customers.
The third age of customer experience
Hybrid is a term that's been used a lot since the pandemic, mainly in the context of flexible working – the hybrid model sees employees spend part of their time in the office, and part of their time at home.
In terms of customer experience, hybrid is about offering the high-level choice of self-serve along with high-level expertise at the point it's needed.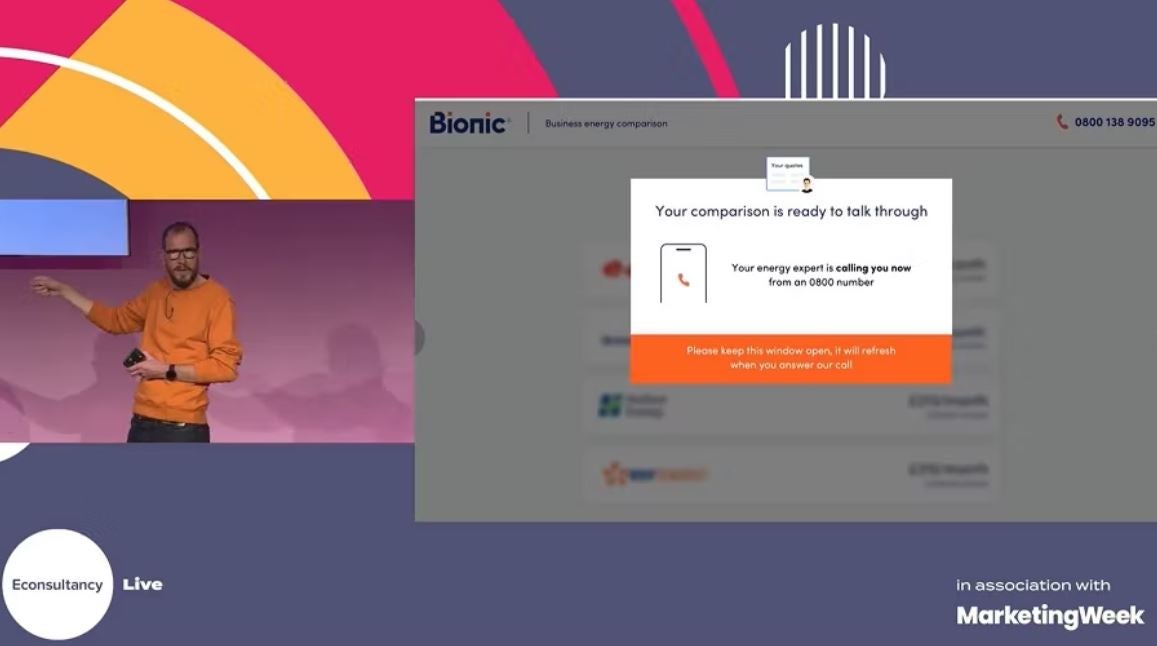 Bionic's Glyn Britton speaking at Econsultancy Live about Bionic's hybrid approach to customer experience. Inset screenshot of message highlighting incoming call to customer from a Bionic energy expert who is ready to talk through energy quotes on screen. Photo credit: Econsultancy
Business energy – the bread and butter of the Bionic brand – provides the perfect platform for this third age of customer experience. When it comes to switching energy, many will be familiar with the domestic journey – a digital end-to-end experience where users can choose from a range of predetermined tariffs.
But business energy is different. Not only are there no prearranged tariffs, but there's no cooling-off period. This means as soon as you signed up for a three-year fixed-term deal, you're locked in for the full three years.
And the rates you're charged will depend upon a range of factors, including the amount of energy you use, the size of your business, and even its location. This is why commercial energy customers benefit from a bit of expert help along the way.
At Bionic, we're finding that applying this hybrid approach is popular with our audience. And it's delivering impressive results, including higher conversion than end-to-end digital and an NPS score of 55.
But our work is far from done, and we're constantly listening to your own audience and fine-tuning their experiences accordingly. I've tried to make it clear that it's not just about transferring a customer from the web to the phone. It's about meeting the customers' needs at every stage.
The Bionic process is about bringing in expert support, dynamically, when it's needed and only for as long as it's needed before passing back to digital.
There are some fundamental customer needs that digital hasn't done a particularly good job of addressing yet. So, this hybrid model aims to tackle those same problems.
The customer journey aims to offer a metaphorical sympathetic pat on the shoulder and say to the customer: "Instead of completing these tedious forms and long phone calls with a sales representative, why not self-serve but then your personal agent will be on hand to clear up any confusion?"
Smart data is a huge part of this hybrid model. The Bionic website can locate the best sales agent to speak to a particular customer at a certain time. Innovative tech can even make the customer's phone ring at the instant the text on their screen is saying 'your agent will call you now.'
The hybrid model can help to build trust
Building trust is a big part of measuring the success of the hybrid model and is pivotal for its future. This applies to all businesses - you are nothing without your customers.
The third era of customer service means trusting the public to make informed digital decisions but also having a real person there to help should they want it.
And I don't just mean live chats.
Although chats can be a fantastic way to get instant help online, they are not the whole solution to figuring out how to better businesses in general.
I think chat has found itself getting a bit of a bad name because nearly all the companies that use it are trying to cut costs or do the bare minimum to look like they are providing customer service
I'm sure we've all encountered artificial intelligence (AI) chatbots that understand nothing at all. Or situations where you're dealing with a poorly trained employee trying to juggle 30 different customer queries at the same time.
These problems reinforce my view on there being something better, an easier solution for business owners and customers, a hybrid way of working together.
The key to hybrid? Forget everything I just said!
At Bionic, we spent a lot of time observing the lives of small business owners, and how they currently deal with energy, insurance, broadband and finance. Our customers love the idea of our young, energetic, experts working on their behalf, so we have expanded on this.
After all, a purely digital approach doesn't seem to always work. It doesn't meet the customer's real needs.
At Bionic, the digital approach converts less than 1% of our customers. That's why there's this ongoing hunt for the best solution to serve customers. But I'm confident we've found it in the expert mix of both worlds - digital and human.
But the best advice I could give to any fellow fintech business leader is to disregard everything I've just said.
Ignore conventional wisdom, ignore my blathering on about first, second or third stage customer service. Ignore all that stuff online about eCommerce and SAAS – it's just conventional jargon.
You need to be smart about your business. Go back to those first principles with your target customers but don't ask them what they think they want. Instead, observe their true needs and build around them. That's the key to getting it right.