Metal Morphosis is piercing its way to success
Bionic spoke to Ben Harris who owns forward-thinking piercing studio Metal Morphosis. We found out how his savvy SME came out swinging and overcame adversity to become bigger and better than before.
Metal Morphosis, nestled in its quirky new home on London's vibrant Carnaby Street, has been through a lot to earn its stripes.
Originally started by Ben's salesman father and pharmacist grandfather over thirty years ago, the business has morphed into something special but has kept family values. Its unique nature and flair for individuality are what sets it apart from other piercing studios and the team is proud to represent the Metal Morphosis brand.
When you enter the Carnaby Street store for a piercing, you're met with an influx of friendly faces, eager to talk you through the piercing process and put you at ease. You're welcomed in with open arms no matter your gender, age, style, race or background. The team don't just love the range of different people they see in their store each day, they thrive on it.
"The different people I mix with every day is the best part of running this business" says Ben when Bionic asks what spurs him on daily.
"You have to wear so many hats owning a business, I deal with everything from marketing and branding to customer experience, operations & finance." Ben tells us.
"With each element of the business, you meet people from all walks of life. But I love seeing people leave the shop so happy with their piercings. When they have the biggest smiles on their faces, that's the best part for me." He enthuses.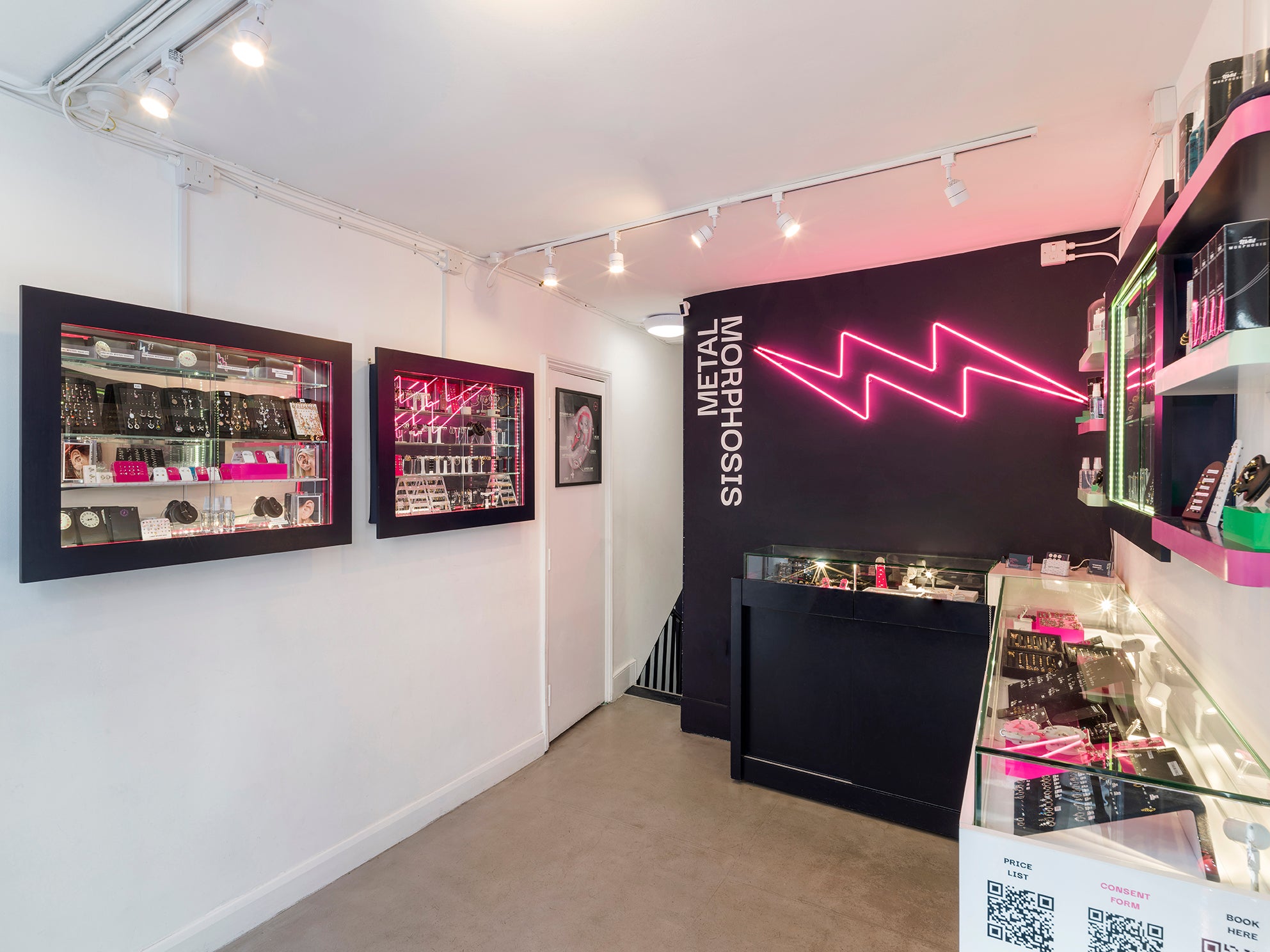 Carnaby calling
As we spoke, Ben delved deeper into how Metal Morphosis started and told us how he used his past experience to mould the business into what it is today.
"The business has been running since 1991." explains Ben "My dad sold jewellery and my granddad was a pharmacist in those days. Lots of customers would ask if my granddad was able to pierce them with my dad's jewellery. So, they both saw a gap in the market there."
He went on: "I got involved when I finished university in 2010, I'd been studying a business degree and was working a 9-5. I saw an opportunity to bring some fresh blood into the piercing shop and take it in a new direction."
"I never thought I'd fall into the family business, but one thing that always stood with me was how great the company culture was and how that fed through to the customers." Ben says.
"Metal Morphosis gradually became a safe space for anyone and everyone. It's a brand that has always highlighted the importance of self-acceptance, expression and exploration. I always thought it was special and with the way the world is now, there was an even larger opportunity for the brand and continuing to accept everyone for who they are"
And so the new era of Metal Morphosis was born. Ben eventually took over from his dad who was heading for a well-deserved retirement and worked hard to steadily build up the company. But there were tough times ahead, Metal Morphosis would have to prove its weight in gold.
"The biggest struggle for us has been surviving and still having a business after lockdown." Ben says when we quiz him about the hurdles he's overcome.
After enjoying widespread success over the years, attracting many happy customers and revelling in reels of stellar reviews, Metal Morphosis became the first piercing shop to move into a department store 15 years ago. They found a home in iconic Selfridges before they moved to Topshop's flagship premises on busy, bustling Oxford Street. But then Covid hit and threw everything off balance.
"We found ourselves in a really sticky situation." remembers Ben "When Topshop shut, we lost everything overnight, we only had retail shops and no online selling facility. Obviously, you can't pierce people over the internet!" He laughs.
But they came out fighting, Ben had to work tirelessly to source new premises and keep the business afloat during the multiple lockdowns.
Eventually, they were able to secure the Carnaby Street shop and got to work building their customer base back up. They now have a sister store in Hackney and have optimised their online features. You can book easily on the Metal Morphosis website, browse the jewellery, and read up about piercing types before your appointment.
"We usually find our customers in two ways," Ben says, "Half of them are word of mouth, people remembering us from Topshop or walking past and seeing what we do."
He continued: "The other half is a result of our social presence. Instagram, in particular, has become a piercing platform for us, customers are able to ask questions about infections and aftercare. They can learn how to look after their piercings from professionals."
"It was tough building back up at the start," says Ben "I was working 15-hour days on the shop floor; I even got my dad back out of retirement to help!"
He continued: "You're only as good as the people around you and my team has been incredibly supportive and persistent with me. That includes my wonderful finance, Olivia, who has been nothing but a rock of support for me during the business's struggle of lockdown."
"She gave birth to our baby Jagger within two weeks of opening the Carnaby store and they drive me every day to want to achieve more with this business" Ben carried on excitedly.
But the hard work has paid off, Metal Morphosis have now regained its customers, plus even more. But what is Ben most hyped about for the future and how does he hope to achieve his goals?
"I'm excited to keep going!" Says Ben "I want us to grow and expand around London, but I think it's important to not lose sight of what we're about. Our personality and brand have to stay. We still have family roots as a business"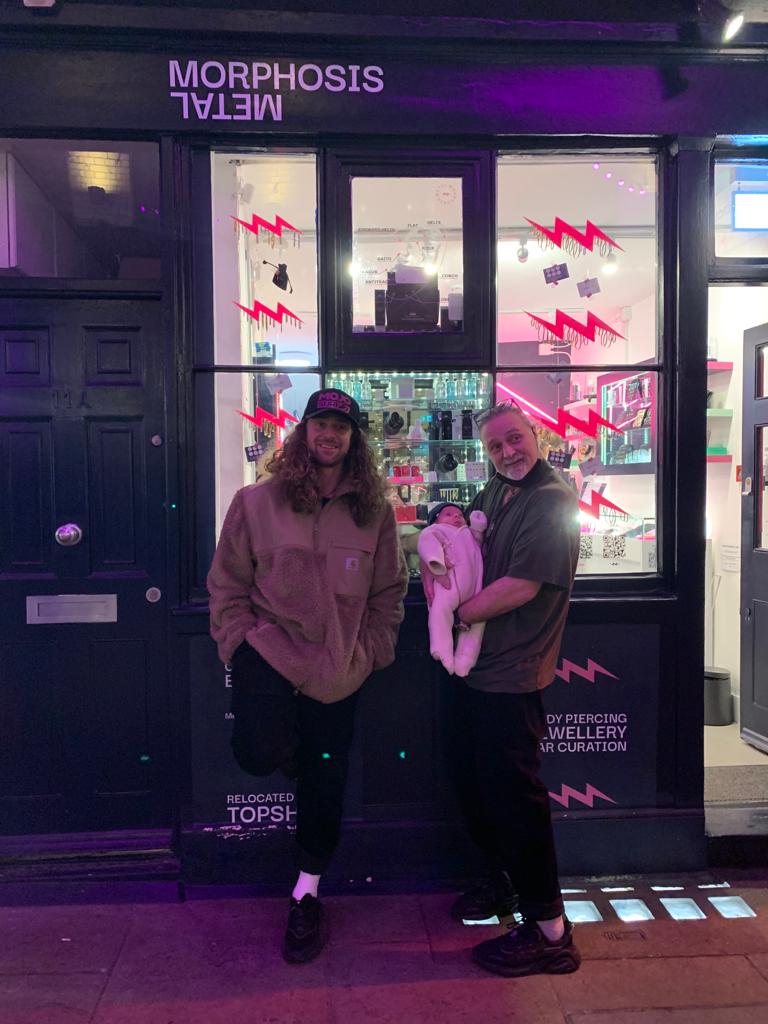 Your best piercing pal
Ben explained there are lots of things that make Metal Morphosis stand out from the crowd. But there are a couple of standout reasons why they're so appealing.
"The fact that we have a heritage of 30 years is what makes us unique I think." muses Ben "We've had to break the barrier to go from backstreet piercer to high-street shop. Also, I think the fact we're affordable but still give a great quality service makes us stand out too."
He added: "Our team has pierced everyone from Kate Moss to Rhianna. We have always provided a professional service and we're proud to do so. It's also worth noting our incredible pool of staff and expertise. Certain people in the team have been with us for over 15 years since our Selfridges days and you'll find customers come and ask particularly for them to do their piercings."
Ben is determined to push Metal Morphosis as a customer-experience centric brand. He wants to continue to build a piercing community and share tips with customers.
But overall, Metal Morphosis wants to become a piercing advocate, for customers to think of them as their helpful older sibling, the one to turn to for advice when you don't know whether to go for a conch, daith or helix piercing next.
"We do have to 'fix' a lot of piercings customers have got elsewhere." says Ben "Sometimes people have been pierced at other studios and it hasn't been done correctly. We're always here to help though, we never want to be one of those intimidating places. We welcome everyone and anyone."
Ben says the variation he enjoys each day would make a good subject for a series or documentary.
"I think our business would definitely make a good documentary subject!" He laughs "My dad is really charismatic, and it would be cool for people to see what the team get up to on a daily basis. We pierce so many people - from 8-year-olds to 88 years olds and everyone in between. So I think it would be a great watch."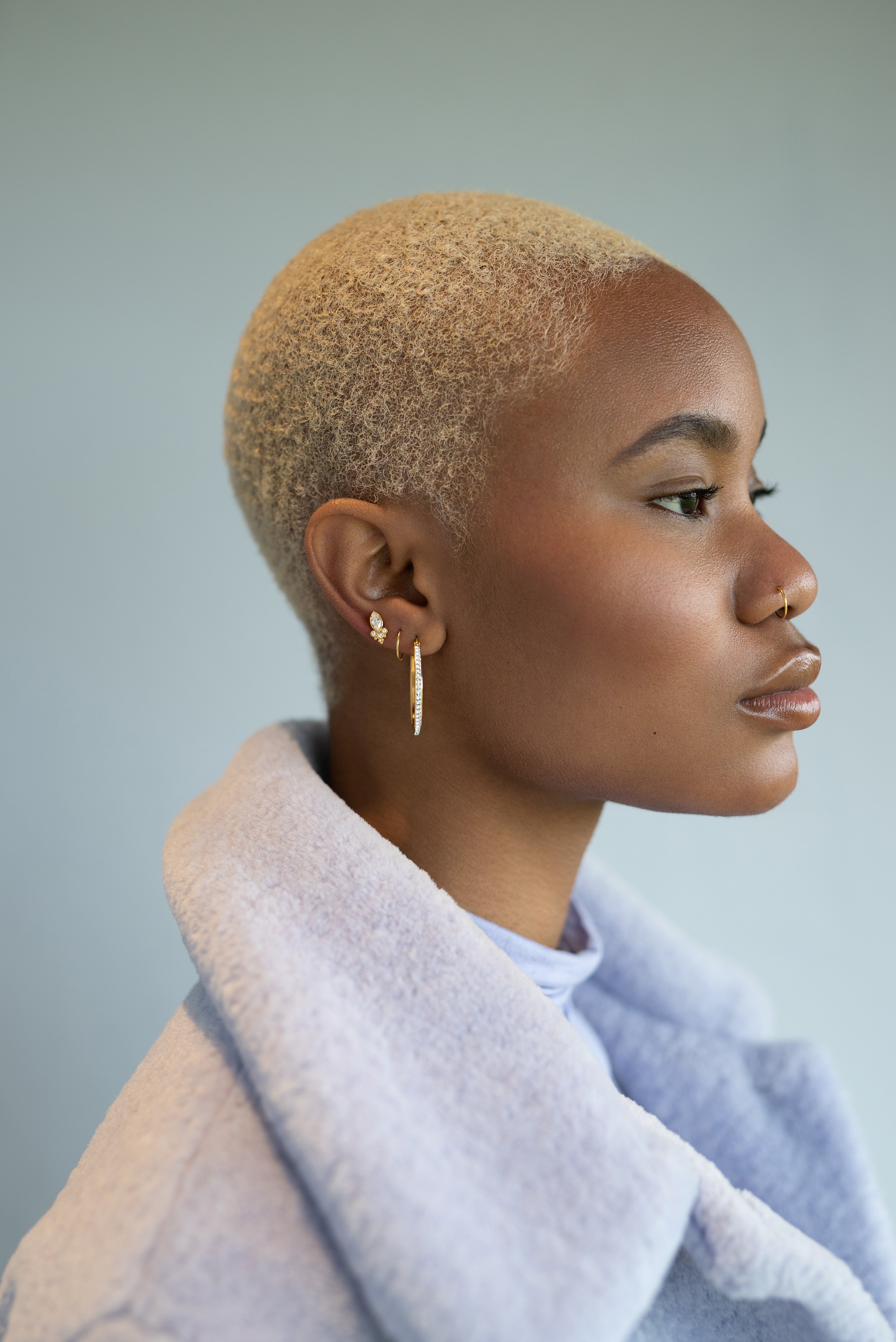 Building a brand
Metal Morphosis definitely know who they are, that's what makes their branding so effective. Their social media accounts regularly show off impressive examples of their various piercing projects, but Bionic was curious. What other brands inspire Ben?
"Piercing-wise..." Ben ponders "No one really. That's why we're here. I think our brand is really different and we're proud of the quality customers get too. Although targeting that slightly more high-end customer, I'd say Maria Tash has been intrinsic in commercialising ear piercing so it would be unfair not to mention them."
Ben continued: "We think the quality of our jewellery is important, we only use surgical steel, titanium and solid gold. We're staying true to our medical background and providing the customers with the best non-tarnish, strong jewellery."
The brand is so passionate about giving its customers the best service, you can even head to their site and check out the metals they use before your piercing. Everything on offer is hypo-allergenic, non-tarnishing, water and sweat proof as well as perfume and cosmetic resistant.
"There is a large misconception in the industry that Silver is an OK metal for piercing and people are slowly becoming more educated on this." Says Ben.
He went on: "It's been part of our mission to inform people about the effects different metals have on your skin. We don't sell anything 925 silver like a lot of our competitors. We want people to come back so we have only ever sold long-lasting, safe and hypoallergenic metals. We don't like plated jewellery here at MM as it doesn't last and we value our customers more than that."
So Metal Morphosis is inspiring themselves in the piercing industry, riled by their forward-thinking attitude. But other companies spur Ben on, unique brands that are taking their niche and running in a totally different direction.
"There are some non-piercing brands that inspire me." Says Ben "Warpaint is a good one, they're always doing cool things and trying to neutralise male makeup. Amber Jean is a great brand too; they design high-end wigs and have created a community to help young people with alopecia discover how to pick out wigs."
Turning dreams into reality
What is Ben's best advice to others wanting to start their own businesses?
"I'd say you can't dream forever," He tells Bionic "One day you have to make your dreams a reality. It's hard running a business and you can get lost sometimes. There are just so many things you need to remember to do!"
"He adds: "But you need to keep level-headed. The best advice I could give is to think about your end goal. Don't worry about anything in between, just keep sight of your goals and what you want to achieve."
And finally, what did Ben cite as his biggest pet peeve about running a business? He says the pressure can be tough, but he wouldn't change owning his SME for the world.
"My biggest pet peeve is probably the stress of keeping the shop doors open and footfall coming in." He tells us "Also the fact that I can never settle, there's always 10 other things I can be doing, so I never switch off."
"But it's worth it in the end," he says enthusiastically "I'm still learning things every day, it's important to learn from your mistakes and accept your failures. That's how you move forward. There are so many ideas I have for the growth and future of Metal Morphosis now and I can't wait to see where the brand goes. Watch this space!"
You can book a piercing or learn what Metal Morphosis is about on their website alternatively, you can see their impressive collection of piercing work on their Facebook or Instagram pages.