What's the Bionic Social?
A forum for local businesses to chat, connect, share advice, and talk about the challenges, and wins, of running a biz – without being blinded by science or bamboozled by tech talk.
Each month, a different brilliant Bionic customer will host the event at their premises.
Martin Coles-Evans, owner of 154-year-old homeware store and tea room, Hargreaves of Buxton in Derbyshire.
Where was it held?
Hargreaves' extremely photogenic Edwardian tea rooms, where we had some of the best carrot cake we've ever tasted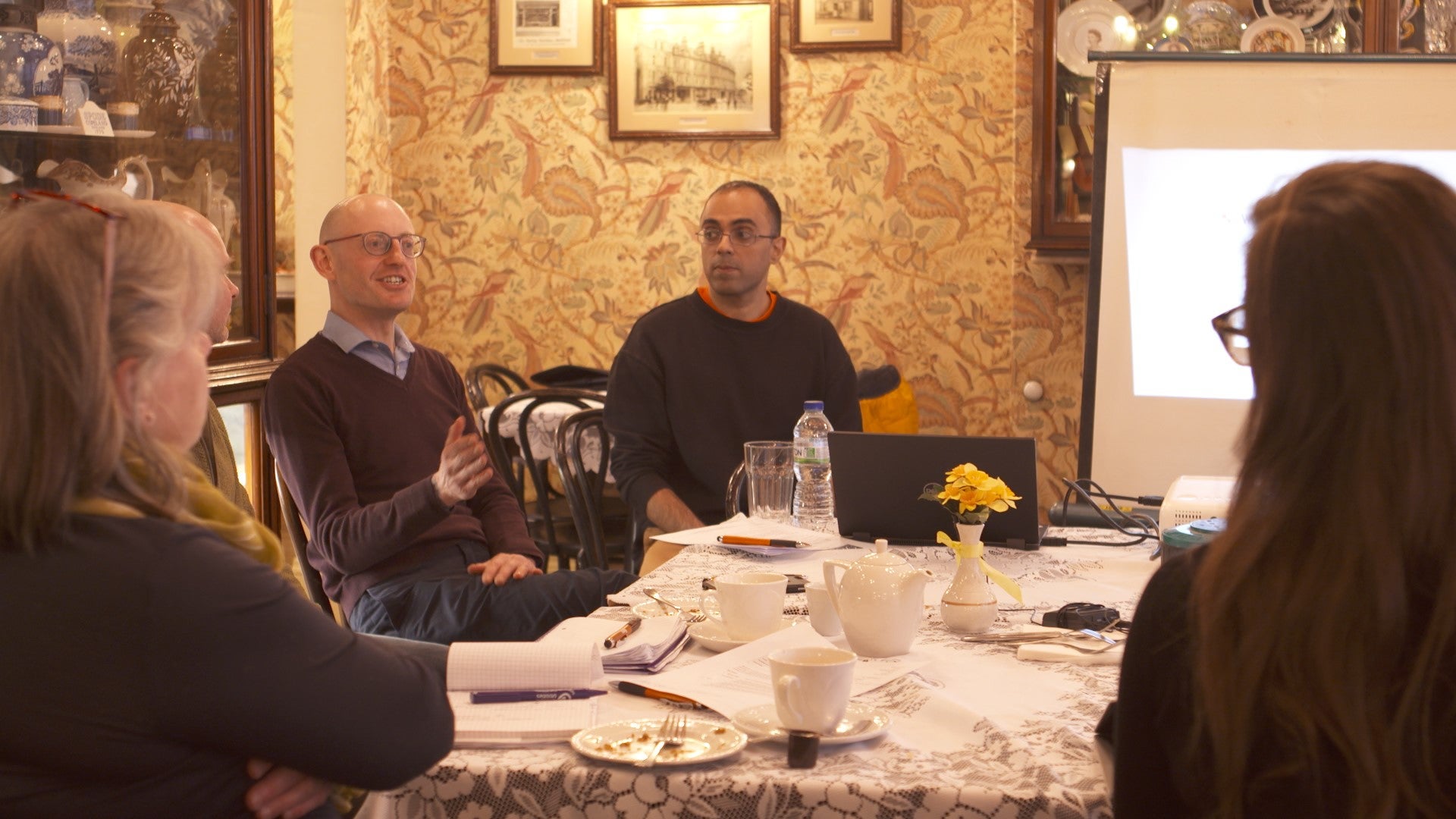 Who was there?
Martin Coles-Evans (Hargreaves of Buxton), Keith Martin (Bells of Buxton), Cathie Gibbon (Buxton Crescent Heritage Trust), Steve Baggaley (Seasons Microbar) and Tina Heathcote (Buxton Town Team) joined the Bionic team for this first social.
What was up for discussion?
How to make broadband your business's best friend.
The all-important intros
Martin - I'm a fourth-generation business owner and I'm very interested in using technology to help me improve my business.
Tina - Buxton Town Team is a community interest company. We work together to make the town a better place to live and work so getting to know people is vital.
Cathie - I'm a part of The Buxton Heritage Crescent Trust and help oversee the visitor center in The Pump Room.
'As a new business it's critical to get your connectivity spot on from the start' - Tina Heathcote
Keith - I run an independent footwear store, Bells, and three franchises. I won't tell you how old I am but I was born in 1940 and I was 19 when I came to Buxton for the business. I don't want to know how technology works. I just want it to work!
Steve - I'm a new business owner, and, along with my wife, I'm in the process of opening a new local microbar called Seasons.
What would you like to get from our first social?
M: I want to connect with more local businesses and help people who aren't quite as tech savvy as me.
S: I want to meet new people and hopefully get some new ideas to help promote our business.
C: I'm here to make links with other business in the town, and to put my face out there so when I phone them, people know who I am!
T: My job is to engage with local businesses and people, so this is a really useful forum for me.
M: Tina is the fount of all knowledge in our town!
K: I'm here to say hello to other local business owners.
Do you have your own local business get-togethers?
M: Tina's organised a Telegram (app) group for local businesses, so we talk on there. We use it to notify each other about shoplifters in the area – but it's a forum to talk about other things as well!
'Your best contacts are local contacts' - Cathie Gibbon
C: We'd like to join the app so we can put out our event details on there. With all the B&Bs, hotels and campsites in the Peak District, we would have a really receptive audience. Your best contacts are local contacts, and we're looking to build on that.
Do you have any technical challenges within your business?
T: We have trouble talking to people on the telephone because of connectivity issues with where we're located.
C: Same. The Pump Room and Crescent are in a connectivity black spot. We're surrounded by big stone buildings.
T: It would be helpful to have Bionic's expertise on this. Someone saying 'Because of where you're located, this is what you need for your business.' Steve, as a new business, it's critical to get your connectivity spot on. You need a communications plan in place from the start.
S: Yeah, this is really useful advice.
M: All your connectivity needs to mesh together. If you don't have the framework in the building to cope with it, you can get into trouble.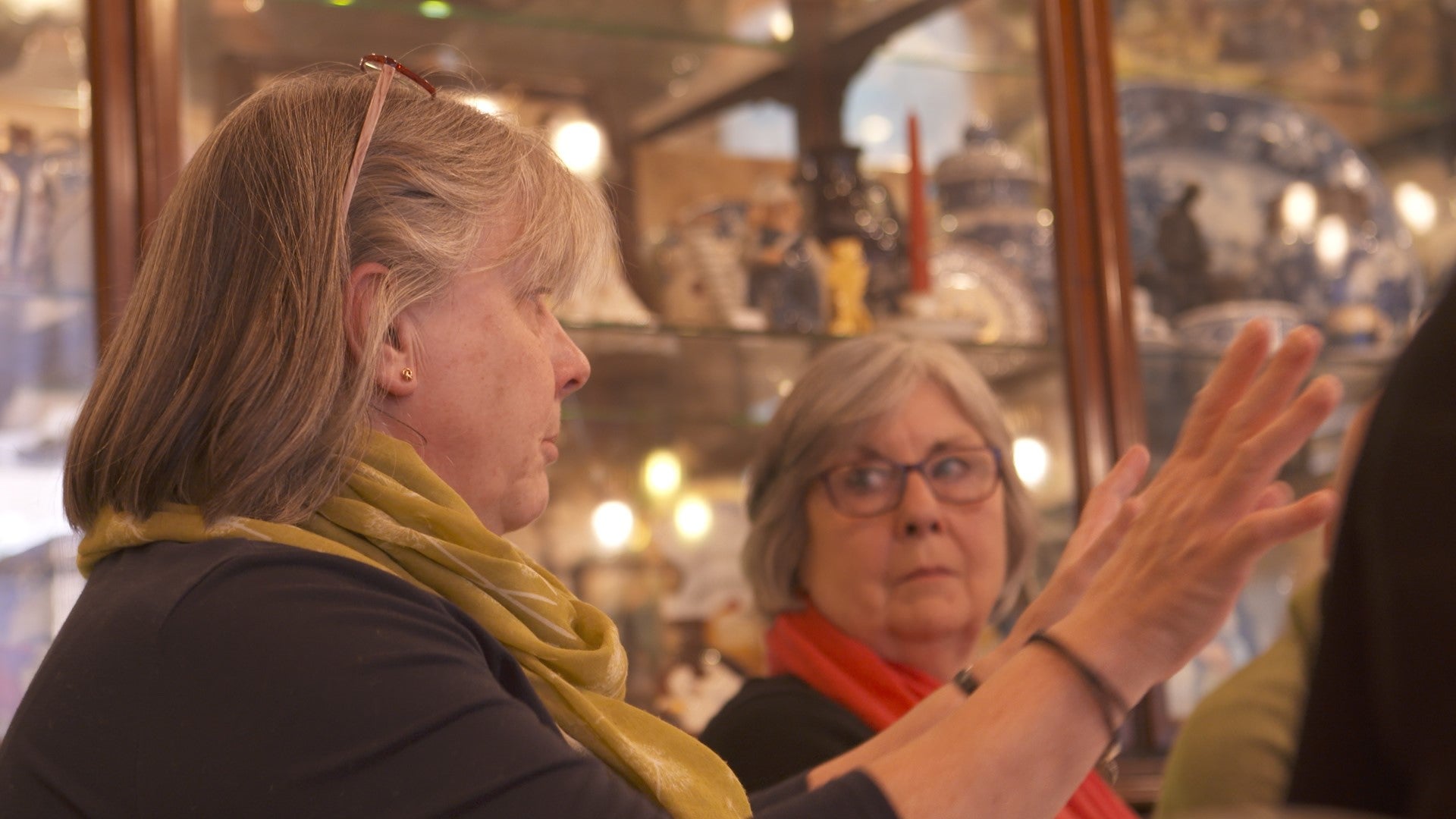 How important is business broadband to your business?
M: Vital. All our phone lines, EPOS systems, card reader and website run through it. It means we have immediate backup if anything goes wrong.
Without business broadband we'd be in trouble because when your systems go down you immediately start losing money.
C: It's very important to us but our broadband can be patchy due to our location.
Do you offer your customers free WiFi?
S: Yes, that's the plan. I think customers expect free WiFi these days.
M: I agree. Customers will prioritise one coffee shop over another based on free WiFi. People don't want to use up their own data.
Are you aware of the security issues around customers using your WiFi?
M: This is the thing; it's always nice to offer customers free WiFi but a lot of businesses just let customers log in on their own password, which is fine if you trust the customers, but it also means your computer and your EPOS systems are vulnerable to being hacked as they all go through the same router. There have been so many stories about businesses being hacked recently and I can't afford to put my own at risk.
K: Our EPOS systems are integral to our business. If they go down we're in trouble.
Let us introduce you to our new Bionic broadband device...
'Without good business broadband we'd be in trouble if the broadband went down because it takes your systems down with it and you start losing money immediately' - Martin Cole-Evans
At this point, we introduced Tom Grange, Bionic's Head of Business Connectivity, into the convo. He told the guests about our new Bionic Broadband device, which is an extra piece of kit that plugs into your router and is set up via an app.
The device boosts your WiFi signal, comes with an extra level of security for businesses – enabling you to set up separate customer and staff WiFi – and collects valuable (anonymised) data on customer footfall in and outside your premises.
Martin, who's been road-testing it for the past month, shared his feedback with the group.
M: Cyber security is a massive concern for me, and we get ours checked regularly by the bank. They try and hack into my business to root out any vulnerabilities –my charges go up if my security fails. So I'm happy to say the Bionic device I've been using passed with flying colours!
C: So how does it work?
M: Staff have a basic login and customers have a different password, with an extra level of security. The device can also tell you if 600 people walk by your store and if only 10 walk in. You can use that data to help promote your business and increase sales.
T: Ooh so you could stand outside at that point of the day, shouting 'Come in!' if you wanted to?
(laughs)
M: Exactly! A lot of those 600 customers might just be teenagers going to Greggs after school but you might think 'Now's a good time to do a social post': "Come in with your Greggs' pasty and get 10% off in store!"
(laughs)
T: Wow!
S: I love the idea of having data about footfall. You could be like 'What can we do to promote our business when 200 people walk past on a Wednesday morn?'
M: Exactly.
T: This is really, really valuable market information, which would be hard to get hold of by other means. It's non-invasive, non-intrusive but it can feed your business. I love it and I know a couple of other local businesses, who would love it too.
'I've learnt today how important enhanced business WiFi is.' - Steve Baggaley
Let's get creative
At this point we introduced a quick creative test for the Bionic Social guests to win a device. We gave them each a blank box and asked them to create a name for our new device and design some packaging to highlight its best points.
Each of them did a brilliant job (even if some of us couldn't quite tell the difference between the brain and the cloud drawing!) but it was Cathie from the Buxton Crescent Heritage Trust, who was crowned the eventual winner. In her design, she focused on the device's ability to track spend per footfall, which we loved.
So, how was the Bionic Social for you?
C: Great! I was promised cake and left with great advice, new connections – and a Bionic broadband device!
S: It's been so helpful. I've learnt today how important enhanced business WiFi is. I'd never even considered splitting staff and customer WiFi before. I hadn't even thought that if someone wanted to, they could attack your business systems and EPOS through your WiFi.
I also love that you set the Bionic device up through your phone. I'm an app man!
That's a wrap!
So over to our host Martin for his thoughts on the day.
M: There are a lot of independent businesses in Buxton and we're a close-knit community but the Bionic Social has been a brilliant way to cement that and get us all together in one place at the same time. There's not really anything like this out there for local business owners, right now – it feels like the first of its kind.