The Start-up Diaries podcast featuring Bionic CTO James Lomas
In the first episode of Season 3, Chris from the Start-up Diaries podcast is joined by James Lomas, CTO at Bionic, the B2B comparison platform for business essentials.
Bionic is a long-term onsite recruitment partner of Burns Sheehan and in this episode, James explains the transition into becoming a tech-centric business, the war for tech talent, and the topical question of flexible working policies.
James also delves into his vision for the future of the businesses and his reasons for leaving Compare the Market after ten incredibly successful years.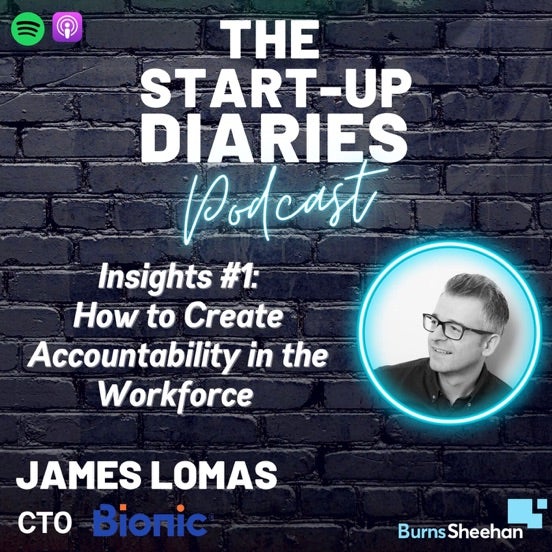 About James Lomas
Starting out as a software engineer, James worked as a management consultant with KPMG and completed an EMBA at L'École Nationale des Ponts et Chaussées before senior technology roles at Legal & General, Severn Trent Water, Bennetts insurance and comparethemarket.com where he led the technology function through an extended period of high growth.
James has extensive experience in transforming, organising and managing technology across architecture, infrastructure, security and engineering.
James has completed the journey from monolithic system through to microservices platform and beyond, now fuelling these APIs with high-quality data to provide highly personalised and converting experiences. He able to translate technology for the board, make the complex simple and move Tech and Product to the front and middle of the organisation.
James on accountability in the workplace
One word that was brought up a lot when planning this podcast was 'accountability' and it's something James wants to create within the workforce. But how can you go about creating accountability?
You could argue that accountability is implicit within purpose, but you can find that without a more explicit definition, you can end up in some pretty weird places. This can manifest itself in things like multiple hosting environments, many versions of a CMS, different languages, design patterns, and so on.
And the argument thrown back can be pretty compelling. If you offer the autonomy to choose the process and tools that I use to deliver my solutions, employees are exercising their right to choose. But this can lead to a preference for choosing to solve some challenging tech issues over what could be seen as more boring customer problems.
If that's the scenario, there could be some pretty undesirable outcomes, such as increased total cost of ownership (TCO) and impaired workforce mobility, which can reduce revenue. None of which are ever at the top of a company's wish list.
This is why it can be helpful to be explicit about the guard rails that constitute accountability. This helps the teams themselves, as well as the managers, the execs, and pretty much everyone. It's like an immune system that you can wrap around your products and services to make sure it at least meets the basic customer expectation.
You should cover things like cross-browser testing, page speed, and secure coding. You can be quite explicit about making sure the team knows it's accountable for the code that's written.
It's always interesting to explore what accountability means to the individual. Does it incorporate organisational and customer goals, as well as technology goals? If it does, how do they measure it in their current role?
I don't think there's a magic solution to it, but that's probably where I'd start the conversation.