what is a letter of authority
What is a Letter of Authority (LOA) when switching energy suppliers?
Switching business energy suppliers used to be a hassle, but today services like Bionic can do everything for you.
But there's one thing they need from you before they can do anything: a Letter of Authority (LOA). Without it, your switch can't go ahead — but what is one, and why is it so important?
In our guide, we help you understand everything you need to know, including what they do, how long they last, and how to write one.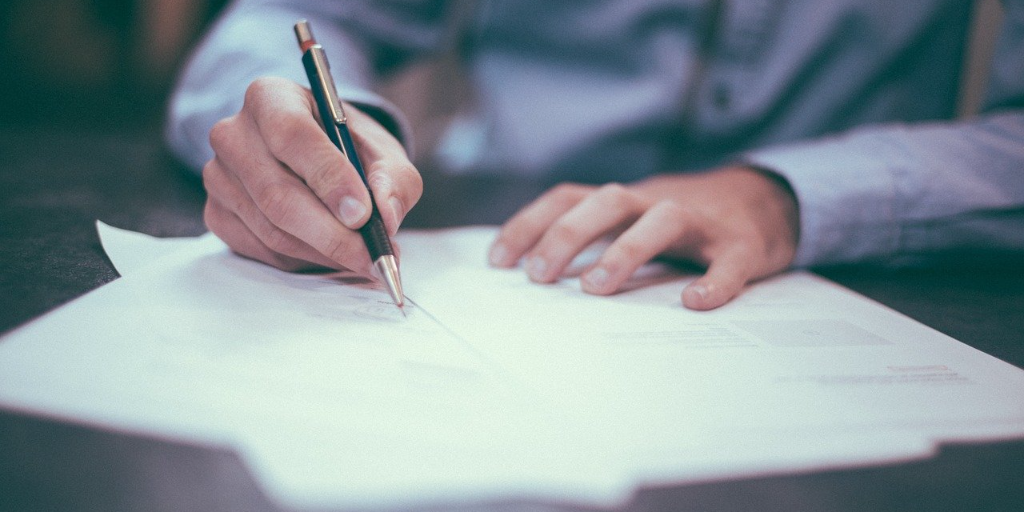 What is a Letter of Authority?
A Letter of Authority (or LOA) is a document used to reach an agreement between three or more parties. It's essentially a special permission slip you give to a broker that lets them speak with other businesses on your behalf within agreed limits.
We often talk about LOAs in reference to energy brokers. But they're not limited to the energy sector: these legal documents also apply to loads of different industries, from medical services to the financial sector.
A Letter of Authority allows a third party of your choosing to do things like:
Switch your energy providers
Switch your business insurance policy
Switch your broadband or phone service
Transfer your current account from one bank to another
What does an LOA allow an energy broker to do?
In energy, an LOA is necessary before a comparison site or broker can speak with your energy provider about switching. The permissions given to an energy broker are laid out in your LOA.
Typically, these permissions are:
Request historical information — An LOA lets your energy broker ask your provider for current and historical information. This includes your energy consumption, the prices you've been paying, and your contract end dates.
Find a better deal — Brokers can ask for energy prices from different suppliers based on your details to negotiate for a better rate by comparing the best deals from other providers.
Start your switch — With an LOA, your broker can complete all the paperwork to officially start switching from your old supplier to a new one. Alternatively, they can confirm a renewal with your existing supplier, usually at a better rate.
Handle queries from your current supplier — Brokers can deal with any service or billing queries on your behalf. You won't need to speak with your supplier directly.
Organise appointments — Your broker can organise with your supplier any appointments for maintenance or upgrades. These include things like boiler services and meter installations.
Submit meter readings — Sick of getting estimated pricing? An LOA lets a third party submit meter readings for your, or collect energy consumption data from your supplier.
Raise a complaint — If you feel like you're getting the short end of the stick when it comes to service, the good news is that an LOA lets your broker complain for you. They can also handle all the back and forth that might happen afterwards.
How long is a Letter of Authority valid for?
A Letter of Authority is usually valid for 12 months, but this isn't always the case. LOAs will state how long they're valid for on the letter itself, so make sure you check if you're given one to sign. But don't worry — it should be clearly stated on the letter if your LOA is valid for fewer than 12 months.
When your Letter of Authority expires, you'll need to sign another LOA before your consultant or broker can continue to act on your behalf.
Who can sign a Letter of Authority?
Since a Letter of Authority is a legal document representing the permission you're granting to others, you'll need to put your signature on it.
If you're writing a Letter of Authority on behalf of your company, you should get the signature of the business owner or a director of the company on the LOA. It's also important to make sure that you use paper with your company's letter heading or logo to save time with background checks.
How to write a Letter of Authority
Normally, you won't need to write a Letter of Authority yourself. Instead, your consultant or broker will send one to you to sign. Make sure you read through it carefully; you're entitled to request any clauses you don't agree with be removed before you sign.
If you do want to write your own LOA, you'll need to include the following details:
Name, addresses and contact details of both you and the third party
Specify which person or company is the one granting permission to the other
Details of authorisation (what you're permitting the third party to do)
Level of access (for example, you might be happy with your broker speaking to suppliers for you, but don't permit them to handle the switch itself)
The duration of the agreement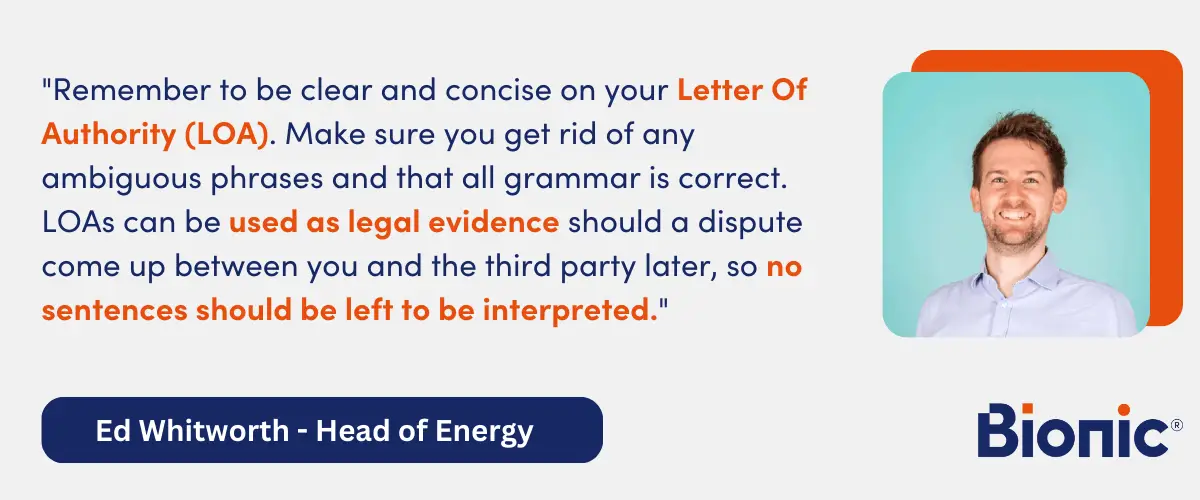 Example Letter of Authority (LOA)
Below is an example of how a Letter of Authority should be filled out for an energy broker.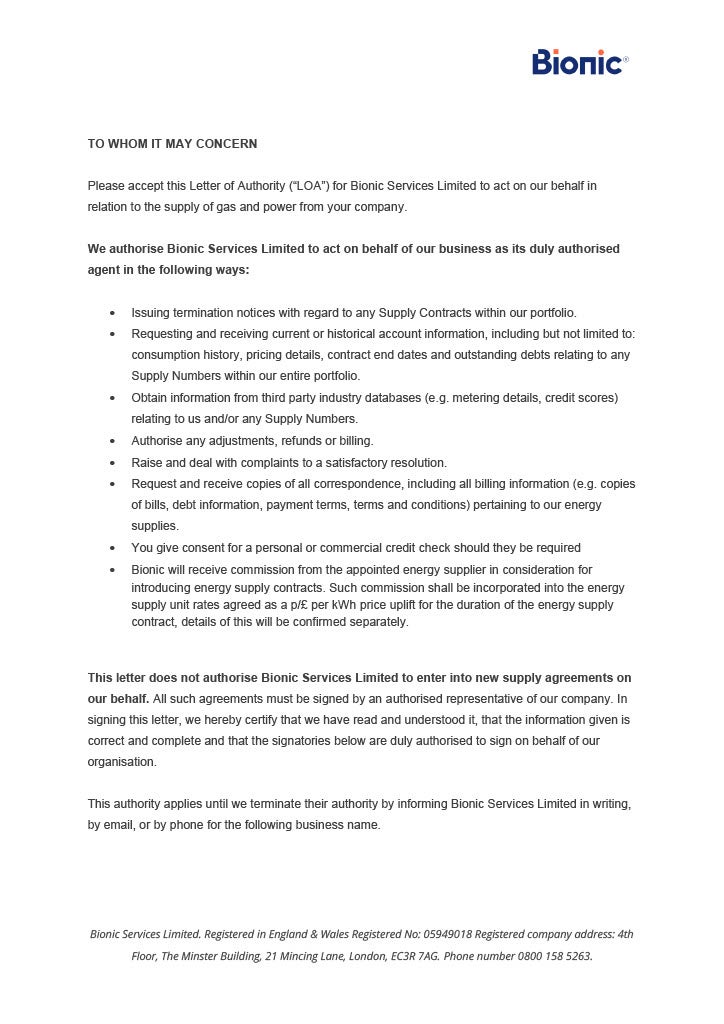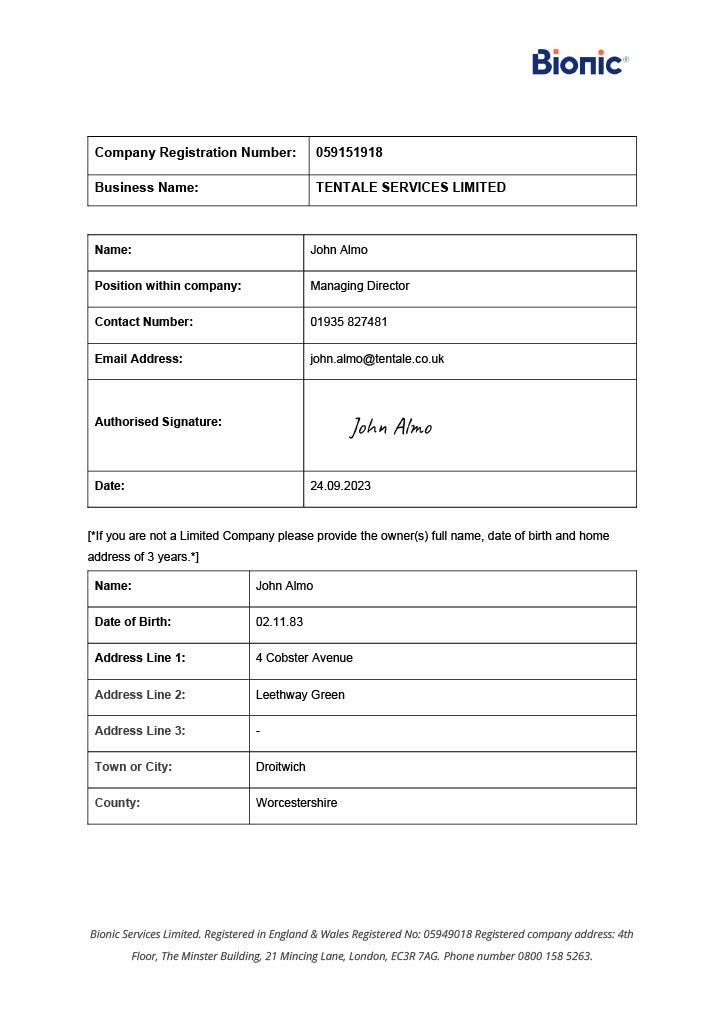 What does a Letter of Authority have to do with switching energy suppliers?
When you use a broker to help you compare and switch business energy suppliers, you need to sign a Letter of Authority to give that broker permission to act for you.
This usually means the broker can consult with energy suppliers on your behalf, but the details of what the broker can handle will be explained in the letter. It's important to make sure you read it thoroughly before signing.
What happens after a Letter of Authority is submitted?
Once you've signed a Letter of Authority, your broker or consultant will usually get started as soon as possible since the letter is valid from the date signed. This means there are no delays in them going ahead and finding you a better deal for your business electricity, gas, or both. It also gives you peace of mind and makes switching as easy as possible.
How can Bionic help you switch business energy?
The tech-enabled energy experts at Bionic can find the right deal for your business energy, including business electricity and business gas, and help you with the switch. To start your business energy price comparison, get a quote online using just your postcode or give us a call on 0800 028 3996.