micro business energy
How does being a micro business affect your energy contract?
There are 5.3 million micro businesses in the UK – that's 95% of all UK businesses – but do you know if your business is one of them?
Let's take a look at what makes a micro business and how some big changes to the energy market will help make sure micro business owners get a fairer deal from brokers and suppliers.
What is a micro business?
A micro business is a business that operates on a very small scale and has just a few employees.
There are different definitions of micro businesses, including:
HMRC – For tax purposes, a micro business (referred to by the tax man as a 'micro employer') is a business with no more than nine employees.
Companies House – Micro businesses are called 'micro entities' by the UK's registrar of companies, and must meet two of the following three conditions:

An annual turnover of no more than £632,000
An annual balance sheet total of no more than £316,000
No more than ten employees

European Union – The EU definition is probably the most widely recognised. It states that a micro business is one that has ten employees or less and an annual turnover and balance sheet of no more than €2 million.
But the definition we're most interested in is the one used by Ofgem. The UK energy regulator uses the EU definition and adds that, for energy purposes, a micro business is one that uses no more than 100,000 kWh of electricity per year or no more than 293,000 kWh of gas per year. This only applies to non-domestic premises.
If you fall into this category, the regulator has announced some changes that should make it easier for you to switch to a better business energy deal.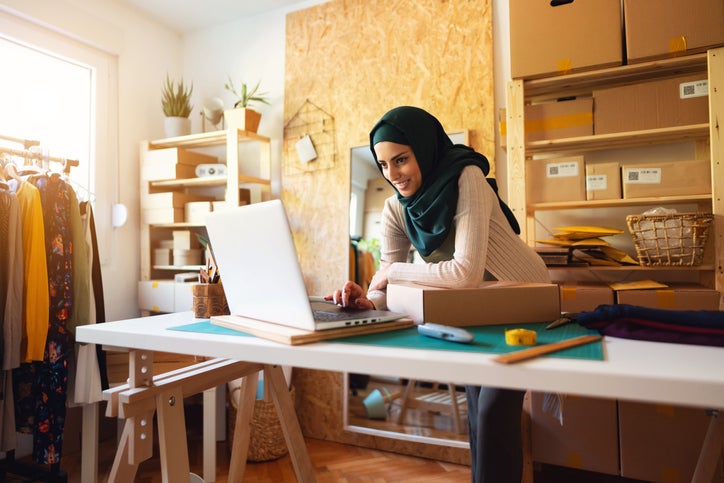 How do micro business energy contracts work?
If you run a microbusiness, you'll get the following information from your supplier when you agree to a new energy plan:
The key terms of the plan before you sign up for it. You should be given this information whether you use a broker or buy directly from the supplier.
The contract and terms and conditions within, including renewal terms for fixed-term plans. This should be sent to you within 10 days of agreeing to a new contract.
Information on the contract end date and the latest date you can give notice to end a fixed-term contract.
When your energy contract is up for renewal, you should then be given the following information:
A renewal reminder explaining your options. This should arrive around 60 days before your contract end date and should include your current rates, alongside any new rates on offer. To make the comparison easier, it should also include details of your annual energy usage.
To cancel your contract, you need to let your supplier know that you still have at least 30 days remaining on your current business energy contract. This should then be confirmed by your supplier within five working days.
It should then take no more than five working days to switch business energy suppliers, thanks to the Ofgem Faster Switching rules. You can find out more in our guide on when to switch business energy suppliers.
What are the latest micro business energy rates?
Business size
Fuel
Annual usage
Unit price per kWh
Daily standing charge
Annual bill
Microbusiness
Gas
5,000 to 15,000 kWh
11.2p
58.1p
£1,332
(based on annual usage of 10,000kWh)
Microbusiness
Electricity
5,000 to 15,000 kWh
30.0p
92.3p
£3,337
(based on annual usage of 10,000kWh)
Note: Rates and bill size may vary according to your meter type and business location. The prices you're quoted may be different from the averages shown. The figures shown are the average unit rates and standing charges quoted by Bionic per business size from November 1 to November 14, 2023. Rates do not include any Energy Bills Discount Scheme discount.
How are microbusiness energy contracts different?
As a micro business, you'll already have different rules and protections than other businesses. But these were extended when the following changes kicked in on October 1, 2022:
Greater transparency – You'll be given all the key information about the terms of your energy deal, including any third-party costs when you enter into and exit from a contract. This includes any broker fees.
No more termination notice needed – Suppliers will no longer be able to insist on a 30-day notice period to end a microbusiness energy contract. The only exception is if a commercial deal expires, and the business is put on an 'evergreen' or 'rollover' tariff (read on to find out more about this)
Better information on the market and your rights – Citizens Advice will offer microbusiness owners access to up-to-date guidance and advice on consumer rights and how the market operates.
On December 1, 2022, changes to how broker disputes are handled were implemented. The changes are designed to make for a more effective broker dispute resolution. The new regulations mean suppliers will only be able to work with brokers that have signed up for an approved dispute resolution scheme, known as alternative dispute resolution (ADR).
What is alternative dispute resolution (ADR) for business energy?
Alternative dispute resolution (ADR) is a scheme from Ofgem and the energy ombudsman. It's been designed to make the complaints process easier for microbusinesses that have had issues when arranging an energy contract with a broker, price comparison website, or another third-party intermediary (TPI).
The service is completely free of charge for microbusinesses. Here's how it works:
If you have a complaint with a broker, price comparison website, or other TPI, you first need to try and resolve the issue with them. You should be able to find the complaints procedure on their website. For example, you can find the Bionic complaints procedure at https://bionic.co.uk/about-bionic/complaints/
If your complaint has reached deadlock, whereby no agreement has been reached and the complaints process has been exhausted, or eight weeks have passed without an agreement, you can then use the ADR scheme. As things stand, this means getting in touch with the energy ombudsman, but there may be other providers of dispute resolution in the future.
If you need to make a complaint to your business energy supplier, you can find out more about the complaints process in our guide - How to make a complaint to or about your business energy supplier.
What about these 'evergreen' or 'rollover tariffs'?
When any fixed-term business energy deal ends, suppliers will place customers on out-of-contract rates. These are usually more expensive than the rates you'll find on a fixed deal, but you can switch from them at any time and won't be charged a penalty fee.
But some suppliers will put customers on evergreen or rollover tariffs, which are a bit like being on out-of-contract rates (expensive!) but for a fixed period, usually 12 months. The big problem with this type of tariff is that, as with any fixed-term energy contract, once you're locked in, you can't get out.
This should all be laid out in the terms and conditions of your energy contract, and it's something you should ask about before signing up for any new energy contract.
Will micro businesses have a cooling-off period on energy contracts?
Although the idea of a cooling-off period was discussed as part of the new proposals, Ofgem has decided against putting one in place but has said it will be revisited as part of future reforms.
You can find out more about this and the wider consultation in this Ofgem PDF.
Can you change your energy supplier if you're in debt?
Before you compare business or domestic energy deals, remember that if you've been in debt with your supplier for more than 28 days, you won't be able to switch until the debt is paid off.
And you won't be able to compare business energy deals until your current deal enters its switching window, which is usually between one and six months before its end date.
What happens if you don't pay your energy bills?
If you don't pay your energy bills, you'll fall into debt with your energy supplier. This could mean that your account is handed over to a debt recovery agency and you may have your supply cut off.
Although disconnection is usually the last resort for suppliers, the plug could be pulled on your power if you don't work out a way to deal with the debt within 30 days of your missed payment.
To make matters worse, disconnection usually comes with a fee that is added to the money you owe. If you're reconnected, you'll need to pay another fee.
You can find out more, including some reasons why your bills might be higher than you expected, at our guide to business energy bills.
What happens to your business energy deal if your workplace is empty?
If your business premises are empty – maybe because you can partially run your business from home - you'll still be billed by your energy supplier unless you're on a no-standing charge tariff.
This is because energy bills are essentially made up of two charges, one of which you're billed for regardless of whether you're using any gas or electricity:
Unit cost - A charge for the energy your business uses, each unit is measured in kilowatt-hours (kWh).
Standing charge - A charge to cover the cost of transporting energy to your premises and maintaining the national grid. This is charged at a daily rate, regardless of whether you use any gas or electricity.
Although you'll still be billed if your workplace is empty, the overall cost of your bills should be cheaper, provided you're no longer using gas and electricity.
If your workplace is lying empty, make sure all equipment that can be is turned off at the mains and switch off any heating or lighting timers.
It might also be worth considering switching to a no-standing charge energy tariff but bear in mind that unit costs are usually more expensive on these deals, so you could end up paying more for your energy once you go back to work.
Should you get a business energy deal when working from home?
If one or more in your household works from home or runs their business from home, you'll be using a lot more gas and electricity than you would be if you worked from commercial premises. And all this extra energy used to power laptops, extra screens, lighting and endless cups of tea and coffee will ultimately lead to higher bills.
In this case, you might be considering swapping your domestic tariff for a business energy deal. But before you switch, it's worth looking at the difference between business energy and domestic energy deals.
What's the difference between business energy and domestic energy?
Although they come from the same source and often even the same supplier, there are some distinct differences between business energy and domestic energy, including:
Different rates and charges - Both household and domestic energy bills differ depending on things like location and the amount of energy used. Business users also have some additional charges on their bills. For instance, while VAT is set at 5% on household energy bills, it's 20% for businesses. There are some instances when businesses pay a reduced rate of 5%, you can find out more in our guide to VAT and business energy. And then there are things like the Climate Change Levy (CCL) and Contracts for Difference, that are also added to the bills of certain businesses. To find out more about these charges, check out our guide to business energy bills.
Long-term fixed rates - While most domestic deals run for a year, with an option to leave early if you want (often subject to an early exit fee), commercial rates can be locked in for two, three or four years. This means that if prices go up, you could be shielded from rate rises for a number of years. On the flip side, if prices drop then you'll be paying more than the current market rate. Although commercial deals have this added security, be aware there's no cooling-off period, so it makes sense to arrange your deal with the Bionic team to ensure your deal meets your exact needs before you sign up.
A longer switching window - In theory, you can switch from a fixed-rate domestic deal any time you want. But unless there are 49 days (about 1 and a half months) or less until your contract's end date, you'll most likely be charged an early exit fee, which can be anything up to £60 per fuel. Business energy deals, on the other hand, tend to offer a switching window of up to six months, during which time you can compare deals and arrange for the switch to take place as soon as your current one ends.
Fuel flexibility - Business gas and electricity are sold separately - even if you have the same supplier for both, this won't come as a dual fuel deal and you'll have two separate contracts, possibly with two separate renewal dates to remember. If you switch business energy with Bionic, we take care of all renewals so you've no need to worry about missing your renewal date, and we can arrange to have your gas and electricity deals run concurrently, so they both have the same end date.
No price cap on business energy – The energy price cap was introduced in 2019 to try and curb what the government of the time had labelled 'rip-off' energy prices. But it only applied to domestic standard variable rate contracts. To help businesses combat rising energy prices, the government introduced the Energy Bill Relief Scheme. This is not a price cap on business energy, but instead offers a discount on rates. This means that the cheaper your fixed rates, the cheaper your discounted rates. It also means that, unlike the domestic energy price cap (now known as the Energy Price Guarantee), there's less protection for people on out-of-contract rates.
Can you get a business gas and electricity deal when working from home?
In order to qualify for a business energy tariff, you'll need to be registered as a business or have a business rates document or other proof that your business exists and be able to prove that a high proportion (usually 50% or more) of your energy use is for business purposes.
Although this sounds like a lot, you'll most likely find that the extra lighting, heating and electricity to run your office equipment accounts for at least this much, but appliances that would be on regardless of your business being there, such as your fridge and freezer.
If you're considering a business energy deal at home, you'll probably find that a micro business energy contract is more suitable, as these work much more like domestic deals, and you can let your supplier you want to switch at any point during your agreement.
To qualify for a micro business energy deal, you'll also have to meet the Ofgem definition of a microbusiness, which means your company must:
Use less than 200,000 kWh of gas a year, or
Use less than 55,000 kWh of electricity a year, or
Have fewer than ten employees (or their full-time equivalent) and an annual turnover or annual balance sheet total not exceeding € 2 million.
If you think you'd benefit from a business energy deal, give the tech-enabled team at Bionic a call on 0800 077 3987.
How to save energy at home
If you work from home or run your business from home, it's worth considering some ways to cut the amount of gas and electricity you use. Although the current cost of energy means that these tips will barely make a dent in most households' bills, it's still worth getting into the habit of being less wasteful when it comes to using energy.
Turn the heating off - Seeing as the weather is getting warmer, it makes sense to turn the heating off and wear an extra layer or two to keep out any chills. If you must have the heating on, try turning it down a degree or two at least.
Dry clothes outside - The warmer, drier weather means you can cut your electricity usage by line-drying clothes instead of using the tumble dryer or radiators.
Don't stay on standby - Make sure any electrical equipment, including computers, televisions, games consoles and radios, are all switched off properly when not in use. Remember, appliances still use energy when left on standby, so switch off at the wall when you can.
Unplug unused chargers - Phone and laptop chargers still drain electricity when plugged in and switched on, even when there's no device connected to them. So always switch off at the wall and unplug when not in use.
Switch off lights - Don't leave lights on in empty rooms and make the most of the longer days by working near windows to make the most of the natural light.
Don't forget the kettle - All this extra time spent at home means your kettle will be put through its paces, so make sure you don't reboil your kettle when making a cuppa, and only use as much water as you need.
Keep your house dust-free - A build-up of dust on lights and the elements at the back of your fridge and freezer means they must work harder, so use the extra time at home to get the duster out and give everything the once over to keep them clean and more energy efficient.
It's important to make sure everyone in your home is on board with any energy-saving measures you put in place, and you all work together to keep costs down.
How to switch energy suppliers as a micro business
The simplest way for microbusiness owners to compare and switch energy suppliers is to get in touch with the tech-enabled experts at Bionic.
We only need your business postcode to start our comparison, and a member of our team will talk you through the quotes to make sure you're fully informed of your options before deciding.
Once you've chosen the deal you like best, we'll handle the rest of the switch for you. Our Digital Renewal Service means we can even handle renewals on your behalf, so there's no need to worry about being rolled onto an evergreen contract.
To find out more, give us a call on 0800 860 6833 or check out our Digital Renewal Service page.