Could your small business be the next big thing on TikTok?
A new study from Bionic has found that tradespeople and small business owners could be using TikTok to make up to £11k per post and more than £1m per year.
The hashtag '#smallbusinessowner' has over 875 million views on TikTok. But which independent traders and small business owners are making the most out of the social app, to boost their business?
The Pool Guy is the UK tradie making the most out of TikTok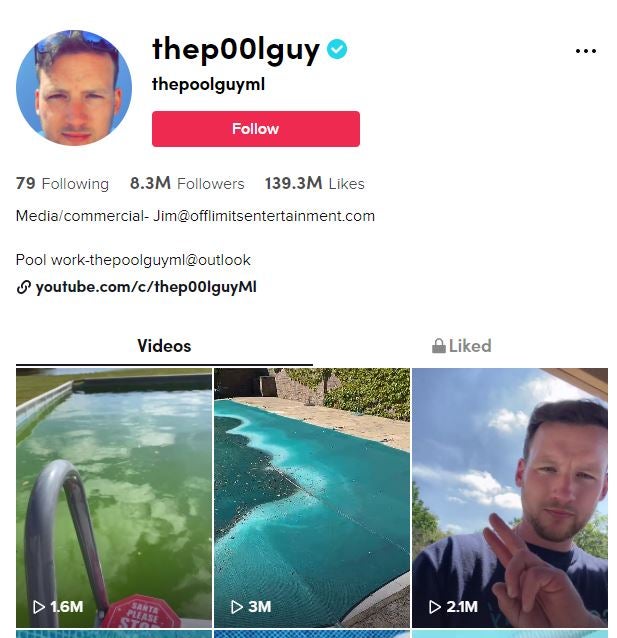 The UK's @thep00lguy is one of the biggest 'tradie' influencers on TikTok, now even sporting a blue verification tick on his profile. Amassing a huge 7.9 million followers and over 132 million likes he has captivated TikTokkers through his candid videos of cleaning Britain's pools. One of his most recent videos has 153k likes alone.
RANKED: The top 10 TikTok tradies and how much they make*
| | | | | | | | |
| --- | --- | --- | --- | --- | --- | --- | --- |
| Rank | Country | User handle | Type of business | Followers | Likes | Potential earnings per year | Potential earnings per post |
| 1 | UK | @thep00lguy | Pool cleaning | 7,900,000 | 132,900,000 | £1,342,440 | £11,187 |
| 2 | CA | @girlwithedogs | Dog Grooming | 3,300,000 | 100,500,000 | £464,280 | £3,869 |
| 3 | UK | @paint_warrior | Painter | 496,900 | 14,100,00 | £84,240 | £702 |
| 4 | UK | @browniegod | Baking | 398,700 | 8,100,000 | £27,533 | £229 |
| 5 | UK | @astarbarbers | Barber | 145,900 | 1,700,000 | £25,080 | £209 |
| 6 | USA | @ardentcandle | Candle making | 271,600 | 3,100,000 | £18,773 | £156 |
| 7 | USA | @lindydenny | Construction | 69,300 | 1,300,000 | £12,000 | £100 |
| 8 | AUS | @windowtok | Window cleaning | 122,900 | 2,300,000 | £8,492 | £71 |
| 9 | USA | @ctx_roofing | Roofing | 93,500 | 1,100,000 | £6,456 | £54 |
| 10 | UK | @pink_plumbing_hjs | Plumbing | 31,100 | 136,800 | £1,726 | £47 |
*These are estimated incomes based on The Influencer Marketing Hub's TikTok Money Calculator
At the top of our list, this influencer could be looking at potential earnings of £11k per post, amounting in over an estimated £1m per year through sponsorship deals.
The expert's 4 step guide to using TikTok for your trade
The business comparison experts at Bionic have also pulled together their top tips on how small business owners could make the most out of the social platform to increase their customer base and raise brand awareness.
Step 1: Do your research and use trending hashtags
TikTok is already brimming with trends and hashtags just waiting for SMEs to mimic and put their own spin on. It's worth spending some time researching different hashtags to see which trends you can jump on. You'll also get a better understanding of which hashtags to use in your own videos to help the TikTok community find your content.
Use the 'discover' feature to kick start your research.
Step 2: Create your own authentic content - it doesn't need to be expertly filmed
TikTok is a place for everyone to share snippets of their life which means videos are usually filmed on smartphones - and spontaneously - you don't need fancy equipment.
Remember, be authentic and keep it light. TikTok is the home of entertainment so experiment with what you share and give your audience fun 'behind the scenes' clips to showcase your brand's organic personality to connect with your audience.
Lastly, take vertical videos so they're the right format for the app and use the function to add music or trending TikTok songs.
Step 2: Step 3: Advertise on TikTok but don't forget about UGC
Like all social media platforms, TikTok does allow you to advertise your brand. You can do this via native ads, branded takeovers or sponsored hashtag challenges where your brand sets a challenge for the TikTok community.
However, don't forget the power of user-generated content (UGC). UGC allows users to take your brand and hashtag it on their videos, for example, new shoe releases by Nike often garner this type of activity.
Step 4: Find influencers who fit with your brand and create relationships
Influencers are everywhere and like our study shows, in every industry. The key to influencer marketing is finding influencers who are relevant to your brand and really fit with your values. For example, if you're a construction business owner, you'll want to find influencers like the @paint_warrior who can demonstrate painting on different builds.
They will expect repatriation but in return, they may talk about your product to their followers and link to your brand.
Remember - don't try to make a hard sell
TikTok's content is truly organic so any ads or marketing you do need to fit with that native style or users will feel annoyed.
Glyn Britton, Chief Customer Officer at business comparison expert Bionic, added:
"Social media, particularly TikTok, can be such an impressive tool for small businesses to use. It allows them to share genuine footage of their day to day processes and jobs - giving people a glimpse 'behind the scenes' that they wouldn't usually get a chance to experience. But it's not just about sharing videos.
As our study shows, it also allows loads of SME owners and trade workers to really get their brand out there and showcase their hard work by building a community of followers.
The nature of TikTok also means that no one is expecting expertly filmed and edited footage. Much of the video content we can see being created now is roughly filmed on smartphones by people with no formal social media experience. However, the authenticity, personality and craftsmanship being showcased is why the public readily engage time and time again.
TikTok costs nothing to set up and, if used creatively, can become a lead generator and extra stream of income for SMEs."
ENDS
Notes to the Editor
Methodology
Analysts used the Influencer Marketing Hub TikTok Money Calculator to calculate how much TikTok's biggest trade and small business accounts could be earning through the social app from their posts.
About Bionic
Bionic is a comparison service for business, a one-stop shop for all the essential services SMEs need. Bionic's tech-enabled experts match business owners with tailored business energy, insurance, connectivity, and finance solutions from their panel of trusted UK providers, suppliers and products.
About Glyn
For more than 25 years Glyn has helped small businesses become big businesses using digital design and marketing. He helped Skype grow from 0 to 500m users, helped Zoopla grow to become the UK's no.1 property site, and helped create mobile network giffgaff.