The best UK cities for independent restaurants
Are you looking for some new ways to spice up your dining experience? Why not give the fast food fryers a break and explore the deliciously diverse variety of independent restaurants that the UK has to offer? From cosy gastro pubs for a traditional toad-in-the-hole, to trendy hot spots serving good grub along with Instagram-worthy décor, dining independently adds a charismatic spin to any meal.
It's no secret that the COVID-19 pandemic was a tough time for independent restaurant owners, who continue to be tested post-lockdown by the cost of living crisis. Therefore, choosing independent restaurants when dining out is also a great way to help boost your community's economy.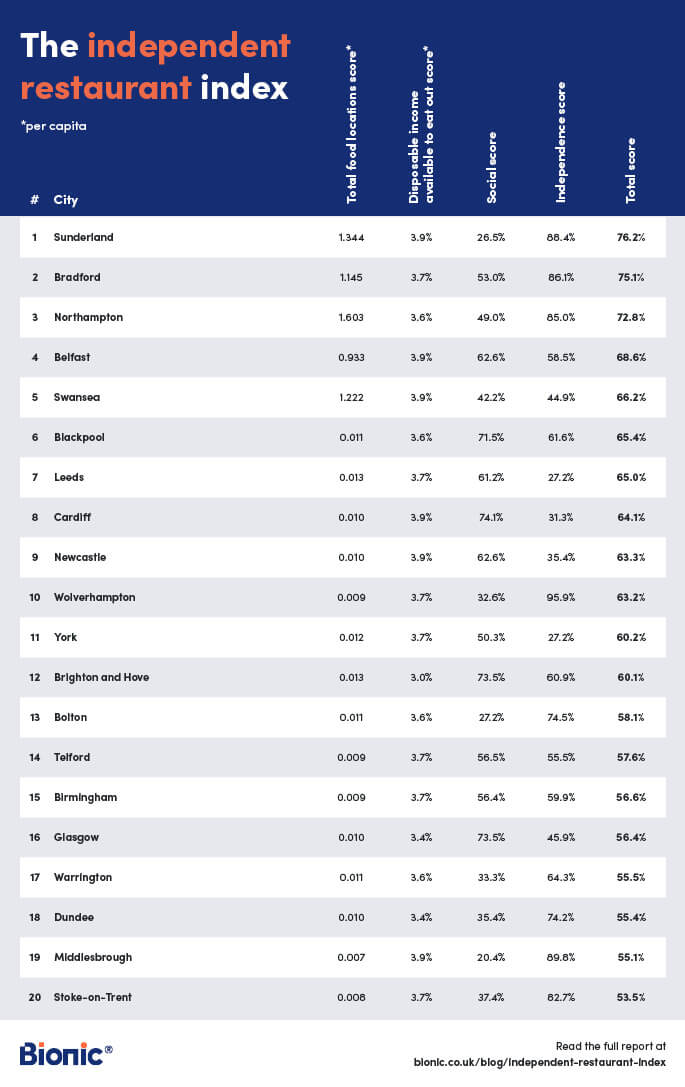 Sunderland is the independent restaurant capital of the UK
Our research found that Sunderland is the independent restaurant capital of the UK, scoring the highest of all UK cities analysed with a point total of 76.2 out of 100! Having a population of nearly 175,000, Sunderland has an impressive 1.344 independent restaurants per capita, giving plenty of options to choose from! Sunderland residents spend on average 3.89% of their disposable income on eating out and being the best city in the UK when it comes to independent dining, it is no doubt that the locals are making the most of the fantastic family-run restaurants on their doorsteps!
Bradford is the second top city in the independent restaurant index
Bradford is the second-best city when it comes to dining independently, following closely behind Sunderland with a final score of 75.1 out of 100. The restaurants in Bradford are social media approved too, as customers enjoy sharing their meals with their online friends, giving Bradford an impressive social score of 53%. Not only can you expect a fresh meal during your visit, but some fresh Instagram content too!
Northampton rounds off the top three cities for independent restaurants
The third-best city for independent restaurants is Northampton, with a final score of 72.8 out of 100. Northampton has the highest number of restaurants per capita, at 1.603, which proves there are plenty of options to choose from! This city also boasts an impressive independence score of 85.0%, proving locals favour their independent restaurants over the cookie-cutter chains also on offer!
Where in the UK prefers chains to independent restaurants?
We dove into the proportion of chain restaurants in comparison to independent restaurants across UK cities, keep scrolling as we dish out what we found!
Wolverhampton is the UK city with the highest independent restaurant- to-chain restaurant ratio
After in-depth research, we found that Wolverhampton came out on top as the UK city with the highest proportion of independent restaurants in comparison to the number of chains in the area. As chains go, KFC is the favourite in Wolverhampton, however, even with such a well-loved chain option, Wolverhampton continues to show support to their independent businesses, making the most of the unique, local options!
Middlesbrough is the UK city with the second-highest independent restaurant-to-chain restaurant ratio
Middlesbrough follows as the UK city with the second most independent restaurants in comparison to chains. Wetherspoons was found to be Middlesbrough's clear chain favourite, even though they enjoy Spoons' famously low prices, they continue to support their local gastro pubs and eateries as well!
Oxford and Milton Keynes are the UK cities with the highest chain-to-independent restaurant ratio
Our research also found the cities with the lowest proportion of independent restaurants versus chains and Oxford came out on top. However, it is important to note that the presence of chain restaurants doesn't leave Oxford without much-loved independent options, with an incredible 1,534 independent dining spots around the historical city!
Milton Keynes follows Oxford as the UK city with the second highest proportion of chains to independent restaurants, with our research finding that Nandos is their favourite. Despite their love for peri-peri chicken, Milton Keynes's independent restaurant scene is still booming, with 2,225 options available in the area!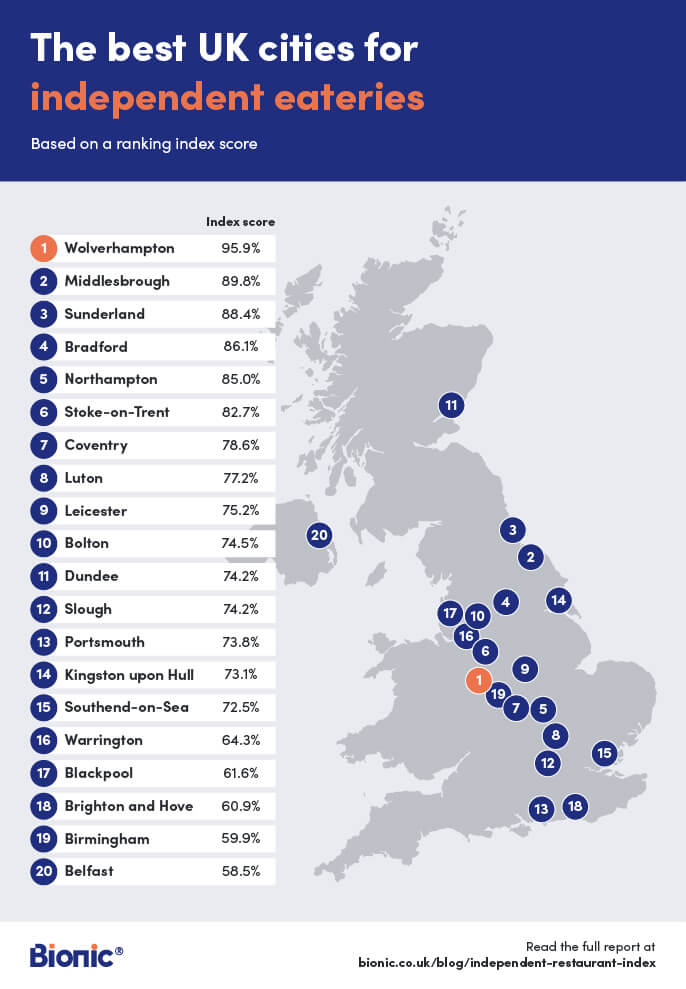 Which UK cities are social media's favourite?
Snapping a picture of your meal before starting to eat has become an essential step in some people's dinner time routine. Food isn't the only mealtime muse either, as unique restaurant decor can also make people want to share a photo! Proving "instagrammability" is something taken into consideration when deciding on where to eat these days. After all, if you didn't post it, did it really happen?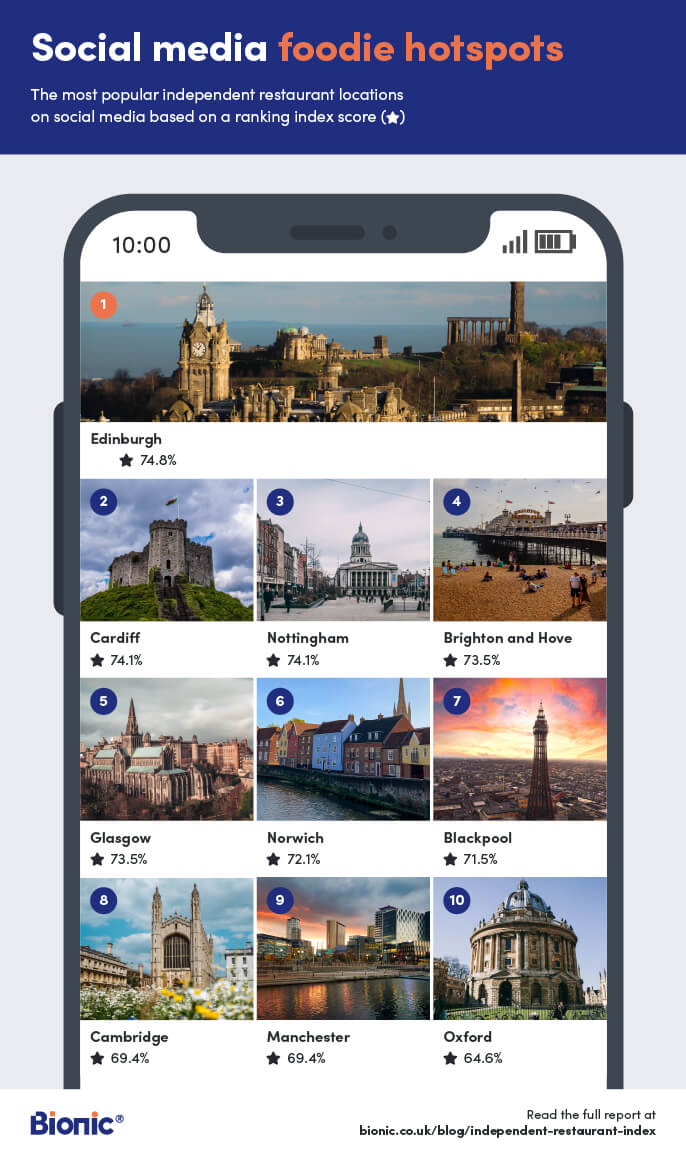 Manchester is Instagram's favourite UK food hotspot
Manchester has ranked as the UK location with the highest Instagram foodie presence, which comes as no surprise as the city is buzzing with picture-worthy decor - from neon signs to mural walls, there are plenty of photo opportunities within Manchester's food scene.
The Laundrette in Manchester, an independent restaurant serving 'cocktails and carbs' makes a great example, featuring floral walls and disco balls, along with extravagantly designed food to match, it's no wonder they are so loved on Instagram!
Telford is YouTube's favourite UK food hotspot
When it comes to YouTube, Telford is the cream of the crop, ranking as the UK city with the highest YouTube presence within the food scene. YouTube is great because users can share lengthier reviews, giving potential customers an in-depth insight into what the dining experience is truly like! However, when it comes to Instagram, Telford has not ranked as favourably, with the lowest presence when it comes to restaurants in all of the UK. So if you're looking for the best places to dine in Telford, YouTube is the place to look!
Glasgow is a TikTok 'food-tok' favourite
For Glasgow, TikTok is the platform of choice, ranking as the city with the highest restaurant presence on TikTok! Quick to embrace the burgeoning platform, Glasgow seems to have mastered the art of creating engaging content, and for some, even going viral! If you're looking for some foodie inspiration and a trusted voice in the space, @foodngemsglasgow is a page you won't want to miss! With over 100k followers and just shy of 3 million likes, the page is full of restaurants that'll leave your mouth watering at the screen!
Where in the UK is spending the most on dining out?
After looking further into finances across the UK, we were able to find out which cities spend more of their hard-earned cash on delicious meals. We know that when deciding on a location to dine out, finances are a huge factor to consider, especially in the midst of a cost-of-living crisis causing families across the UK to face huge financial strains.
Belfast spends the highest amount of cash on dining out
Belfast takes the cake as the UK city eating out the most as our research shows that the Northern Ireland capital is spending more in their local restaurants than anywhere else in the UK! The average yearly disposable income for Belfast residents is £17,301, of which 3.92% of this is typically spent eating out. With fresh seafood and traditional and international dishes on offer, it's no wonder Belfast residents know how to enjoy a meal out!
Newcastle spends nearly 4% of disposable income on eating out
The lively city of Newcastle financially favours eating out, ranking in second place, with 3.89% of the average disposable annual income of £17,416 being spent on dining out. So the next time that you pay the 'Toon a visit, be sure to try out one of their incredible independent restaurants!
Surprisingly, London is spending the least on dining out
Surprisingly, the UK city spending the lowest proportion of their disposable income on dining out is none other than the capital city, London! Only 2.27% of disposable income is spent on dining out in London, proving that the high cost of living in the city has played a significant role in these results. However, with the most restaurants of all cities analysed, an incredible 78,856, London has an extensive variety of choices when it comes to dining out, from cosy pubs to elaborate Michelin-star options, so we do not doubt that Londoners will enjoy delicious meals out when the occasion calls for it!
Do you have a restaurant of your own?
See how Bionic can help you save money on business essentials including electricity, gas, connectivity, and insurance.
Methodology
Bionic's data analysts scraped Tripadvisor data to find the overall number of food locations/restaurants in each city.
Using the Government Office for National Statistics we found the yearly disposable income by region in the UK, this was used to calculate the % of disposable income which each region spends on restaurants each year.
Modash.io data was used to calculate social statistics, such as the number of Influencers on different platforms associated with both Independent Restaurant terms and particular cities through their content.
Nimblefins.co.uk/ was used to find how much the average person, male and female spend on weekly shop versus restaurants each year.