What are the UK's biggest phone scams?
New data from Bionic has flagged that broadband and phone scams have shot up through the pandemic and the energy crisis.
Bionic contacted the Information Commissioner's Office (ICO) and Action Fraud to discover which areas of the UK were being targeted with phone scams most frequently over the last 13 months. They were also able to discover which types of scams were happening most frequently & which areas of the UK were losing the most money from them.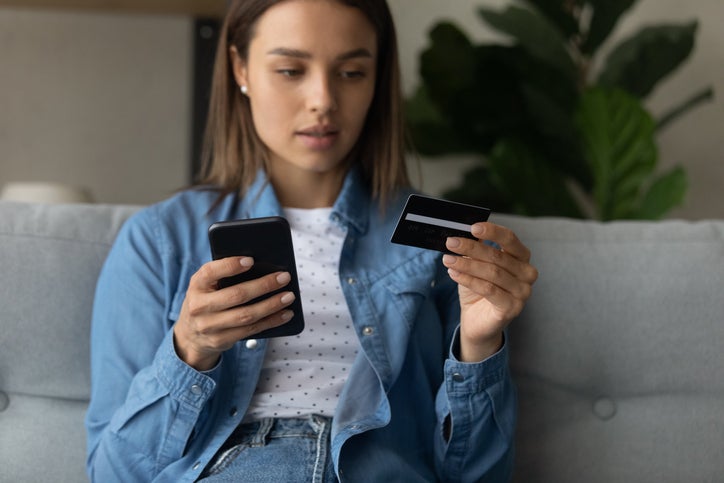 What is a phone scam?
Phone scams are a way for criminals to exploit people financially by impersonating others over the phone.
Google data shows that there has been a 34% increase in digital phone call scams since June 2022, particularly for 'Vishing' and 'VoIP' scams:.
Vishing is a phone scam that's designed to get you to share personal information — like your bank details or credit card number — with cyber criminals who pose as employees from reputable companies.
VoIP scams are similar, with the only difference being these calls are made over the internet and target employees for data, bank details and company intellectual property. VoIP makes it easier for scammers to create fake numbers or emulate existing ones.
In March 2022, Google searches for 'Vishing' increased by 124% to over 40,500 average monthly searches, the highest search volume that the term has had on record.
What does the data tell us about the most common phone scams?
Now we know more about the types of scams that are on the rise, let's dig a little deeper to see what else the data can tell us.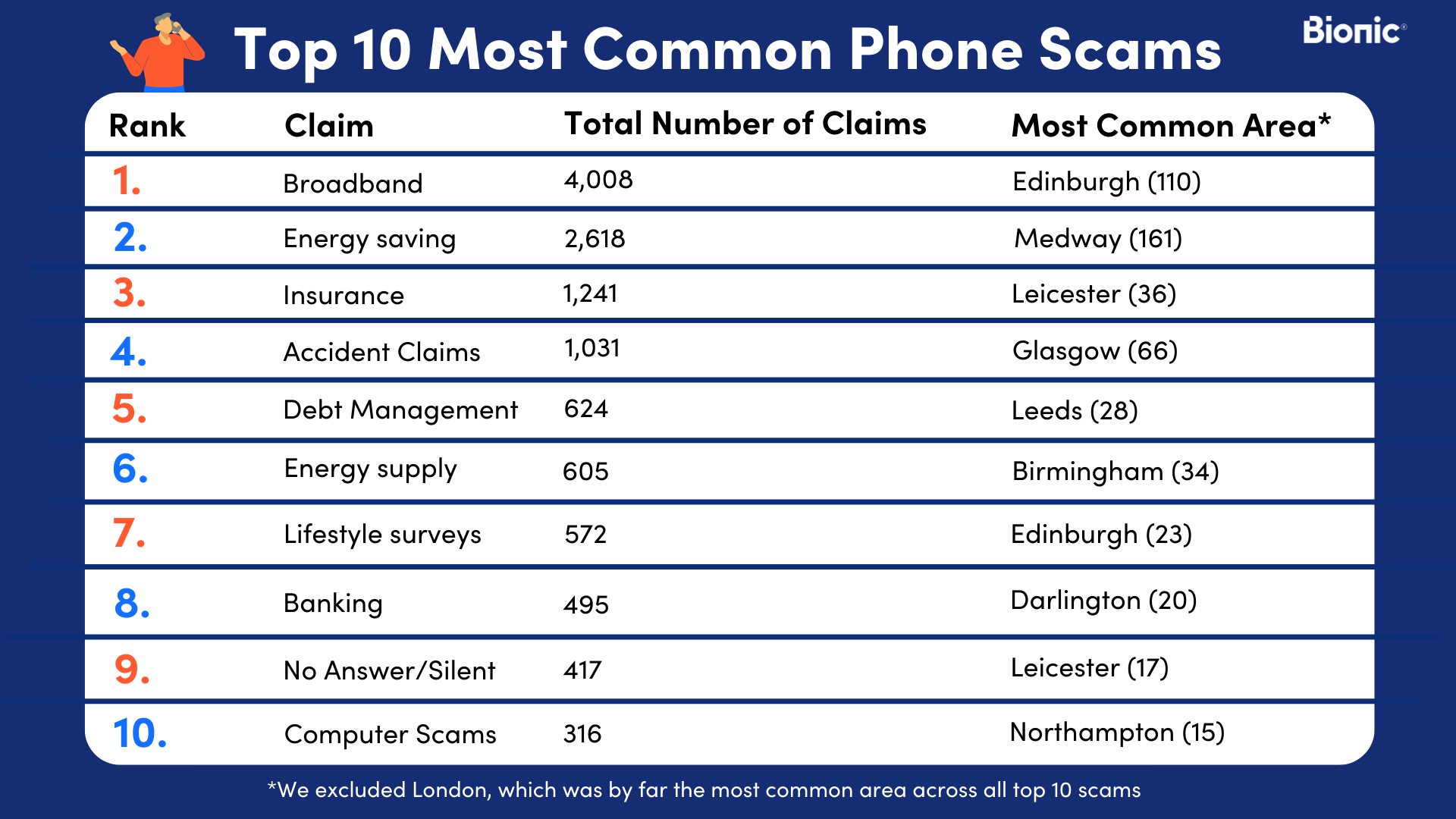 1. Fraudsters are capitalising on 'broadband poverty'
Overall, it's clear to see that broadband-related scams were overwhelmingly the most common type of scam taking place: ICO reported over 4,000 reported cases.
Criminals are exploiting the UK's current cost of living crisis by capitalising on what's known as 'broadband poverty', where people are sacrificing their broadband to pay for their energy bills — particularly students and large families who tend to use a lot.
2. The energy crisis is fertile soil for scammers
On the other hand, the data shows that energy-related scams made up over 3,000 of the overall scams on the list. Many popular energy-saving scams included calls about double-glazed windows, conserving heating and energy suppliers. These scams reflect the rise in energy bills with opportunist scammers using whatever is topical at the time to exploit people.
We've also seen a rise in energy scams. These are more popular in the colder months, which is highly concerning as energy bills are already soaring and the energy price cap is set to increase again in October 2022.
Overall, November had the highest amount of scams and is the worst month for scams across the board. Since people are more likely to stay inside in the colder months, there's a higher chance of them being able to take and make calls from home. This gives scammers a bigger opportunity to target people.
Most popular phone scams by UK city
10% of all phone scams in the UK happen in London, with 3% (599) of these being broadband scams. In comparison, Edinburgh had the second highest broadband scam total, having reported 110 cases, with Coventry coming in with 95.
The research also revealed that Medway (161), Southampton (140), Guildford (110) and Chelmsford (95) receive the highest levels of energy-related phone scams. In comparison, Reading had the 5th highest total for energy scams (83) but is the second highest for overall scams in total with 480.
The data also found that of all of the accident-related phone scams across the UK, Glasgow received the highest number receiving 66 across 13 months.
There were also found to be 168 cases of Payment Protection Plan (PPI) phone scams reported across the UK, with 87 (52%) of these being in Bristol.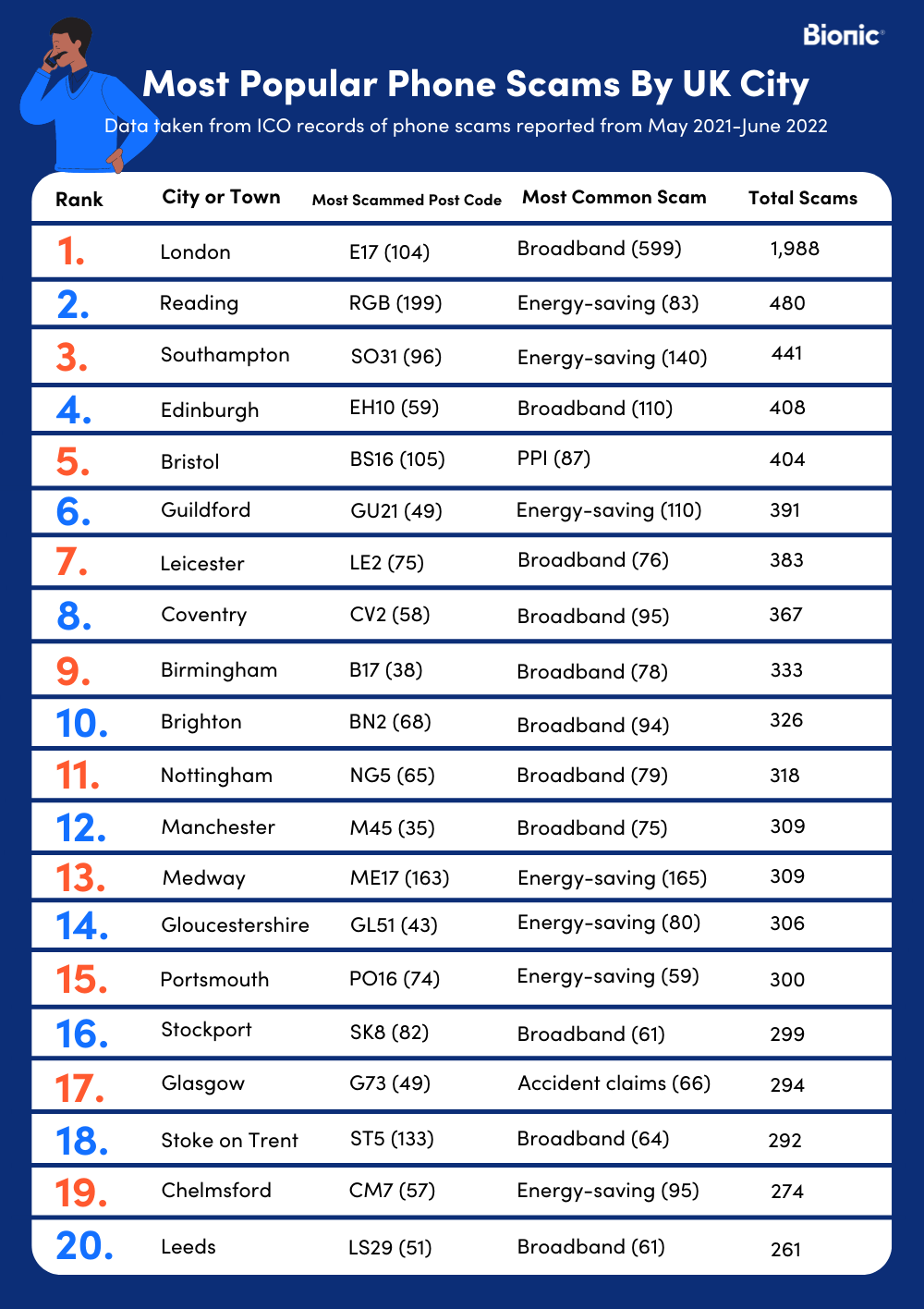 Worst postcodes overall for receiving phone scams
Southern postcodes are far more likely to receive scam calls compared to those in the North. Particularly those in the coastal area of Medway in Kent received the largest number of scam calls.
However, despite there being more scams in the South, Northern phone scams tend to be more costly on average, As incomes are traditionally higher in the South, Northerners may be getting hid harder by their losses.
| | | | |
| --- | --- | --- | --- |
| Rank | Postcode | City | Number |
| 1 | ME17 | Medway | 163 |
| 2 | CF31 | Cardiff | 151 |
| 3 | ST5 | Stoke on Trent | 133 |
| 4 | RG6 | Reading | 119 |
| 5 | BS16 | Bristol | 105 |
| 6 | E17 | London | 104 |
| 7 | BS23 | Bristol | 99 |
| 8 | SO31 | Southampton | 96 |
| 9 | SN12 | Swindon | 94 |
| 10 | SW11 | London | 93 |
How much money is being lost to scam phone calls?
Bionic also looked at data from Action Fraud, which analysed how many phone scams were reported across the UK in the last 13 months and how many losses were made.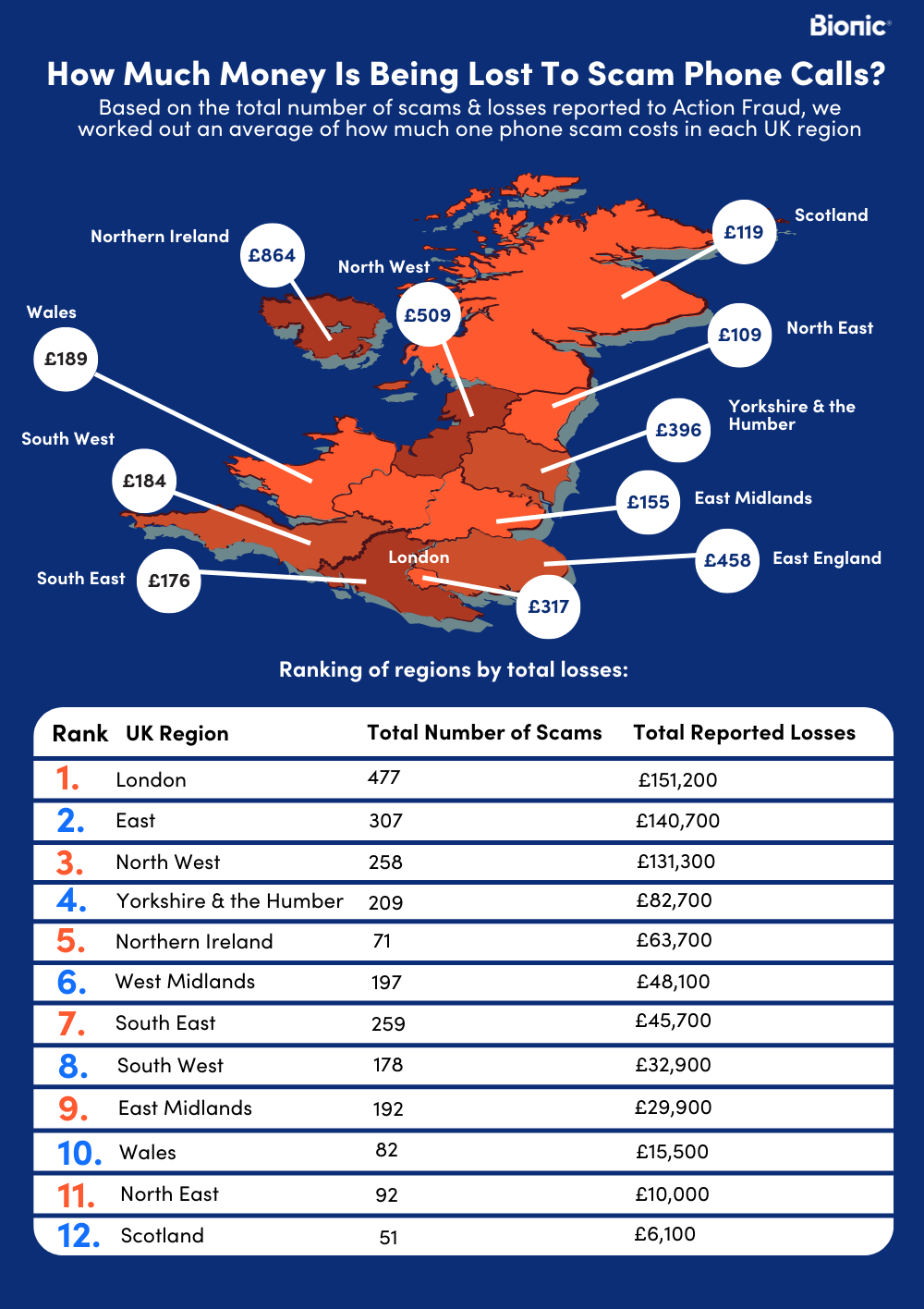 Based on the number of reports and how many losses were made in each region, Bionic calculated how much each phone scam was costing on average in each UK region:
Overall, there were 2,482 instances of consumer phone fraud reported to UK Police across the last 13 months. This amounted to £1.8m in losses and of this £520,700 was lost by organisations and businesses.
Losses by region
Despite London having the most overall losses with £151,200 across 13 months, on average it's Northern Ireland that sufferers from the most expensive phone scams, with £897 being lost per scam. This means that although the average cost of a successful phone scam sits at £724, Northern Ireland is the only major region that sits above this threshold. The North West comes in a close second with the average scam costing around £509.
Losses by county
Hertfordshire in East England was the worst-hit county for the average cost of scams. It reported £72,000 in losses across 40 scams, setting the average amount lost per scam at £1,800. This was far above the national average.
Cheshire also reported £44,400 in losses across 42 scams, setting the average loss per scam here at £1,057 making it the second highest in the UK. Greater Manchester had far more scams (87) and has a much higher population, but reported £30,000 less in losses despite being geographically close to Cheshire.
This can also go hand-in-hand with the fact that scammers will typically tend to go after older people who may be less tech-savvy. The research reflects this, as Devon and Cornwall has an ageing population and is the 9th highest region for scams.
How can I stop myself or my business from losing money to phone scams?
In response to the alarming data gathered from this research, Bionic has put together some advice that businesses and consumers should heed to avoid being tricked by phone scams.
How to tell if you're on the phone with a scammer
Knowing if you're on the phone with a scammer can sometimes be a challenge, but there are a few typical telltale signs that should give it away.
1. You didn't initiate the call
The majority of malicious phone calls involve a scammer contacting you first, posing as someone else. These can be anyone from government departments, banks, retailers and more.
It's highly unlikely that legitimate organisations would contact you and ask for sensitive information if you're not expecting them to.
If you're not 100% convinced, hang up the phone.
2. The contact details are vague
Scam numbers often won't reflect those of the real phone number they're imitating. Instead, they'll typically look like a mobile phone number instead of a trusted line.
Many scammers also favour premium rate numbers so they're able to squeeze every penny out of you they can.
3. You're being pressured to make a decision
Fraudsters will often try to hurry and pressure you into decision-making — something that true staff wouldn't do.
If you feel pressured into making a decision, take a step back and think things through. If you're not sure, you can always put the phone down, find the real number and give them a ring.
4. You're being asked to keep it a secret
Discussing big decisions with friends, family or advisors is important. If the person on the other line is asking you to keep it a secret and not get anyone else involved, this is a tactic to stop you from seeking any advice or support that you might need.
Be aware that banks, building societies, statutory bodies, law enforcement, utility companies and more will never:
Ask for payment in vouchers
Ask for any part of your pin code
Ask you to go to the bank or building society to transfer money
Ask for remote access to any device
Ask for money for a 'free gift', 'admin fee' or as part of a promotion
Ask you to transfer money over the phone to a different account
Threaten to arrest you over the phone, in a letter or an email for not paying a fee
What to do if you or your business is a victim of a scam
If you or your business has been a victim of a scam, there are a few steps that you can take as soon as you realise it's happened.
1. Change your passwords
You should change any passwords that have been compromised as soon as possible. If you can, change all passwords — even ones that haven't been affected — just as an extra precaution.
This could help lessen the chances of the scammer being able to use them to log into of your accounts.
2. Contact your bank account or credit card company
As soon as you know you've been a victim of a scam, contact your bank or credit card company immediately. Some online banking apps allow you to freeze cards quickly from there, so do this first if possible, just in case there's a wait time to get through to your bank.
Depending on the severity of the situation, some banks may choose to either; freeze any cards, or cancel them and replace them with new ones.
Letting your bank know about the scammers means they'll be able to monitor your account for any suspicious activity and put a temporary block on your account for money going out.
3. Report it
If a crime is in progress for you, someone you know or your business, call the police on 999. But if it's not an emergency (a scam phone call may feel like an emergency to you, but not to the police), call 111.
To report a scam phone call or text messages to your mobile or smartphone, you can text 7726 - this spells SPAM on an alphanumeric kep
If you've lost money or been hacked as a result of responding to a vishing message, you need to report it:
In England, Wales or Northern Ireland, call 0300 123 2040 or visit www.actionfraud.police.uk.
If you live in Scotland, report to Police Scotland by calling 101.
If you've given over any financial details, such as bank or credit card numbers, you should get in touch with your bank or credit card provider. If you've been scammed into buying vouchers and given over the serial numbers to a scammer, you should also get in touch with the voucher provider (for example, Amazon). Do this as soon as possible as there may still be time to cancel the vouchers and refund.
Getting your business set with Bionic
Some of the most important findings from this research include:
Energy scams are becoming more and more popular in the colder months, with this expecting to increase this year with the cost of energy prices rising.
Broadband scams were the most common type of scam taking place.
10% of all phone scams in the UK happen in London.
Northern phone scams tend to be more costly on average, however, there are more scams that take place in the south.
If your business needs a leg up, then the experts at Bionic can help. Compare all of your Business Essentials — including Energy, Connectivity, Insurance and Finance — and see where Bionic can take you.
Methodology
When using Action Fraud's data, Bionic studied the 'Consumer Phone Fraud' category of the NFIB Dashboard. This provides data on Action Fraud reports over the past 13 months in line with the Home Office Counting Rules for fraud. Bionic broke down findings by region and metropolitan area to see police reports on the number of cases and losses in each location. Data ranged from May 2021-June 2022.
A separate freedom of information request was made to the ICO, which gave more in-depth reports of what types of phone scams were being made and in what months. Data ranged from May 2021-June 2022.