Customer Stories | Flat Cap Coffee
Since launching in September 2019, it's been go, go, go for artisan coffee suppliers The Flat Cap Coffee Roasting Co, bagging five business clients and lining up a heap more along the way.
So it's hard to believe that just three years ago, co-founder Mark's life was at rock bottom after being discharged from the Armed Forces with Post Traumatic Stress Disorder (PTSD).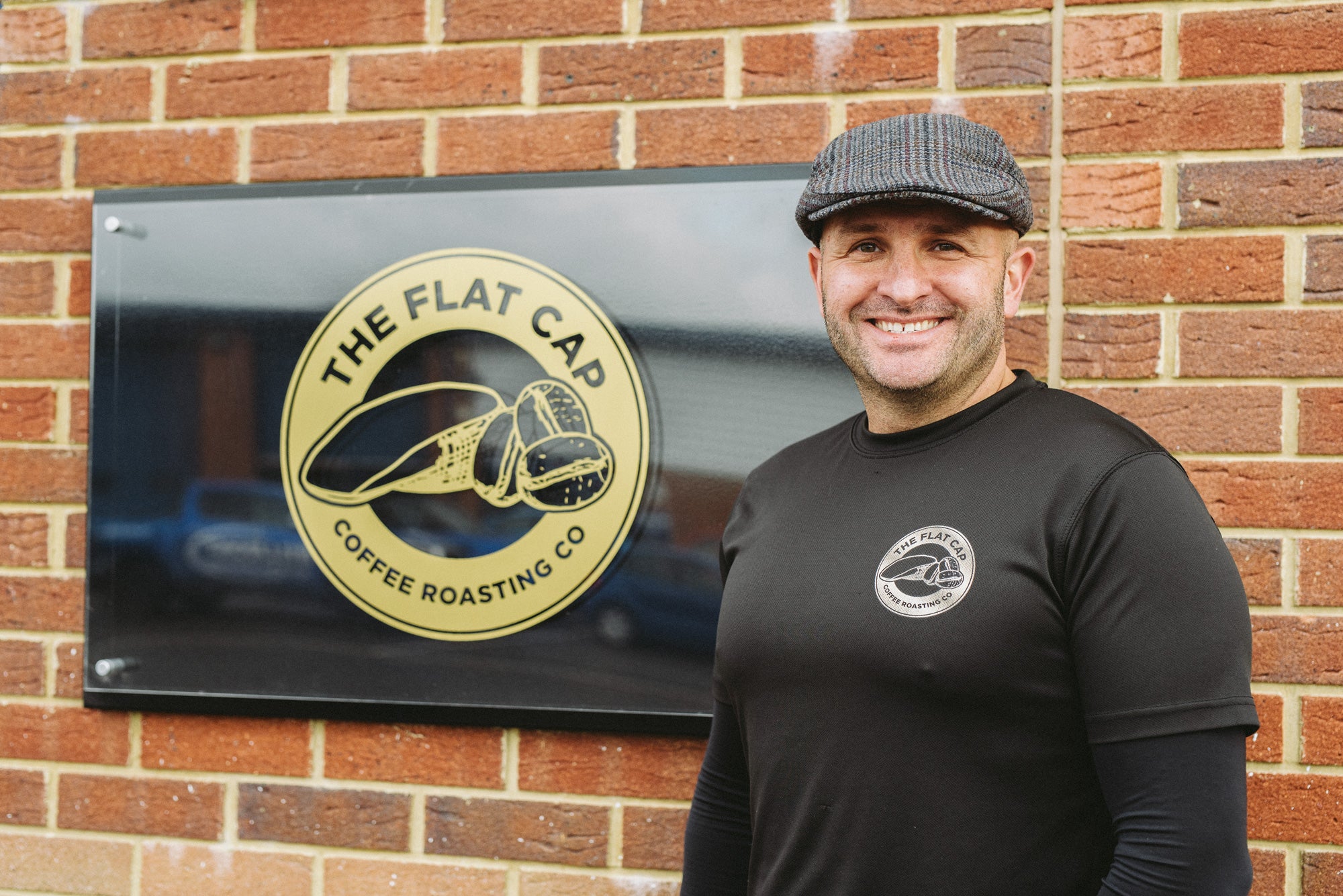 From rock bottom to business success…
Three ingredients went into Mark's turnaround: military charity Help For Heroes, a business advisor-turned-friend, and coffee...
To understand the whole story, let's go back to the beginning…
"I was 17 when I joined the army, and for the first four or five years it was a great life," explains Mark. However, things changed following a tour of post-conflict Kosovo in 1999. Seeing the human fallout of the war had a devastating impact on Mark's mental health.
Life wasn't the same again…
"I didn't come back the same person," he explains. "I was only 22, a baby really, and I knew right away that things weren't right. But I was young and I ploughed on."
"Earning the right to wear your beret is a big thing for a soldier but when you leave, you lose it and your identity. From that moment on I wore a flat cap religiously. The name just made sense."
Mark served for 16 more years, during which time he met and married his wife and business partner, Alexandra, and they had four children. "Alex is the driving force, she has all the inspirational ideas and helps to keep me focused," says Mark. "She's been my support, my carer and still continues to be."
Mark also carried out operational duties in Iraq during this period, where he sadly lost several close friends. He managed to keep his growing mental health challenges under wraps from the army all that time – before life got in the way.
A moment of no return
In June 2014, Mark was involved in a serious car crash and suddenly his secret wasn't so hard to hide. "I suffered a brain injury and that was it. The past traumas and car accident all but secured a PTSD diagnosis, and from then on it was down hill until I was medically discharged in 2016."
Despite almost 22 years of active service, Mark was in for a shock. "I don't want to sound like I'm complaining, but the network of support for veterans with mental injuries is minimal. Everything we were used to receiving – housing, employment, medical care – was suddenly gone. I had to fathom a new direction. Trouble was, I was broken at that point."
A new idea started to brew…
Enter Help For Heroes (H4H), whose recovery services – including its Pathfinder Experience training course – provided Mark with a lifeline. The coffee shop at its recovery centre, Tedworth House, in Wiltshire, also became a sanctuary for Mark and Alex, especially during the hard, uncertain times.
"One Pathfinder course really stood out for me: it was during that pathfinder phase that we decided to attend a Coffee Roasting Master Class," says Mark. "I loved coffee even as a young tank solider and more recently, my wife and I roasted coffee at home. Doing the course made me realise it could become a career."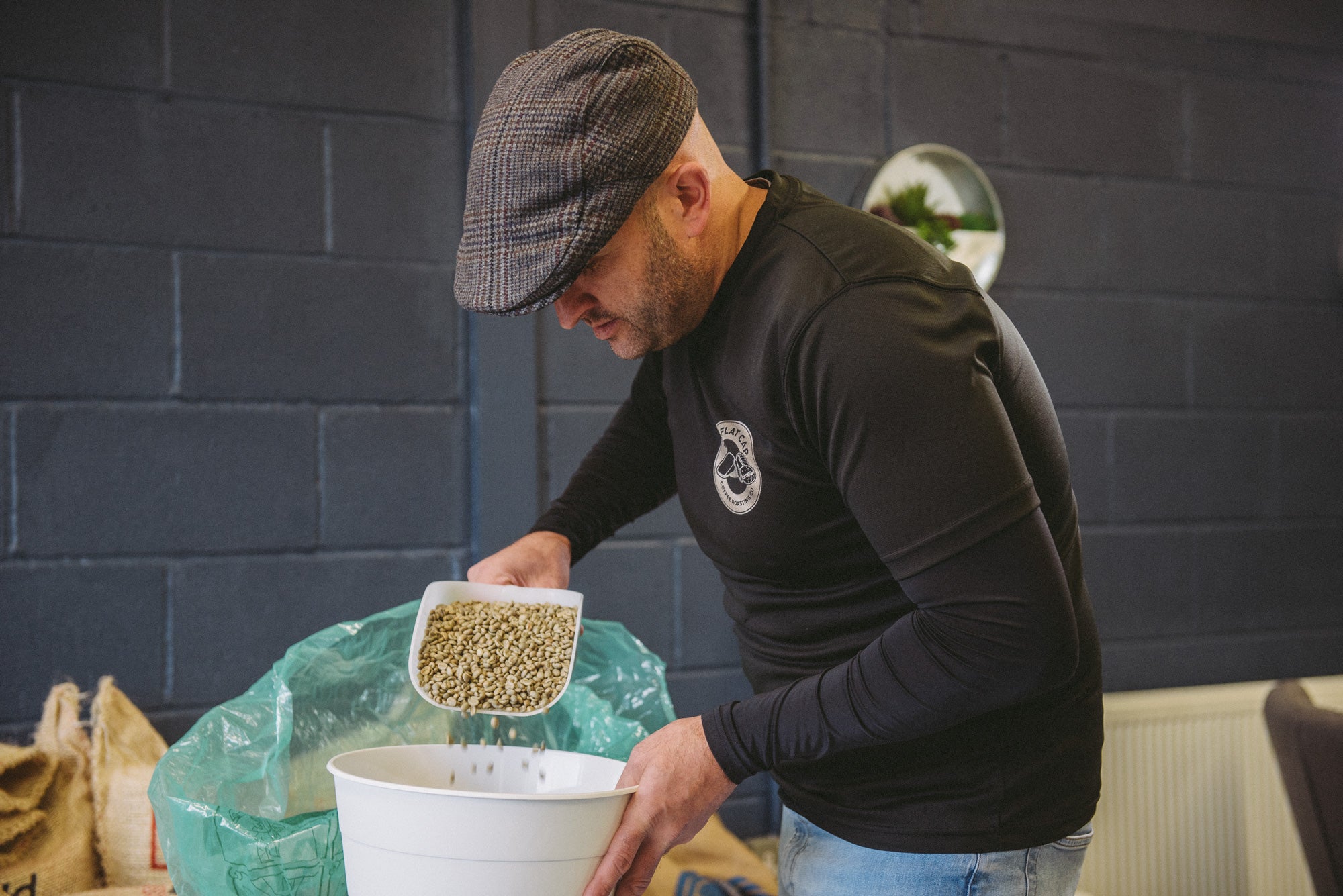 A fresh career was born
Suddenly the wheels were in motion. Wiltshire-based Mark was assigned a mentor by H4H – a mix of counsellor, business advisor and friend. "He guided us in the right direction, and the business ended up taking only a year from idea to conception."
The business name came easily. "Earning the right to wear your beret is a big thing for a soldier but when you leave, you lose it – and your identity," Mark explains. "From that moment on I wore a flat cap religiously. The name just made sense."
Full of beans…
With the business idea and name in place, the next tick on the to-do list was sourcing ethical, fair trade beans. "That was really important to us because these days we're all more conscious of what we're consuming. We get our beans from a UK importer called DR Wakefield, who goes direct to the source, and has a great relationship with farmers."
Next came tackling the business nuts and bolts – which is where Bionic came in.
Enter Bionic
"I was overwhelmed by the logistics and legislation of running a business. Sorting out gas, electricity and insurance was a real worry for me," Mark admits. "My expectations of getting a good deal were really low."
Mark spoke to five switching companies before choosing to work with Bionic.
"Speaking to Bionic was like a breath of fresh air. The guy I spoke to was honest and passionate about the service. Above all else, it felt like he was interested in me and the business, and not just making a sale.
"Having suffered with my mental health, this was really important to me. It gave me confidence to know there are good people out there who can make things easier; it instantly took the pressure off."
"We got a great deal on business gas, business electricity and business insurance."
In just two months, Flat Cap have already surpassed their two-year business plan goals – but Mark's biggest achievement so far is one that circles right back to his rehabilitation at Tedworth House.
In a sweet twist of fate, Flat Cap have been asked to supply the beans to H4H's Tedworth House coffee shop.
Coming full circle
In a sweet twist of fate, Flat Cap have been asked to supply the beans to H4H's Tedworth House coffee shop.
"It's where we went when everything was going wrong for us as a family, and it's where I started to feel positive again. I got a sense of belonging, there. So for the catering manager to say, 'We'd like to buy your coffee because it tastes good' was amazing.
"They used to use their own coffee beans – now I've just delivered thirty kilos of our beans. It feels like it was meant to be."
Success story
It's a Help 4 Heroes success story, and Mark, who now sits on the H4H advisory panel along with his wife, agrees. "I think it's quite a big thing for them to see a guy and family who came through their doors completely broken to becoming the guys who supply their coffee."
The idea of giving something back fuels Mark and Alexandra. "Coffee has the power to lift the spirits, a hug in a mug. As long as the guys and girls at Tedworth House are enjoying theirs I'm happy."
He adds, "We are really driven about our work with H4H because it's all about showing veterans that with the right understanding and care you don't need to go underground, you can put something back into the world and thrive."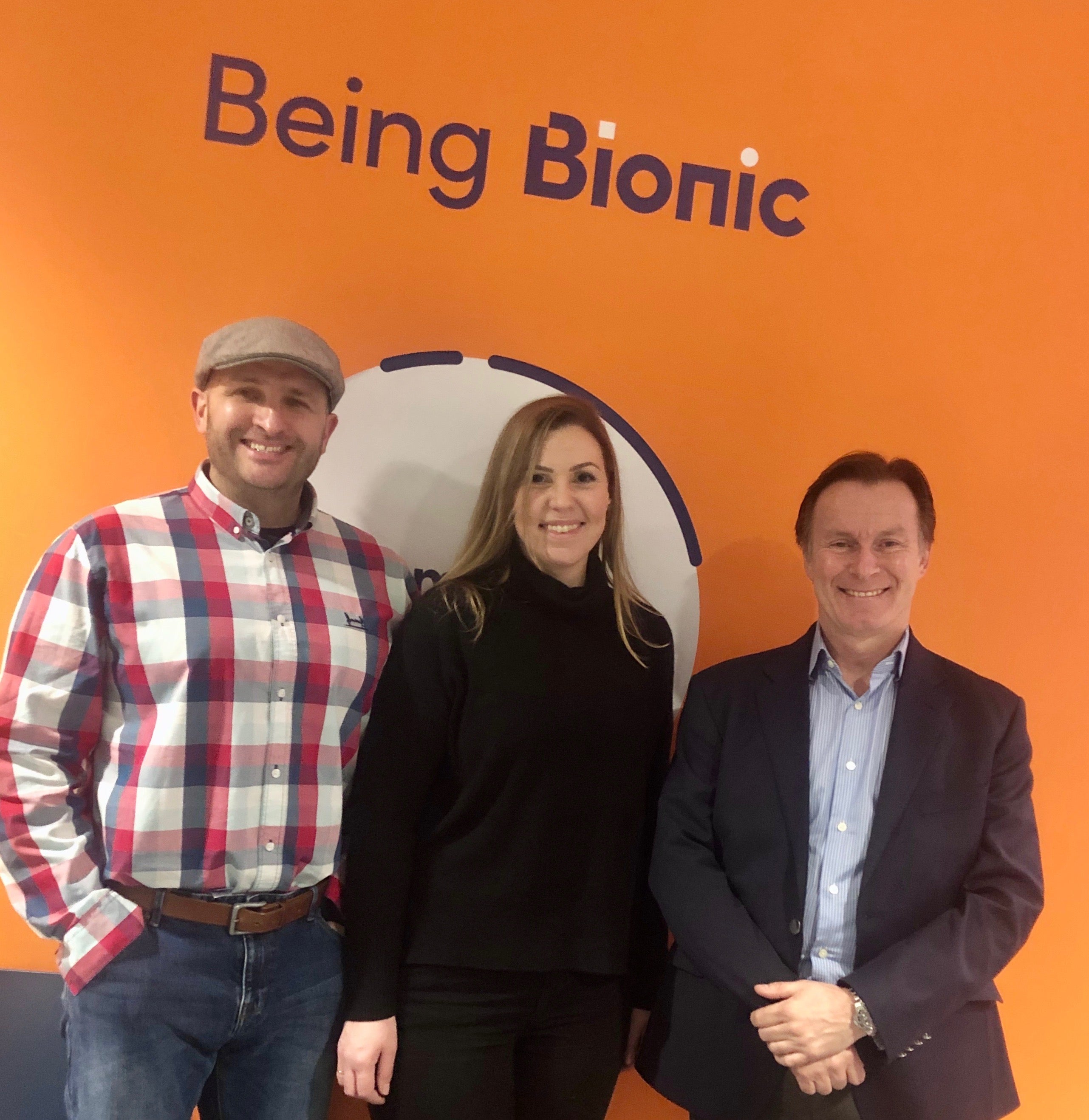 How to become a Bionic business
Being a Bionic business is about more than simply getting a great deal on business energy, business connectivity or business insurance. It's about working more intelligently using technology to empower your people - saving you time, money and increasing productivity.
Thousands of businesses like yours are already working smarter, and we've made it our mission to help others be Bionic.
So long as you're a Bionic business, we'll stay in touch to ensure you get the best deals, share the latest tech innovations to keep your business ahead of the rest, along with expert advice and stories from customers.
To find out more, enter your postcode and business name at Bionic.co.uk.