how to switch merchant payment provider
How to switch your merchant payment provider as a small business owner
Are you on the fence about switching your merchant payment provider and don't know where to start? There are lots of different options for businesses like yours, but it helps to educate yourself about each avenue first.
Shopping around is always a smart idea. But understanding your needs as a business will help you decide which provider is best for you. Have a read of this Bionic guide to find out what a merchant payment provider is, how to switch and how it affects your company.
What is a payment provider?
A payment provider just means a third-party company that provides payment services to your customers.
These providers can help your business take payment online or in person via different methods. These methods can be anything from card machines and mobile devices to bank transfers. Some examples of payment providers are Amazon Pay, ApplePay and PayPal.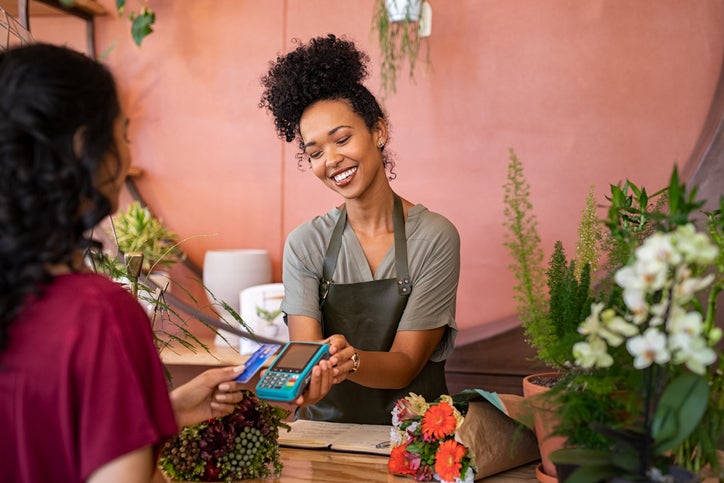 Why should I switch payment providers?
It really depends on whether you're happy with the service you are getting from your current provider. If you are, there's no need to switch although it can't hurt to look at other providers and what they offer.
But if you aren't happy with the service or price, then you should definitely look into switching.
Switching payment providers can feel overwhelming, especially when you don't know where to start. But you could reap many potential benefits by switching. You can:
Save money on rates and fees
Choose services tailored to your specific business niche
Ensure your customers are happy and can pay in multiple ways
Make your business more accessible and up to date
Get out of a contract that is charging too much or not offering the best service
How do I know if I'm eligible to switch?
You can switch merchant payment providers if:
You have been trading as a business for at least 6 months
Your business is based in the UK
You don't provide a prohibited or illegal product or service
What payment solutions are there to choose from?
There are a range of different payment solutions on offer and the one you choose will depend on your business needs. The main types of payment options are detailed below.
1. Face to face
One of the most popular merchant payment options is face-to-face payment. This is where a customer can use cash or a card in-store. Although cash is the original payment method and is still widely used, debit cards are the most popular way of paying, especially since the invention of contactless payments.
Cash payments are the cheapest way for a business to accept payment, but many companies prefer the security and convenience of online payments instead.
2. Portable card machine
Another payment option is to use a portable card machine. This is a small device that connects to a tablet or smartphone to accept payments from a customer via debit or credit card. A lot of businesses like the fact the device is portable and doesn't have to be solely situated at the till. This works well for small businesses that regularly attended and sell at pop-up markets.
3. Mobile payment machine
A mobile payment machine is sometimes known as a mobile card reader. These devices are completely wireless and allow you to accept contactless and card payments with little hassle.
4. Online
Online payments are another type of payment you can offer your customers. These payments are carried out over the internet and can be very efficient, quick and easy to use.
5. Payment gateways
A payment gateway is a technology that transfers customer payment information to your business or merchant bank account. A payment gateway is usually cloud-based software that connects your customers to the merchant as a third party.
6. Pay by link
Payment links are a great way for customers to pay remotely. You essentially send your customer a link to pay via a text message or email, and the customer completes their details to pay securely.
7. MOTO (Mail order/telephone order)
Mail or telephone orders used to be a popular way of paying and the process is still used to this day due to its easy nature. For example, catalogues use mail order and if you think about daytime TV, a lot of the adverts you see offer mail and telephone order options.
The customer simply provides you with their order selection and bank details by filling out a form and sending it to you or via a phone call.
8. Virtual terminals
The last payment option is payment via a virtual terminal. This is a web-based application that allows businesses to take electronic payments by phone, mail or in person.
What are some signs that you need to switch?
Sometimes you might not know there are better options out there for your business. But there are often subtle signs you need to think about when switching payment providers. Some of these are detailed below.
1. Your current provider doesn't support other payment options
It's important to think about what your current provider offers you and if it's enough for your business. If you want to start offering mobile payments but your provider can't do this, then they aren't meeting your needs and are limiting your business' progression. Have a look at businesses like yours that are similar in size and niche — are they gaining more customers because of the way they are offering new payment services?
2. You are paying higher fees
If you are paying a lot for something you're not 100% happy with, this is another sign you need to switch providers. Often payment providers lay out their fees to be deliberately misleading or confusing. Keep an eye on things like introductory rates and make sure you know if your bills will increase in a few months. Ask your provider for a breakdown of the costs you are paying so you are clear on what you are getting for your money.
3. Your provider wants to lock you into a long contract
It's vital that you know how flexible your provider is when you enter into a contract with them. You don't want to be stuck in a contract with rising fees and unhappy service.
You should ideally be able to adapt your contract to your changing business needs, for example, add or remove different features when you want to.
4. You're not getting the customer service support you need
Customer support is an important thing to consider. You want to have someone on hand to help you set up or solve any problems with your payment system. Make sure you check that there is a dedicated team able to answer questions before you enter a contract and they'll still support you during the contract. The last thing you want is to be left with a payment option you have no clue how to use and no help setting it up.
5. Your customers are asking for more payment options
Customers make your business, so make sure you're listening to what they have to say. Are they asking if you take mobile payments? Look into how to set this up with your provider. If customers aren't coming up to you with their suggestions, why not conduct a survey and ask for feedback? Then you can easily find out what payment options would make their lives easier and attract more business for your company.
How to choose and switch to a new payment processor
The most difficult part about switching payment processors is actually choosing your new provider.
It's important to weigh up your options and see what each provider offers your business before you take the leap. Follow the steps below to switch to a new provider.
Review your existing contract — First, you need to review your existing contract and see what it offers and what it doesn't. Make sure you shop around and choose another provider that ticks all your boxes and fills any gaps your current provider might have.
Confirm the status of your processing equipment — Find out about the equipment you already have and if it will continue to work until you complete the switch, or if you need to close your business for a few hours while you swap your payment options.
Choose a new MSP that fits your needs — Again, it's so important to do your research. Make sure the new provider offers everything you'll need or want. Otherwise, there's no point in switching as your business needs still won't be met.
Inform your former provider to make it official — It's a good idea to give your current provider a call to let them know you will be switching. Then hopefully you will avoid confusion and your switch will be seamless.
Set up your new merchant solutions — Your new payment provider will give you instructions on how to set up your new payment equipment. Depending on what option you choose, it could be straightforward or a little tricky. For example, if you were setting up a basic card reader, this would unlikely cause issues. But if you are hoping to introduce mobile payments, this could get more confusing if you've never used this type of device before.
Complete any onboarding and training — Make sure you are clear on how to use your new payment system and train staff too. Your new payment provider should be able to answer any questions if you have them and provide relevant support.
What do I need to switch my provider?
Switching is quite simple when you have chosen a new provider. To switch providers, you'll just need:
Details about your existing provider, eg name, what deal they offer you, fees and how long you've been with them
Information about the type of business you run
Information about how long you've run your business and the current turnover
A monthly transaction statement
Your business website address
How long will the process of switching take?
Once you choose another payment provider, your new payment processing company will assist you in the switching process. The actual process lasts less than an hour, then you'll be ready to go.
The only issue is if you are locked into a contract with your current provider, then you will need to pay a fee to exit or stay put until your contract is up. You can find out your contract details by calling your current provider.
How can Bionic save me time on business admin?
Choosing a new payment provider can be daunting. You may feel you just don't have the time to sift through each option. Luckily, the team at Bionic can help free up some time for your business. Although we can't conduct the switching process for you, we can take care of all your business admin needs so you can focus on other things.
Speak to the Bionic team today to find out more about business insurance or check out our handy guides to help you with all your business needs. We can also help with a range of business essentials, including business energy, connectivity, and finance.