how to manage your staff as a business owner
How to manage your staff as a business owner
Effectively managing staff is a big part of success as a small business owner. But where do you start and how do you set up a plan of action? Luckily, Bionic has written a useful guide about how to organise staff within your SME.
What is staff management?
The term staff management might sound daunting. But, it just means a way of managing your staff to make sure they are achieving their full potential and helping the business do its best.
Staff management should focus on improving each employee's performance so the business can flourish and thrive.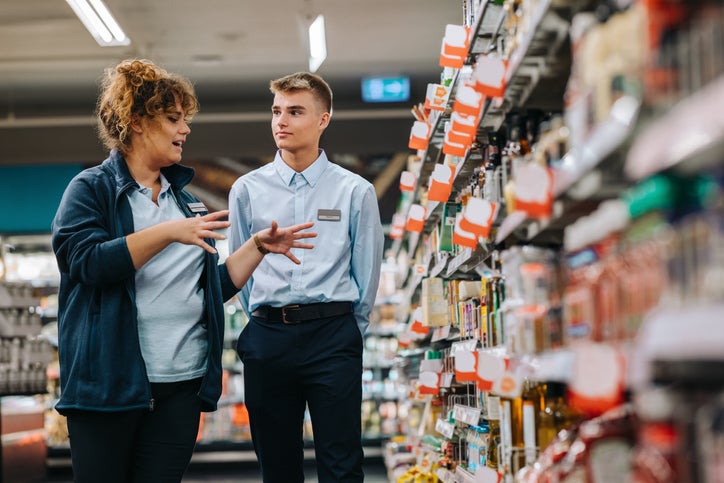 What does a small business manager do?
A small business manager is someone who is in charge of staff management. They are responsible for:
Supervising employees
Dealing with marketing
Customer service
General admin.
Essentially, their job is to ensure employees are doing their best and performing well.
What does employee management involve?
There are a few different parts of effective employee management. The main categories included in the role are:
1. Recruitment
A huge part of managing staff is recruiting the right people for the job in the first place. A small business manager will ideally set out clear job descriptions for candidates, carry out research to find the best job sites to post adverts on and narrow down lists of interviewees.
When you're hiring for a role, it's a good idea to look for a candidate who meets your criteria as closely as possible. This will ensure an easier management experience and smooth integration for your new employee into the team.
2. Measurement
Another part of managing staff is measuring their progress. To do this you need to understand each role in your company and what success means for each.
Managing employee progress will allow you to track how they are performing and what they are adding to the business.
It will also ensure each staff member is clear on how well they are doing and how they can improve. If all employees are clear on how they can better themselves within their role, then your whole team will benefit and achieve more goals.
Make sure you give feedback to your staff and set up regular meetings where they can discuss their own thoughts — be sure to be fair though. Make sure any 'improvement' comments are constructive, you don't want to overstep and end up micromanaging your team. Be conscious about how much you are influencing their day-to-day tasks and give them the freedom to control their day and make the role their own.
3. Monitoring
Another aspect of staff management is monitoring your employees. Staff turnover can be a huge problem for small business owners if the management and the team aren't right. You want to monitor how happy your staff are and focus on enticing them to stay.
Make sure you're checking in with them on a regular basis and offer ways for them to grow. For example, you could hone in on training or skill development opportunities that'll really help them progress in their role. When an employee learns new skills, it benefits them as an individual, but it also aids your company. If you invest time, money and patience into your team, they will help your SME become more successful in the long run.
4. Interaction
Good employee management means interacting with your staff regularly. No one wants a manager who is never available to speak to when there is a problem.
You want to be part of your team, not just appearing when it's time to discipline or conduct a mandatory review. Make a conscious effort to be part of your employees' working lives and be around to help sort out any issues or answer any questions.
5. Reward
Another part of managing your staff is rewarding success or celebrating wins. Many managers arrange meetings when something bad has happened and don't reward good behaviour in the workplace.
Make sure you provide positive feedback when things do go well in your business. Show your appreciation with a nice email to the employee in question giving them a little bit of praise. At the end of the day, a little bit of praise can go a long way!
6. Discipline
On the flip side, discipline is another integral part of managing your staff. Disciplining employees is vital to keeping your business thriving. Although it might not be the best part of the job, it needs to be done.
Make sure that you follow your company's discipline policy so you're being fair to those involved and keep any comments constructive and clear. You need to let the employee know what the problem is and how it needs to be addressed moving forward.
Why does small business management matter?
Managing staff at your small business is vital to keeping the cogs of your company turning. There are a few different examples of why it's so important to keep everyone on the same page.
1. Managers have a direct impact on employee performance and productivity
A study by Gallup states that a manager can have as much as a 70% effect on employee engagement, so, it's important to get it right. Engaging your staff often means being present, listening to their concerns, being proactive in your work approach and being clear with instructions.
An engaged employee means better work standards for your team. Ultimately, the better you manage your staff, the better they will perform.
2. Effective managers help businesses retain their top talent
One of the main keys to business success is keeping hold of your best staff members. Talented employees are assets to your SME.
An effective and supportive manager will entice staff to stay long-term. To do this you might need to make a few tweaks and offer more perks, depending on your business's budget. But it's not all about pay rises.
Being a fair manager, offering better benefits and a pleasant work culture goes a long way to making a staff member stick around.
3. Good managers go hand in hand with a positive cash flow
Cash flow can be a huge hurdle when running a small business and you can sometimes find that it can be tough to compete with bigger shops and keep your business afloat.
But, employee retention is also an issue. By being a good leader and managing your staff correctly, you're encouraging staff to do their best and bring their A-game every day.
If staff are doing their best for the customer, it usually equals more success, more footfall and better cashflow for your SME. So, the way you manage your employees has a direct impact on your cash flow.
What are the most important skills for managing a small business?
When you're leading any group of people in any business, there are a few important skills to learn first. They include:
1. Clear communication
Never underestimate the importance of being clear when you're discussing what you need from your employees. You need to be available for your team to ask questions or query anything they might not understand about your instructions.
2. Attention to detail
Good managers don't just look at the big picture, they understand the factors that go into a successful business.
By understanding each tiny part of your SME, you will learn every staff member plays an important part in making it work. Recognising your employees, their individual titles and how they contribute to the business is important if you're a good manager.
You should be specific about what you need from your team and know what you want to achieve with your business. Figuring out which parts of your company are doing well and what needs work is vital and you can grow from this.
3. Organisation
Being organised is also a big part of being a good manager. Staff members need a routine to thrive. They need to know what they need to do and when.
Writing a daily to-do list can help with staying on top of the tasks you need your team to get done. It will help your employees feel more on top of things too.
4. Motivation and leadership
Motivation is a massive part of being a skilled manager. Positive leadership is so important and will have a significant impact on how well your staff perform. If they are enjoying their role, are being listened to and are helped when they need to improve, they are more likely to feel motivated to help the SME succeed.
What are the most important goals of staff management?
There are two main goals of staff management. They are:
Economic goals
Economic goals focus on the business as a whole and the things you want it to achieve. This could mean hitting sales targets, keeping afloat, making more money or growing in the market.
Social goals
Social goals mean things that affect the employee directly. This could include factors like job satisfaction, pay rises, employee perks and an employee's own career goal.
How can Bionic help you banish business admin worries?
Getting a good staff management plan in place is vital when running your business. At Bionic, we know that staying on top of everything can be tough, that's why we're here to handle the business admin side of things so you can get back to managing your employees and business effectively.
We can help with all your business essentials, including business energy, business Insurance, business loans, VoIP, phone and broadband.
Speak to the Bionic team today to find out more or check out our handy guides to help you with all of your business needs.