What business licence does my company need? How to get one as a small business
Licensing your business can mean the start of great things. But, it can be hard to know which licences you actually need to get your business up and running.
From retail licences to health, beauty and much more, get your business properly off the ground with this guide to business licences.
What is a business licence?
A business licence provides permission for certain types of business activities.
The licence permit is issued by the government, a local authority or a professional body and is designed to protect business owners, clients and customers. So, not only do business licences ensure that a company adheres to the legal framework, but they also make sure that businesses are held accountable for their actions.
Why do I need a business licence?
Simple tasks like playing music and serving alcohol to more obscure jobs like processing customer information, all require a business licence.
The main benefits of acquiring a business licence are:
Protection for employees and the public — Knowing you have the proper, legal licences in place will have you covered should an accident happen. If you sell food or a product that touches the skin, you will be required to have a specific licence as well as pass an annual inspection.
Privacy — If you obtain a licence for your business, this should mean that you're ensuring any personal information will remain private. This also helps to allow your business to be held accountable for its actions.
Keep track of your finances for tax purposes — This makes it easy to file your taxes once you know which businesses licence you'll need.
Good for the economy — With so many new businesses starting every day, making sure your business is registered and licenced helps to formalise the economy, as it shows the business sector is thriving.
Before your business begins operation, you must make sure that you have any licences in place. Otherwise, you'll be breaking the law and running your business illegally — which could result in a hefty fine.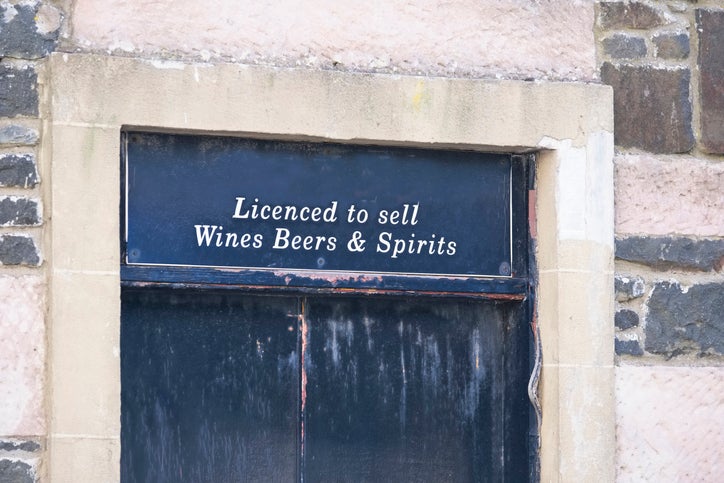 How do I get a business licence?
To get a business licence, you first need to head to the government's Licence Finder Tool. This is the easiest way to find out: if you need a licence, which you'll need and where to apply for it.
Alternatively, you can always speak to your local authority for advice and help take those first steps into certifying your new business. Be aware that some applications will require checks by your local council, such as a food business that will need to have its kitchen and food preparation processes inspected.
There are several exceptions to this, however. If you want to run a childminding business, for example, you'll need to apply for a licence from a specific governing body:
Ofsted in England
Care Inspectorate in Scotland
Care and Social Services Inspectorate in Wales
Department of Health, Social Services and Public Safety in Northern Island
It's also best to check if there could be any zoning restrictions that could impact or curb a business's activities.
Do I need a business licence to sell online in the UK?
If you plan to sell your goods or services online in the UK, you don't need any particular licence to do so, but you must make sure that you're properly registered with the HMRC.
However, there are a number of rules and conditions relating to selling online in the UK — particularly if you're selling your goods overseas. So, it's best to check before you start to set up your shop online.
General selling online
If you're selling goods online within the UK, you'll have to follow certain rules. You must make sure that your business follows the rules of 'before an order is placed'. These include:
Making it clear to customers that they have to pay when they place an order — Through a 'Pay Now' button.
Clearly display the methods that customers can pay — E.g, Apple Pay or PayPal. This must also include delivery costs and options.
Give customers time to amend any orders — For example, ASOS have a ten-minute grace period in which you can cancel your order. Amazon allows 30 minutes to cancel orders if they're sold via a third-party seller.
Language options — Let customers know what languages are available on site.
Make customers aware of your terms and conditions — Make sure these can be downloaded and printed off.
Description of goods — Go into as much depth as possible when describing your items. Product listing, whether it be for goods, services or digital content needs to be detailed.
Selling restricted goods
If you're planning on selling restricted goods, like alcohol or nail varnish, then you'll need to apply for multiple licences to do so.
Personal licence — This requires you to take the BIIAB Level 2 Award for Personal Licence Holders from an accredited provider. You'll then have to apply for a personal licence on the government website.
Premise licence — This licence can be fixed on any commercial property, like a shop floor or warehouse, but isn't usually granted for your home as this is classed as a domestic dwelling. However, a small building that's on your land, but is separate from your house, could be given a licence. You'll need to apply for a premise licence through your local authority.
How much does a business licence cost?
The cost of a business licence will depend on what type of licence you need. The fees for a licence are usually set by the individual local authorities, which means that the cost of your business licence can vary depending on where you'll be based.
Common licences like the Data Protection Fee can range anywhere between £40 to £2,900, so it's best to make sure you've got the budget before committing.
The different types of business licences for different industries
No matter what business you specialise in, you're more than likely going to need to apply for a whole host of licences to get your business up and running.
From beauty salons to accountants and even home-based businesses, we've rounded up some of the most important licences you'll need.
Retail
If you're planning on opening a retail business, it's important to get everything in place. From nail technicians to makeup artists and boutique owners, there are lots of accidents that can happen and leave you seriously out of pocket if you don't have the proper business licences in place.
In the retail industry, there are a few common business licences that you should consider before you begin trading:
Licence to play background music or TV licence — If you're planning on adding a touch of atmosphere to your setting, it's important to make sure you apply for the right licence, whether it's soft music playing in the background or a reality TV show. To legally play music, you'll have to apply for the PPL PRS Ltd.'s TheMusicLicence, which could cost from just 78p a day.
Pavement or street display sign licence — If you're planning on advertising your business on the pavement or roads, you'll need to get written permission from the council. This costs £400 and lasts up to six months.
Notification to process personal data — If you process customers' personal data, such as their email address or phone number, which can be used to easily identify them, then you need to make sure you've got the right GDPR in place.
Professional business
Whether you're an accountant, architect, business consultant or photographer, making sure your business is set up correctly is important.
Some of the most common business licences you would have to consider include:
Money laundering registration — If your business is based in the financial sector, you'll need to register with an anti-money laundering scheme as well as with a professional body that regulates your industry sector.
Financial Conduct Authority (FCA) authorisation — If you're planning on offering financial advice or issuing payments or settlements, you'll need to have authorisation from the Financial Conduct Authority before you can carry out any regulated financial services. If you don't get proper authorisation before carrying out any activities, you could be fined or imprisoned.
Public space surveillance (CCTV) licence — You'll need to get this licence if you plan on using CCTV equipment to record any activities on your business's premises. You'll need to acquire the licence from the Security Industry Authority (SIA), which is £210 for a three-year licence.
Read our guide to professional indemnity insurance that can help protect your business if you need to pay compensation to clients.
Trade
Providing the best service is at the top of your priority list if you work in a trade-based business. Whether you're a painter and decorator, carpenter, plumber or electrician, your reputation as a tradesman is dependent on working with the correct licences.
Before you carry out any activities, here are some of the business licences you'd need to consider:
Skip licence — This licence allows you to place a designated skip on a footpath or public road. If your client has space to put the skip on their private property, you won't need to obtain a licence. The cost of a skip licence varies depending on where you are in the UK, but the average cost is around £30.
Goods vehicle operator licence — If your business uses goods vehicles above a certain weight, you'll need to obtain this licence. There are three different types of licences: standard national, standard internal and restricted. The one you need will depend on where you transport goods to and from, and who you do it for.
Scaffolding and hoarding licence — Whether you're carrying out maintenance, building work or removal, this licence is required. You'll need to make sure that the application is submitted at least 15 days before work is due to be carried out. A licence for both scaffolding and hoarding is £151 each which you can get from the GOV.uk website.
Register to carry out gas work — To legally carry out any gas work, you must make sure that your business is on the Gas Safe Register. Find out what the Gas Safe Register is and why it's so important with our guide.
Street works licence — If you plan on placing heavy or street work machinery on a public road in England, Scotland or Wales, you'll need to obtain this licence from your local council. If you fail to obtain the right documentation or have it in place when carrying out any work, this could result in a fine of up to £5,000.
Service - Any service-based business in the UK will have to register for any licences accordingly. A service-based business can be anything from a gardener to a taxi driver, a tutor, or a window cleaner, so it's important to make sure that you have everything in place to successfully (and legally) run your business.
Before you start your business, here are a few of the licences you'd need to acquire:
Permission to distribute leaflets — If you want to advertise your business through leaflets or flyers, you'll need to obtain this licence to get consent to distribute free printed materials in areas that are controlled by the local council.
UK driving licence — You'll need to hold a full UK driving licence as well as a taxi driver's licence if you want to drive a black cab.
Environmental permits — To dispose of waste safely, you may need to apply for an environmental permit from your local authority.
Food
Whether you've made it to the high street or you're tucked away in a hidden nook, there are certain licences you'll need to obtain to make sure you're following all food-based guidelines correctly. You'll more than likely be:
Preparing, storing and selling homemade baked goods and food
Selling alcoholic drinks
Playing background music
Using advertisement boards on the pavement
You'll need to make sure that you have business licences in place such as:
Food premises approval — Before you can begin cooking, you'll need to make sure you have food premises approval. This will need to be inspected and approved by your local council, and once your status has been approved, you'll need to display your status according to the council rules.
Food business registration — If you plan on storing, cooking, handling, supplying, distributing or selling food on your premises, you'll need to register this with your local authority. You'll need to make sure you register at least 28 days before your business opens. If you don't, you could be fined and face up to 2 years in prison.
Premises licence and personal alcohol licence — If you're looking to serve alcohol on your menu, you'll need to get a premises licence so you're legally allowed to serve it. You, or a member of staff, will also need to hold a personal licence to sell alcohol.
Permission to place tables and chairs on the pavement — You'll need to apply for a licence from your local council if you wish to place tables and chairs or other furniture on the pavement outside of your premises. To support your application, you'll also have to supply a site plan and your business's public liability insurance certificate.
How do I get an alcohol licence?
You need an alcohol licence from your local licencing authority if you want to sell or supply alcohol.
You may need a premise licence — which authorises the premises itself to sell alcohol — and a personal licence — one person on the premises must be a designated premise supervisor and hold a personal licence.
Find out more about alcohol licencing on gov.uk.
How long does it take to get a business licence?
There are several factors that can influence how long it takes to get a licence, but you can obtain one in as little as a single day or as long as six months.
The type of business you're running, where it's located and the regulations that may apply in that area can all affect the time it'll take for you to get your business up and running.
What happens if I don't get a licence?
If you're found to be trading without a licence, these can lead to some hefty fines — of up to £1,000 for small businesses — and even imprisonment.
Not only that, but you must make sure that you obey the terms of any licences you do have in place, otherwise you could be fined, convicted and have your business shut down. You may also not be allowed to apply for this type of licence again which could put your business at risk.
How Bionic can help with business admin
Whatever your business, it's important that you have the proper business licences in place. While this can sometimes feel overwhelming to know the exact licences you'll need to acquire, it's important you get the right ones before you start trading, to save yourself from some hefty legal fees.
At Bionic, we know that staying on top of all that business admin can be tough, that's why we're here to help with all your business essentials, including business energy, business Insurance, business loans, VoIP, phone and broadband.
Speak to the Bionic team today to find out more - let us sort your business essentials so you can get back to managing your employees and business effectively.