How can small businesses build more brand loyalty?
Brand loyalty is when customers continue to buy from the same brand or business, even though others are offering similar goods and services. And customer loyalty isn't just for big brands - it can benefit businesses of all sizes and can them survive through times of economic crises.
Data by Invesp shows that 70% of companies agree that retention is cheaper than acquisition, yet 61% of retail companies see this as their biggest challenge.
The study also revealed how 56% of customers will stay loyal to a brand that "gets them" - but how can small businesses help build this loyalty amongst their client and customer base?
In the cost of living crisis, how are people choosing who deserves their hard-earned cash? Price is a massive priority for customers, but how do ethics, customer service and loyalty perks influence their behaviour?
In our new brand loyalty report, we unveil what big brands are doing well when it comes to customer loyalty. We analysed YouGov data alongside social media statistics and search demand to analyse which household name brands have the greatest level of customer loyalty. We also break down what tactics these brands are using to keep customers returning that micro business owners can learn from.
Global brands with the most brand loyalty
To find out which global brands are doing the best when it comes to customer loyalty, we analysed the biggest business names in different industry sectors, including entertainment, tech, retail, supermarket chains and food and beverage.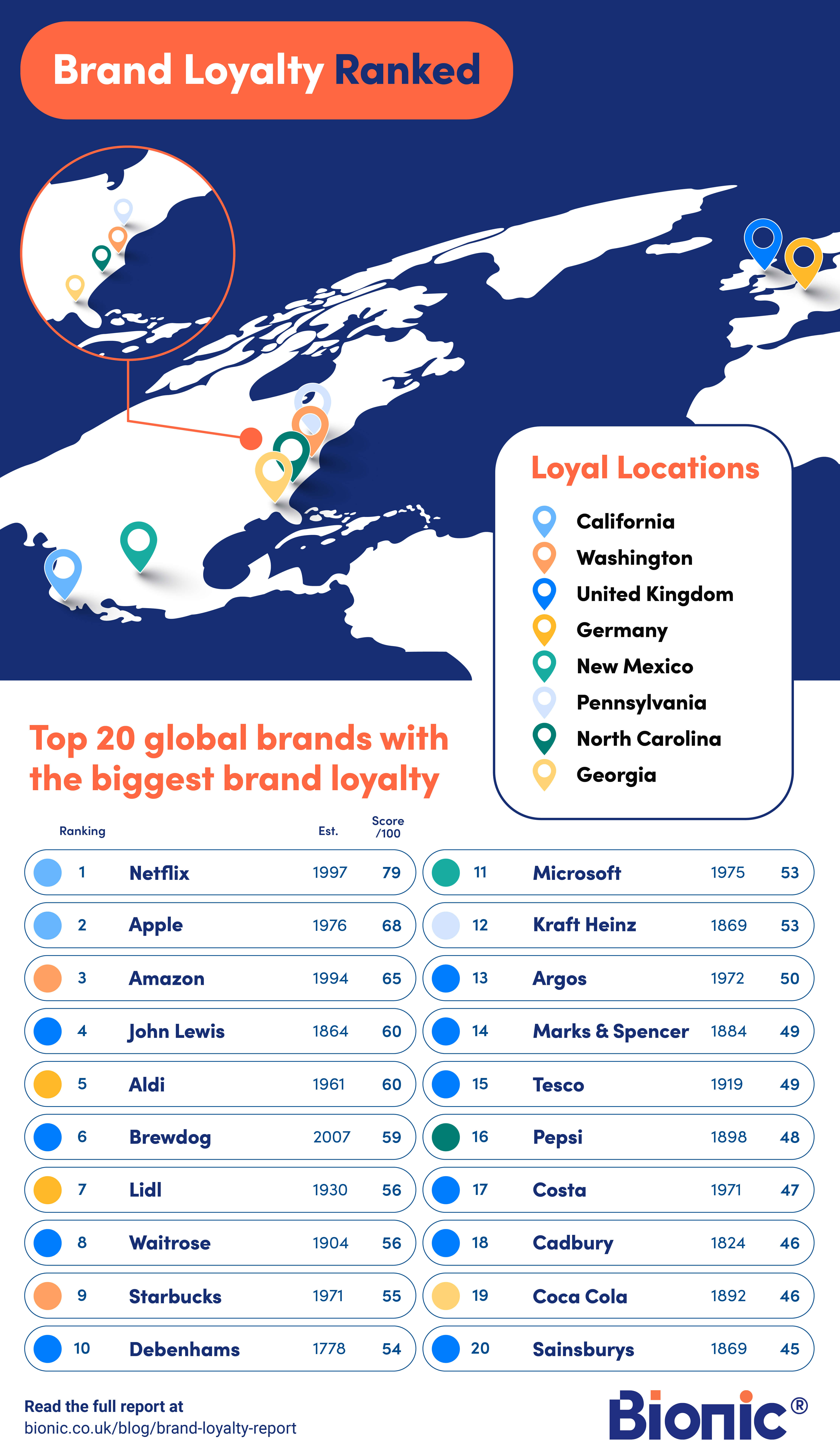 Netflix ranks top for brand loyalty
It's no surprise Netflix has built up strong customer loyalty around the world, which is obvious in its power to dictate conversations and social trends across the globe. Founded in 1997 in Scotts Valley, California, Netflix was originally launched as a mail-order DVD delivery subscription service that pivoted in 2007 to a streaming service that took over the world.
Netflix creates global phenomena to increase brand loyalty from customers
Not only does Netflix own the rights to iconic shows from the past such as Friends, but they also exclusively host shows that have more recently made their way into pop-culture consciousness, like Stranger Things, Black Mirror, Selling Sunset, and Tiger King.
This shows in the figures, with it being reported in the The Global Internet Phenomena Report released by Sandvine 2023 that Netflix uses more than 15% of the world's internet bandwidth with subscribers in over 190 countries. Netflix has a six-month customer retention rate of 72%, whilst 52% of American adults subscribe to the service.
According to our analysis, Netflix unsurprisingly ranks highly across market capitalisation at £148.28 billion, brand awareness with a score of 0.79, loyalty at 2.98, impression at 4.35 and reputation at 3.62. This combined with social media and Google search analysis gave Netflix the highest ranking score of 78.57 out of 100.
Netflix's crackdown on password sharing didn't negatively impact brand loyalty
According to Global Data, in the first quarter of 2022, Netflix experienced a loss of 200,000 subscribers, largely due to the explosion of competitor platforms such as Amazon Prime, Disney+ and Hulu. But the platform quickly adapted to overcome these losses, including offering its first ad-supported tier and cracking down on password sharing. Although this second measure ruffled some customers' feathers, it ultimately paid off with six million more users signing up for the platform as a result.
Apple's customers rank second most loyal beating Samsung
Apple versus Android is a social debate that divides customers around the world. But it looks like Apple comes out on top regarding brand loyalty, ranking as the global business with the second highest level of customer loyalty according to our study. Despite being renowned around the world for the quality of technology, Samsung falls behind Apple in market capitalisation, with only £293.79 billion in comparison to Apple's £2,260 billion.
Apple's targeted advertising helps increase loyalty from younger generations
When it comes to brand loyalty, Samsung beats Apple on awareness, with scores of 1.01 and 0.82 respectively. But when it comes to reputation and impression, Apple ranks significantly higher than its Korean competitor, who falls short especially on brand stability with a score of only 1.15 compared to Apple's 2.62.
On social media, Apple proves significantly more popular than Samsung, which may be likely due to their target marketing towards younger generations. Overall in our brand loyalty index, Samsung ranked 24th with a score of 40.01, whilst Apple ranks second with a score of 67.13 out of 100.
Customer data has reinforced this, with a recent study showing that 92.6% of iPhone users plan to stick with Apple for their next phone, which is compared to only 74.6% of Samsung users. 64% of iPhone users have stated that they are highly unlikely to switch to another phone brand in the future. This is largely due to Apple's brand image, quality, reliability, and customer service.
British Brand Loyalty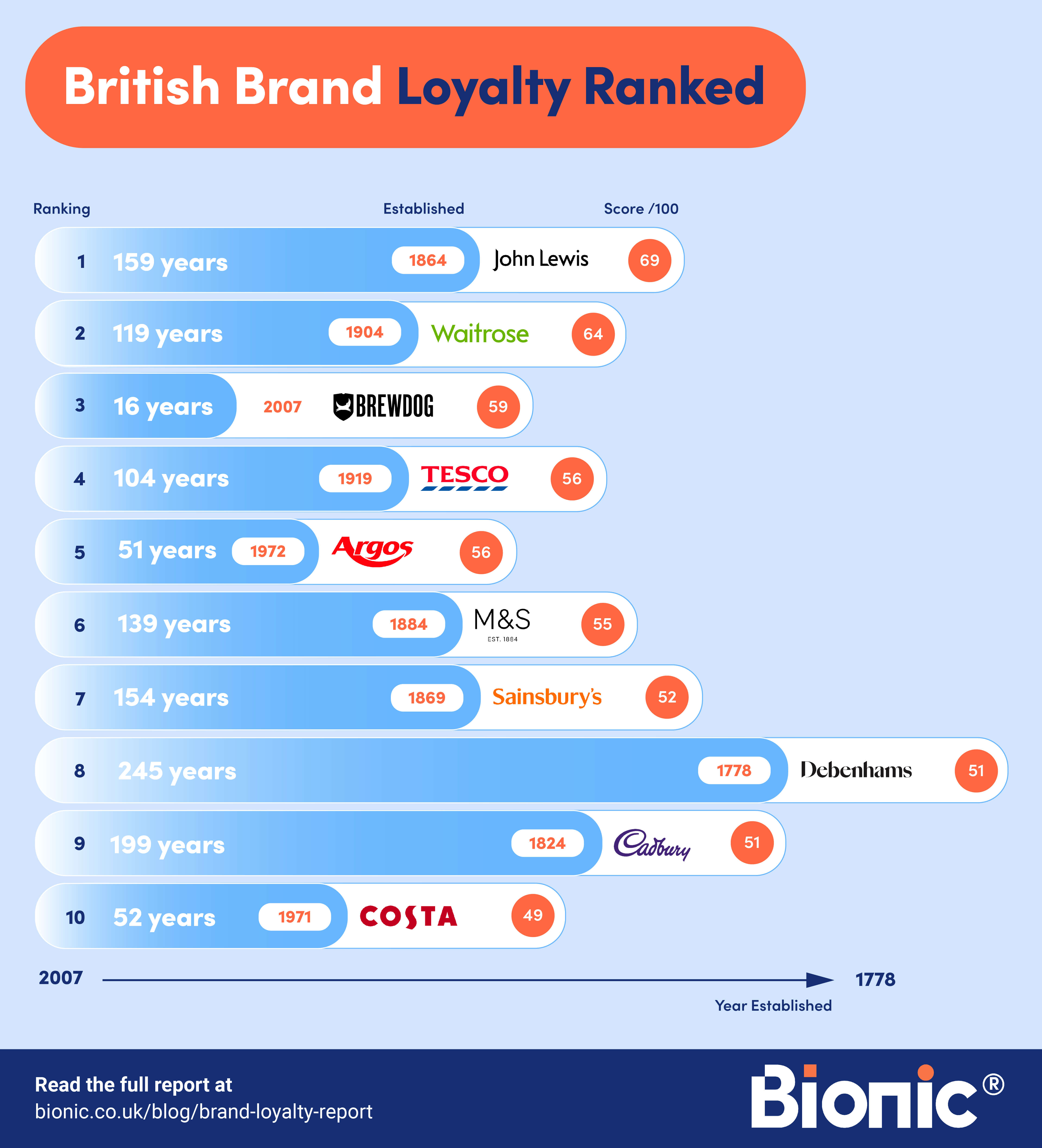 John Lewis ranks as Britain's most loyal brand
It may not come as a surprise for many Brits that the iconic brand John Lewis ranks number one in the UK. The British department store has built a strong level of customer loyalty thanks to its reputation for high-quality products, excellent customer service, and familiarity in households. The brand has even built itself into the UK's Christmas experience with its yearly adverts that touch the nation's heart.
According to our study, John Lewis ranks highly across brand awareness with a score of 0.81, impression at 2.52, and reputation at 2.69, and across social media engagement resulting in a high score of 60.70 out of 100. This means John Lewis ranks as the top brand for customer loyalty in the UK, and number four in the world.
John Lewis loyalty scheme 'My John Lewis' offers personalised offers, launches and members events which reportedly have five million customers, who shop 2.5 times more than non-member customers. John Lewis has also gone on to produce their own 'Anyday' range which promises its same renowned quality with an affordable price tag to target a wider range of customers.
Brewdog has built strong customer loyalty in only 16 years
Brewdog is a brewery and pub chain that has built a strong reputation for itself in a short amount of time. The internationally renowned brewery has ranked third in our study, falling shortly behind John Lewis and Waitrose which have over 100 years of experience ahead of Brewdog.
Despite its youth, Brewdog ranks top in our study for brand awareness with a score of 4.86, brand reputation with a score of 6.49 and brand impression at 6.97. However, the brand loyalty score is only 1.08 which ranks very low compared to other brands. Analysing alongside Google search and social media data gives Brewdog a score of 58.57 out of 100, ranking No.2 for UK brands.
Like John Lewis, Brewdog also has a loyalty scheme in place called 'Planet BrewDog', which rewards you for offsetting your carbon footprint The company has shared that this combination of savings and sustainability has created an emotional loyalty programme that has boosted purchase frequency by 400%.
Which supermarket has the biggest brand loyalty from British customers?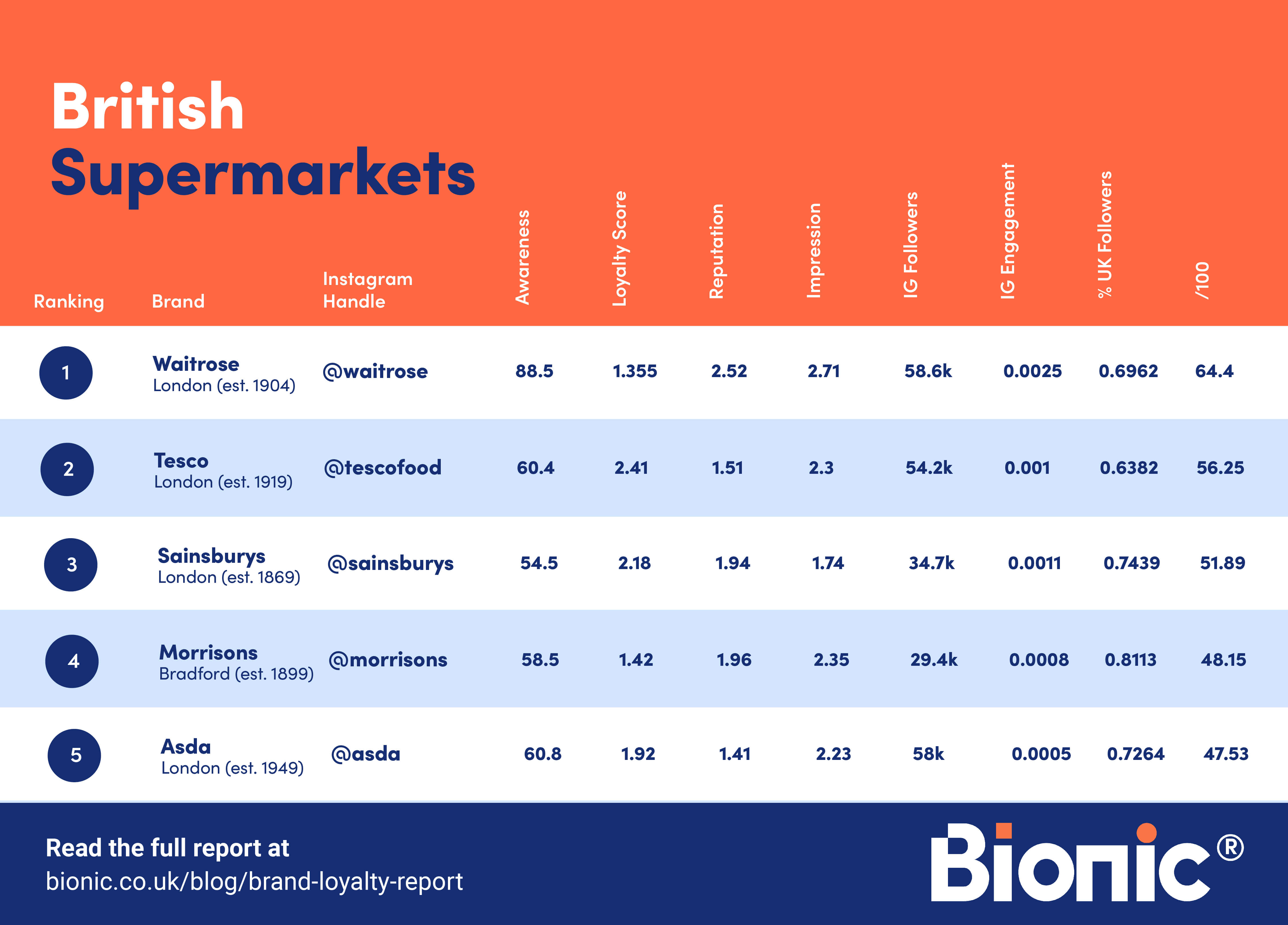 Waitrose is the nation's favourite supermarket
The only thing Brits love more than a supermarket is discussing their favourite supermarket, so we wanted to find out which British grocery chain tops the ranking when it comes to customer loyalty.
Like parent company John Lewis, Waitrose ranked very highly thanks to its stellar reputation for both quality of product and excellent customer service. This shows how well the John Lewis & Partners brand presents itself across its different brands.
Despite the high prices and reputation of being "posh", the cost of living crisis doesn't seem to impact Waitrose's loyal customers, scoring a high score of 64.4 out of 100 in the brand loyalty index. Waitrose ranked highly with a brand awareness score of 88.5 and a very high brand impression score of 2.72. Despite having just over half the number of followers John Lewis has, Waitrose has a much higher engagement rate across social media, at 0.25% compared to John Lewis' 0.07%.
How do supermarkets compete for loyalty?
Product availability, price, quality and brand image are the biggest factors that play a role in helping people decide what supermarkets to shop from. Data shows that 74% of Brits are loyal to supermarkets with loyalty schemes, competitive pricing and quality of products. When looking at an increase in customer loyalty towards certain supermarkets, a 2022 survey by Emarsys found personalised discounts, incentives and rewards were the main driving force behind shopping decisions.
Sportswear brands with the biggest customer loyalty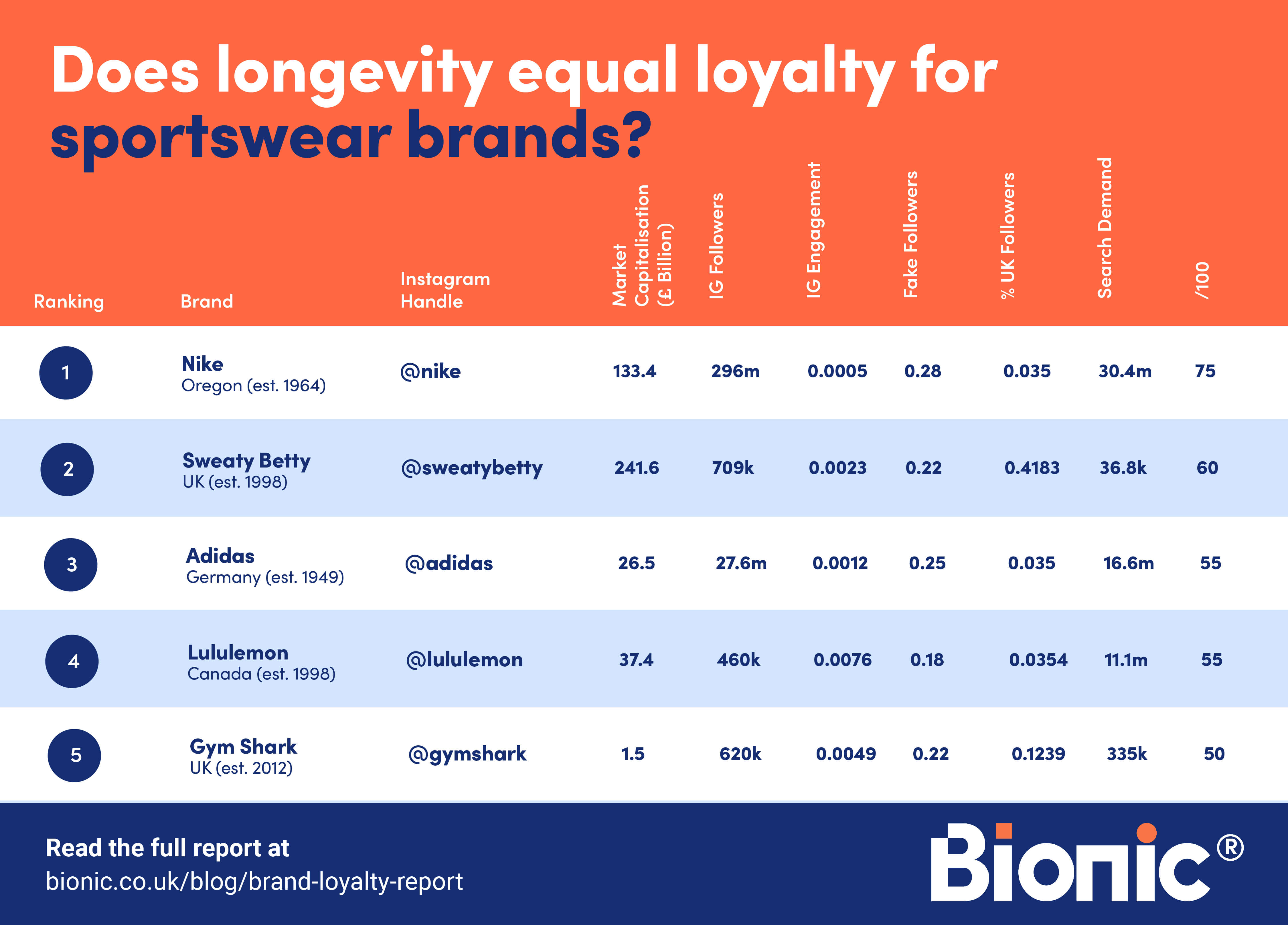 Nike ranks as the top sportswear brand for loyalty
Nike is one of, if not the most recognisable sportswear brand in the world. From a partnership with the FA creating kits for every England team, to sponsoring individual athletes such as Wimbledon winner Carlos Alcaraz, Nike has ensured it is a staple in the sporting industry around the world. Out of all sportswear brands, Nike is beating the competition when it comes to search demand for the brand, with over 30 million searches a month compared to Adidas's 16 million. This has paid off, with the powerhouse brand ranking top in our index when compared to its lead competitors, with a score of 75 out of 100.
Gymshark is competing with established global brands
Gymshark is the new kid on the block when it comes to global sportswear. Having only been established in 2016 they have taken over social media when it comes to younger adults and athleisure.
Gymshark creates a community to build loyalty with customers
Gymshark has built immense brand loyalty thanks to its focus on putting people at the front of its marketing. The use of 'Gymshark athletes' to foster an online community helped capitalise on the online fanbase of these influencers such as Whitney Simmons, whilst their lower prices and quality products help retain customers.
On top of this, Gymshark has gone above and beyond to build a community and a sense of belonging for customers with the Gymshark Run Club. It is this sense of community that has helped Gymshark build such a large level of brand loyalty amongst its customers, despite being so young.
What can small businesses learn from big brands
How exactly can these big business tactics be used by smaller brands?
Speaking exclusively to Bionic, Ari McDaniel, Cult Marketing Expert, shares what she thinks these brands do so well and how small businesses can harness this for their own customers:
"Some of the biggest and most iconic brands like Apple, Starbucks, Amazon, Target, and Lululemon have mastered the art of authentic brand loyalty – and the ability to connect with consumers on a deeper level. Something that big brands do well is embrace the latest technology tools/analytics to leverage audience data to create more personalised experiences and develop customised moments tailored to unique needs and preferences. Furthermore, understanding brand psychology is a major point for building brand loyalty – and consumers must feel like they're able to relate to a brand on an authentic level, also combined with a system or program that rewards 'loyalty'.
When thinking about who your most loyal followers are, it's critical for brands not to forget about those who are already sharing products and are long-time supporters. When you have consumers advocating for a brand's service and evangelising a brand's message – true brand loyalty has been fulfilled!"
Ari then shared some techniques all business owners can use to increase brand loyalty.
"In studying the loyal audiences of some of the world's largest brands, there are many psychological tactics that small businesses can use to increase brand loyalty including:
Provide Exclusive Access – Everyone wants to feel important and special. Provide exclusive access to events, products, or even discounts to repeat customers. This will naturally strengthen the relations between the brand and customers and will lead to new customer interest. Focus on creating an unforgettable customer experience.
Master Mindful Storytelling in all Branding – Through branding, you must understand the psychological purchase motivators for your target audience. After assessing what will create an emotional response – you can then conceive a branding strategy and story that will inspire an emotional connection. After all, every brand has a story to tell and it's important to strategize the best way to tell it.
Entice Consumers to Spend Time with Your Products/Services Through Urgency – Psychologically, campaigns that offer limited-time items create additional excitement and build loyalty. Find innovative ways to capitalise off the initial fear of losing out. For example: announcing low stock warnings and using special occasions to increase urgency and encourage new/inactive customers to return.
Keep Community at the Heart of Everything – Don't underestimate the need for all humans to feel like they 'belong'. On the road to building brand loyalty, find ways to create a community within your brand. Develop and empower your audience to connect with one another on and off-line at events, private groups, newsletters, or even brand-specific hashtags. You shouldn't just have followers but a community that is an extension of your brand's values."
Make the most of the personalities at your small business
When it comes to building loyalty among your customer base, your small business could have a secret weapon that can set you apart from the competition and the big brands - you and your staff.
People are programmed to be loyal to other people - certainly more so than to a faceless brand - so if you can build meaningful relationships with your customers and they like you on a personal level, it might just give you the edge.
Building a meaningful relationship can be anything from greeting your customers by name when they enter your premises to offering them discounts or other perks as a thank you for their repeat business. You know your customers best so, as Peter Kinsella from Lunya restaurant and deli suggested in our recent customer story, the way he keeps customers coming back for more is to "work out what keeps them coming back time after time and do that better and more often".
How Bionic can help you spend more time with your customers
Business admin can get in the way when running your business. Instead of spending time on the shop floor or getting some well-deserved downtime, you can spend hours sorting out your finances, utilities, insurance, and everything else on a seemingly endless to-do list.
But Bionic can take some of the strain when it comes to business admin. We can save you time and hassle when sorting your business essentials including electricity, gas, connectivity, and insurance. Leaving you more time to spend with your customers.